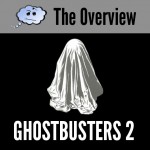 The latest Overview, our series of alternative commentaries on your favorite movies (most of them available on Netflix Instant Streaming), takes us all the way back to 1989, to the economically and ectoplasmically uncertain terrain of New York City, where slime runs beneath the sewers, babies float in the air, and Bill Murray and Sigourney Weaver spend way more time than you'd expect discussing their relationship.
Ghostbusters 2
We've spilled a lot of digital ink on the Ghostbusters series before, but this time we're crossing the streams. This Overview features Matthew Wrather, Peter Fenzel (in his first Overview appearance), and special guest Bear McCreary, noted composer for film and television and bona-fide pop-culture savant in his own right, giving insight into the musical landscape of the film and drawing from his encyclopedic knowledge of 1980s B-movies.
And, because your love of overthinking keeps on lifting us higher and higher, we're offering this Overview at a downright CRAZY price — just $2.99! But that's not all. We're also dropping the price of all the episodes of the overview to $2.99, so you can stock on the smart, funny, insightful series that some commenters have called "So good you can listen without even watching the movie."
# # #
The Overview is a series of alternative commentary tracks from Overthinking It, where the Overthinkers watch and discuss your favorite movies for your edutainment. The commentary is meant to be played while watching the movie, which means you'll need your own copy of the movie and a way to both watch and listen to a MP3 track in order to take full advantage of what you're buying. Find out more in the Overthinking It Store.