Season One of The Walking Dead shows us a conflict between two social contract theories – the Lockean theory (Shane) and the Hobbesian theory (Rick). It also gives us a conflict between two interpretations of the state of nature. Starting from there – the state of nature – gives us a little more insight into the show's philosophy.
In almost every zombie apocalypse movie ever made – and I'd say every if I knew them better – the return of the dead results in chaos. As soon as the cops and the army are overrun, everything goes to hell. No apocalypse movie ever portrays a post-institutional society as an improvement. This might seem like a "no, duh," to our audience, but ask a black guy from downtown Cincinnati about a world with no more stop-and-frisk searches. Or a migrant worker from Phoenix about a world with no more la Migra. Or a gay couple from Jackson about a world without the Baptist Church. (More evidence for my theory that zombie stories are primarily nightmares for the comfortable)
I'm not saying that a world without institutions of law and culture would be a libertarian fantasy. But a zombie apocalypse could be used to tell such a story. It hasn't yet. Why is that?
Zombie apocalypse movies favor Hobbes's interpretation of the state of nature. Remove the institutions of law and order and you revert to bellum omnia contra omnes. The strong rule over the weak, and you'd better hope the strong are honest people. The only thing that will let us rebuild society is if a strong sovereign takes over, keeping the populace in awe, and everyone surrenders their right to self-governance to him.
Consider Rick's decision to go back to the CDC in Episode 5, "Wildfire." "If one of us suggested, based on a hunch that we head toward that city," Laurie tells Rick, "you'd have no part of it." But Rick isn't 'one of [them].' He's the sovereign. He rules through awe. When he makes the decision to go to the CDC, he tells folks they're free to come with him or not. Most of the party falls in line with him. If nobody went with him, then Rick's trip back to Atlanta would be a suicide mission. Realizing that might be enough to dissuade him. But once Rick makes his call, the reaction is one of terrified anticipation – picture GIs on the boat to Normandy – not disagreement. None of them like the plan, but (almost) none of them think to walk away.
It would surprise no one to say that most zombie stories are Hobbesian. Where The Walking Dead is unique is that it spent its first season laying out a debate between Hobbesian and Lockean theories. What if the collapse of society led to a civil commune? A survivor camp in the wilderness, where everyone works in a mutually recognized exchange of mutual benefit? It's a neat idea. And it seems to work for a while.
But as soon as Rick shows up, it's over.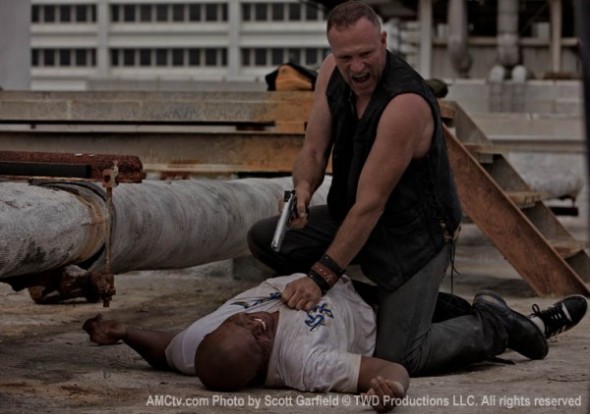 Within five minutes of meeting the survivors exploring Atlanta, Rick is taking charge, by virtue of having demonstrated his power over the rampaging Merle. Two days later, he's running the camp, deciding whether to commit resources to rescuing Merle or not. No one has to come with him, but everyone starts trying to dissuade him.
Why not just ignore him? Why not listen to Shane, or listen to their own conscience? Why not just let the crazy guy with the 19th-century conscience go into the Atlanta deathtrap on his own? Because he's the sovereign.
Esteemed co-blogger Fenzel made the point that there's nothing about The Walking Dead's first season that you couldn't depict with another giant monster. But that's not entirely true.
When Rick shows up and starts taking charge, we all nod our heads. Here's a man who's Making Hard Choices, we say. It may cost him his friendship with Shane and the affection of his wife. But you have to make Hard Choices in the face of the apocalypse.
We accept that trope so readily that we never ask who put Rick in charge. Just because Rick outranked Shane in the pre-apocalyptic hierarchy doesn't mean Rick rules the camp. Hell, it doesn't even look like Shane was "ruling" in the first place. Rick is a stranger to most of these people. But as soon as he shows up, his dilemmas (save Merle or stay with the family; risk a trip to the CDC or leave Jim to die) become the camp's dilemmas. He frames every debate around what he thinks is important.
And no one questions it, least of all the audience. Zombie stories are inherently Hobbesian. They're so inherently Hobbesian that we look askance when they're not. If Rick showed up and didn't take charge of the camp, we wouldn't know how to take it. Who's in charge?, we would wonder. We would glare at the show uneasily until it gave us a leader. And then there'd be a continual narrative tension until the show produced the "right" leader.
So zombie stories are a justification of Hobbesian theory? Not exactly.
Zombie stories are the stories of a society forming a Hobbesian social contract. They start in the state of nature, with ragged feuding survivors fending off a horde of equally filthy zombies. Eventually, a leader emerges – a sovereign who encompasses the will of the commonwealth. The subjects surrender their right to self-rule and, in doing so, vest the sovereign with power.
Those who question the sovereign's will either defect or are exiled from the commonwealth. In zombie stories, this means people who disagree with the leader become zombies. Does this sound familiar? "No, we can't go back! Leave it! We have to stick together! No, you … (insert victim's name), look out! Behind you!" Zombification – permanent exile from the society of humankind – is the penalty for dissent.
Eventually, the sovereign has led the commonwealth to temporary safety. And then what?
http://www.youtube.com/watch?v=DL71kC1DZ0g
(skip to about 4:00 in for this one)
http://www.youtube.com/watch?v=FfMsG_CHqTk
Oh. Right.
As esteemed co-blogger Fenzel noted, zombie movies are one of the few genres where a TPK is not only acceptable, but often expected. It's taken as a depressing statement on the futility of mortal existence. But, in the context of philosophy, it's also a commentary on Hobbesian social contract theory.
Thomas Hobbes asserted that the only way out of bellum omnia contra omnes was a strong sovereign who embodied the will of the commonwealth. Zombie stories tell us that, no, that's not going to cut it. In an infectious post-apocalypse – the ultimate war of all against all – no sovereign is strong enough. Dissolution is inevitable. Law collapses. Inhumanity rules the day.
Will such a fate befall our heroes on The Walking Dead? While S1 has been all over the place in terms of narrative, we've already seen a loss of faith in the existing sovereign – the American government, represented by the Center for Disease Control. Rick is the accepted replacement: the one who decides when to stay and when to go. Will he lead our survivors into total collapse? Or will he found a new social order where hope and peace can reign?