Update 2010-10-25: Today is the 25th anniversary of Marty McFly's going forward to the past so that he could get Back to the Future. And tomorrow, a special edition of trilogy is going to be rereleased on Blu-ray. Support Overthinking It when you buy Back to the Future: 25th Anniversary Trilogy on Blu-ray
at Amazon.
This past July marked the 25th anniversary of an obscure cultural phenomenon known as Back to the Future. That little gem catapulted Christopher Lloyd from "side player on Taxi" to "comic icon," and helped put Michael J. Fox on the map as a bankable property. And it introduced us all to jigawatts.
We're particularly proud of the treatment we gave to this Zemeckis classic in our Back to the Future Week. So we'd like to share those highlights with you.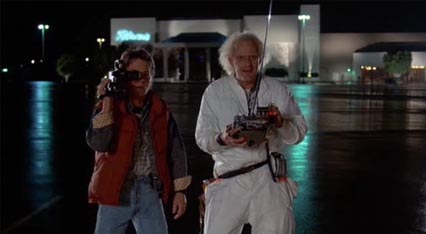 The Paradox of Marty's Headless Brother: The science of time paradoxes makes no sense … unless you imagine an alternate history where headless mutants run free.
Marty McFly's Grim Future: Marty returns to a 1985 in which no one is as he remembers. Literally: no one.
Marty McFly Did Not Invent Rock 'n Roll: If Chuck Barry had actually borrowed Marty McFly's "new sound," what would the rest of rock history sound like?
How Time Travel Works (And Doesn't): Time paradoxes, both good and bad.
The Science of Back to the Future: A delightful romp through the worlds of time travel debunking, high school geometry, and the Metric System.
And that's not even touching our posts on Huey Lewis or the historical significance of the DeLorean! So fire up your flux capacitor and travel back eighteen months – and twenty-five glorious years – into the past for Overthinking It's Back to the Future Week!