Don't Think Twice; It's All Right
So what will future seasons have in store for Sterling Cooper?
Season 3 ended with the foundation of a new ad agency, comprised of all our favorite characters and some people we didn't even know we liked (Pete Campbell, Lane Price). It also ended with Don letting go of his failed marriage and Betty flying off to Reno for a Nevada divorce. Don wins the trust of his new agency by speaking to them honestly, an honesty which he could never give his wife. And so 1963 winds to a close.
Matthew Weiner and the gifted writers and directors he's assembled have shown a gift for shocking us at every turn. So speculating on future developments might waste everyone's time. But we know how the 60s are going to turn out. Maybe a few guesses are in order?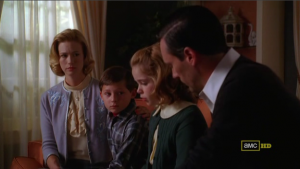 1964
President Johnson declares a War on Poverty. Barry Goldwater announces that he will seek the Republican nomination, leading to a surprisingly bitter political campaign throughout the year. 1964 sees Goldwater give his infamous "extremism in the defense of liberty" speech at the RNC, and the Johnson campaign counter with the infamous "Daisy ad."
Two reports of attacks on American destroyers in the Gulf of Tonkin (the second report later found to be in error) accelerate U.S. involvement in Vietnam. The 21,000 "military advisers" already present in Vietnam are soon supplemented by an intense aerial bombing campaign. Student at the University of California, Berkeley, prevent police from arresting an activist who refuses to show ID. This incident escalates into a sit-in taking over the University administration building – the beginning of the Berkeley Free Speech Movement.
Malcolm X makes his "The Ballot or the Bullet" speech, beginning his division with both the Nation of Islam and the non-violent civil rights movement. The Rev. Dr. Martin Luther King, Jr. is awarded the Nobel Peace Prize. The Rivonia Trials begin in Johannesburg, South Africa, in which ten leaders of the African National Congress – among them a Mr. Nelson Mandela – are charged with sabotage. Race riots flare in Harlem and in Philadelphia.
Oh, and these guys called The Beatles show up.
So where does this leave our heroes?
Henry Francis, Betty's husband-apparent, works for the Rockefeller office. Rockefeller contests the Republican nomination in 1964, ultimately losing to Goldwater. What effect will this have on the new Francis household?
Carla, the Draper's maid, is going to be raising the kids a lot more than she has been already. Will they grow up with more liberal attitudes on civil rights than their parents?
Draper brought Peggy and Campbell over specifically to reach out to younger markets. As youth culture explodes – the Beatles, television culture, peace movements and Bob Dylan – how will they react to it?
Betty Friedan's The Feminine Mystique came out in 1963; hasn't anyone read it yet?
And what will the fate of our less-liked characters – Joan's husband, now an Army doctor; Lane's wife, hysterically allergic to New York – mean for the new members of SCDP?
For all the ink we've just devoted to Mad Men's hidden themes – searching for meaning outside oneself, everything ending exactly the way we thought – one theme has remained obvious through all three seasons: the disconnect between appearance and reality. That's what advertising is: putting a different gloss on things.
SCDP needs to pass itself off as the old Sterling Cooper. Putnam, Powell and Lowe need to pretend to still be a good buy for McCann. Betty and Henry need to act like everything's all right for the sake of the children. The country needs to pretend that Vietnam, civil rights and the Baby Boom aren't tearing it apart.
This would be scary enough in an uncertain future: a world full of rudderless ships, all searching for meaning. But we know how the Sixties turn out. That doesn't stop us from watching, though.