Wise Men Stay, Only Fools Rush In
Episode 6 of this season, "Guy Walks Into an Advertising Agency," begins with Ken Cosgrove triumphantly driving a John Deere lawnmower onto the floor of Sterling Cooper. He's just won the John Deere account, a big feather in his cap. Later, the entire office has a party to celebrate the arrival of new British staff and Joan's departure. Cheap liquor flows and one of the secretaries takes a turn on the John Deere lawnmower. As Peggy and Joan bond over their common trials, the din of the mower's engine grows louder.
Any long-time fan of Mad Men will tell you that their most frequent reaction to the show isn't laughter, or catharsis, or even a quiet poignancy. When you watch this show, you cringe.
The second theme of Season 3 of Mad Men is that it's going to end exactly the way you think.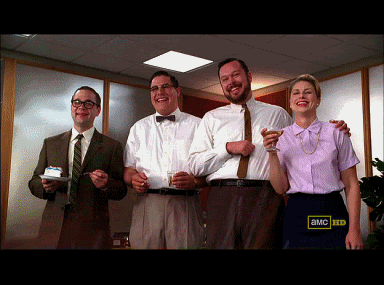 Don starts a new affair with his daughter's teacher, Miss Farrell. He drives over to her apartment one evening after a disappointing day at the office. The two flirt for a while, dancing on the boundary between committing to the affair and walking away. "I know exactly how it ends," Farrell says. She's thought about sleeping with Don, but she's also thought about how it'll turn out in the long run. Don's response: "So what? […] I want you. I don't care. Doesn't that mean anything to someone like you?" And they begin the affair. And, as everyone knew in advance, it can't last.
Betty discovers the key to the desk drawer we've been watching Don fill for three seasons now – a drawer full of evidence of his past life as Dick Whitman. After fretting over it for a few weeks and consulting her family attorney, she confronts Don with it in "The Gypsy and the Hobo." "I could have had a locksmith in here any time I wanted," Betty tells him. "You obviously wanted me to know this, or you wouldn't have left your keys. You wouldn't have kept all this in my house." Don's secret was too big for him to keep forever: Pete Campbell and Bert Cooper both discovered it in Season 1. And Don was too smart a man not to know that. He kept making it day by day, however, hoping that the secret would hold at least until he got to bed.
But the biggest sword hanging over our stars' heads is mounted in "Love Among the Ruins," when Roger meets with his ex-wife and their daughter to plan his daughter's wedding. She brings some sample invitations, and Roger muses over the date. The camera lingers long enough to make sure we all get it: November 23rd, 1963. A Saturday wedding in the fall. From that point on, every episode heightens the tension and brings us closer.
Of course, the Kennedy assassination isn't the only funeral bell chiming in Season 3. The civil rights movement becomes violent in the South, with the death of Medgar Evers ("The Fog") and the Birmingham church bombing ("Love Among the Ruins"). We only get glimpses of this battle in cozy liberal New York – usually through the Draper's maid Carla, or the occasional radio snippet of Dr. King's speech on The Mall – but they're enough to keep historically aware audiences clued in. Pay attention, the show is saying. Something's about to happen.
It's impossible to be optimistic about Roger's daughter's wedding. We know it's going to be ruined as soon as we learn the date. It's impossible to share Miss Farrell's optimism regarding Dr. King's speech; we know he has less than five years to live. It's impossible to hold out hope for Sal; we know the status of homosexual rights in the U.S. in 2009, much less in 1963. This fatalism creeps into every aspect of the show until it starts informing every part of each episode.
We know what's going to happen because Mad Men is set forty-six years in the past. But we also know what's going to happen because Mad Men is about choice disguised as fate.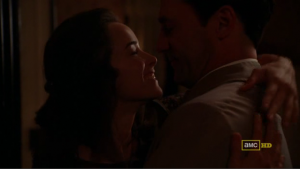 We cringe when Peggy falls into bed with "Duck" Phillips, or when Sal makes a lying phone call to his wife from the Rambles, or when Betty confronts Don over his past with an unflinching glare. We wonder about the cruel fate that brought them to that place. But an eye for the show's history reminds us that each of those characters made a succession of choices (mostly smart, some bad) that led them to that point. Peggy craved a sexually adventurous life with a man who could treat her well and stimulate her intellectually. If the only man in her life who fits that role is an older ex-coworker, so be it. Salvatore wanted to climb the ranks at Sterling Cooper by taking on ambitious projects (London Fog, Pepsi "Patio", Lucky Strike), even if that meant repressing his homosexuality. And the choices Don's made hardly need to be revisited.
Though the institutional biases of the period, like racism, sexism and classism, play a large role in defining attitudes, Mad Men makes clear that you still have a choice. Choosing outside the boundaries of the institution carries risks: vide Kurt, the blonde German art designer who openly admits to his homosexuality in Season 2 and how little we see of him thereafter. vide Kinsey, who in Season 2 dates a black girl and goes with her to civil rights protests in the South (though it's implied that this may be an affectation).
Is it possible to evade the guillotine? "Shut The Door, Have A Seat" suggests yes, as all our favorite characters stage a lightning raid on the Sterling Cooper offices and salvage every file, client and bit of talent they can muster. But even ending on this optimistic note, as Don says good-bye to one family and stares with tearful pride at another, can't dampen what long-term fans know. Sterling Cooper Draper Price has its work cut out for it, even before they get an office.
Stepping outside the lines may be risky. But Season 3 suggests that staying inside the lines isn't always satisfying, either. Because if you stay within the lines, it's going to end exactly the way you think.