As stated before, Mad Men tackles such a complex range of themes, events and thoughts that it demands overthinking. There is no superficial level on which to engage it. Many of the show's motifs – the difference between appearance and reality, the subtle games of power, the war between young and old – have been discussed to death in better media than ours.
But there are two overarching themes for Season 3 that we can uncover.
The Answer, My Friend, Is Blowing In the Wind
Every character in Mad Men looks elsewhere for the force that will give their life meaning.
Some do this because they have little other choice. Salvatore Romano, the closeted gay art director for Sterling Cooper, buries himself in his work and his marriage to bottle up the feelings he succumbed to on a business trip in Ep1. But when trapped in an awkward situation by a sexually aggressive client, Don fires Sal, with some regret but little hesitation.
Peggy and Joan, the strongest females on the show, continue to pull in opposite directions. Peggy climbs the corporate ladder at Sterling Cooper with unprecedented speed. But her ambition makes other writers like Kinsey jealous of her and makes Don frustrated. Joan gets everything she always wanted: a marriage to a handsome, successful doctor. Only the doctor's not quite as successful, or stable, as she imagined him to be. Both characters end Season 3 on an optimistic note, but only because they have a new crisis into which they can throw themselves. Outside of work, what do they have?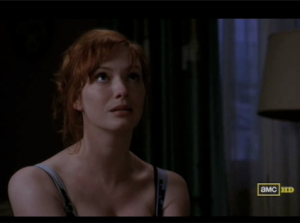 And the power couple of the show – Don and Betty – live meaningless lives because they lacked meaningful childhoods. We only get glimpses of Betty's childhood in Season 3, hinted at in her strained relationship with her father. Betty has made up for it so far by living a child-like adulthood: drifting from one male to another in search of the one to save her. Don certainly had a childhood packed with meaning; he flashes back to it several times in the beginning of Season 3. But he's done everything he can to bury that childhood, and his past before the war, behind him. Neither Don nor Betty have a firm foundation on which to build their adulthoods. This is unfortunate, because they picked a hell of a year in which to grow up.
Toward the end of Season 3, we start to see some anchorless characters gain a stronger resolve. Peggy enters an odd but satisfying affair with "Duck" Phillips, getting the sexual liberation she's craved since Season 1. Pete Campbell, previously a vacuous blue-blood, becomes embittered in the wake of the Kennedy assassination. Betty, after some hesitation, reaches out to Henry to start a new life – the same sort of romantic liaison her husband has engaged in for years. And of course, there's the pressure of starting a new business to keep everyone busy.
But not everyone ends up so lucky.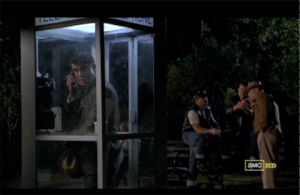 Mad Men is a story about men and women searching for meaning. Mad Men can tell this story because it's set in an ad agency. Consumer capitalism, which really came into its own following World War II, sells products that add meaning to people's lives. If Americans don't believe that their choice of cigarette will make them happy, or that a slide projector can restore the innocence of youth, then Don Draper and his crew are out of a job.
The language of advertising transforms products from the utilitarian to the spiritual. You don't stay in a Hilton Hotel because of price or convenience. You stay in a Hilton Hotel because it brings the comforts of home to a foreign setting. Pepsi can reinvigorate our tired routine; AquaNet can capture the man who'll provide for us; London Fog can take us on stimulating romantic adventures.
Most of the characters in Mad Men started 1963 with a brand in lieu of a soul. Roger Sterling was the silver fox with a trophy wife; Hilton was the golden treasure that every ad agency sought to claim; Don Draper, the genius with his finger on the pulse of culture. But we discovered that the brand and the product behind it don't always relate. Roger is more of a lost boy than a dignified man; consider his Kentucky Derby party, or his growing feuds with his new wife. Conrad Hilton turns out to be a cranky, implacable eccentric. And Don? Behind the mask, what is Don Draper?
The Kennedy assassination, the climax of Season 3, exposes branding as the poor prop it is. So many smart young Democrats in their 20s and 30s identified with Kennedy. The youngest President, the first President to capitalize on the new medium of television, and the first definitively "post-war" President in 30 years, Kennedy blessed his fans with youthful optimism. When he died violently, the entire cast of characters took a punch to the gut. It's in light of this tragedy that Pete grows a spine, Betty declares to Don that she no longer loves him, and Don stages a walkout at Sterling Cooper. When your crutch gets knocked away from you, you stay down or you pull yourself back up.
The men and women of Mad Men search for a force to give their lives meaning. Whether they find it or not tells you how their story will turn out.