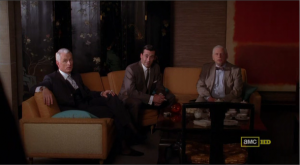 In a sense, this show doesn't belong here.
Overthinking It proclaims its niche as "subjecting popular culture to a level of scrutiny it probably doesn't deserve." Matthew Weiner's Mad Men definitely deserves scrutiny.  (We've already got some here, in a special podcast supplement.) Everything, from its stylistic choices to its minimalist presentation to its historical grounding, communicates meaning on multiple levels.
(In fact, I wonder if there's an audience out there that underthinks this show, that just takes it at face value. "Gee, Joan sure seems unhappy with her husband. I wonder why she doesn't just leave him?" Ah, well. I'm glad you're not one of those lightweights. Good thing we're deep intellectuals, eh, Overthinking It readers? *clinks martini glass*)
Several quality weblogs exist to recap and delve into the references sprinkled throughout each episode. We won't be challenging that hill. But now that season 3 of the most intriguing show on television has wrapped, with this past Sunday's season finale, we can delve into the season, and the series, as a whole.
So shut the door, have a seat, and settle in for some Overthink.
(Warning: the following post will contain substantial spoilers for Season 3 of Mad Men)

It's My Party and I'll Cry If I Want To
For the newbies, Mad Men is an AMC original series depicting an advertising agency in New York in the 1960s. It follows the lives of Don Draper (Jon Hamm), his wife Betty (January Jones), his clients and his subordinates. Extramarital affairs are frequent, sexism and racism are rampant and nobody tells anybody the truth.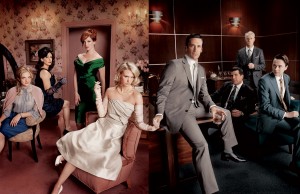 Season 3 began in the spring of 1963. The ad agency of Sterling Cooper has been bought up by a British advertising firm and the transition still seems rocky. Two young go-getters, Pete Campbell and Ken Cosgrove, are made competing account managers, with the presumption being that one of them will ultimately claim the sole title. Roger Sterling, having divorced his wife and married his secretary last season, grows further removed from the company he supposedly owns. Joan gracefully retires from her secretarial role, only to find that her husband isn't as competent a breadwinner as she'd believed. Salvatore Romano's homosexuality becomes less of a secret and Peggy's ambitious career climb starts to earn her some enemies – as well as some romantic attention.
Don Draper's wife, Betty, begins to take a more active role in her own life. Her senile father moves into the Drapers' spare room for a few months before his death, awakening a sense of learning and pride in his granddaughter Sally. After a rough pregnancy, Betty gives birth to a son: the family's third child. She makes small steps in defining a life for herself outside of housewifery, pursuing an affair with Henry, a campaign chair for Governor Rockefeller. Though she's still a child in many ways, we start seeing a semblance of maturity in her.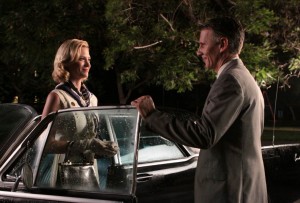 But Don Draper remains the enigmatic center around which Mad Men revolves. Through luck and charisma, he bags Sterling Cooper's most prestigious client yet, Hilton Hotels, after a chance meeting with the eccentric Conrad Hilton. Connie proves too demanding, even for the work-obsessed Draper, and he falls back into habits that he promised Betty he'd left behind. Chief among these is skirt-chasing: he begins a passionate affair with his daughter Sally's teacher. But a bit of carelessness leads Betty to discover Don's darkest secret: that he was born Dick Whitman, the poor son of a prostitute; that "Don Draper" was a sergeant in the Korean War whose dog tags he swiped after a mortar raid; and that he'd had a wife in California under that name whom he divorced.
All this and the Kennedy assassination, too.
In the roller coaster season finale, Draper, Cooper and Sterling stage a coup when they learn that the agency is being sold yet again. Don pulls out every trick in his arsenal and calls in every favor he has to continue working for himself. He doesn't display that level of passion for his own marriage, though, letting his wife and family slip further away from him. Don completes the arc that his father aborted in his childhood, doing whatever it takes to save the family farm.