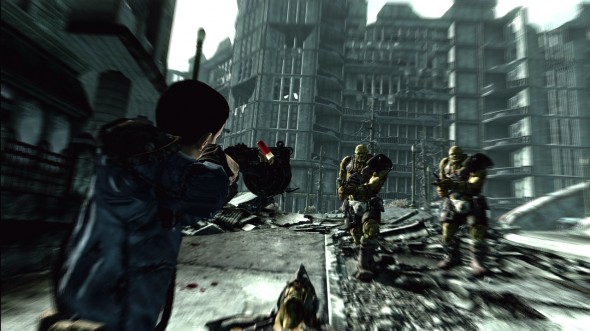 Fallout 3 takes place two centuries after a nuclear war between the U.S. and China. Most of the Earth's population has been decimated. The rest scrabble out grueling lives in wasteland tribes, scrapyard villages or the irradiated remains of cities. Raiders roam the wastes, raping and murdering with abandon. And let's not forget the Super Mutants.
Though we see little of the world outside the U.S. in the Fallout series, it's safe to presume that nuclear winter has turned the human race into a threatened species. It's likely that the population is too small, and too thinly spread, to maintain sufficient biodiversity. On top of that, centuries of collected knowledge have been lost. The human race has stopped creating and now survives by scavenging. Perhaps if the surviving humans banded together into one peaceful community and set their differences aside, the cycle of growth could resume. But instead, raiders, slavers and Enclave soldiers blow each other apart, thinning out the already sparse ranks.
The tragedy's not that ninety-nine percent of humanity died in a fire. It's that the last one percent will finish the job.
In this world, which Fallout 3 depicts with photorealistic accuracy, the Galaxy News Radio soundtrack acts as literal nostalgia: the "pain of a remembered wound" in Greek. Listening to the sweet voice of Billie Holliday or the cheery tones of Mary Martin reminds you of a world with a hopeful future. There was a time when people woke up in the morning thinking the future might be better than the past. And you – a lone wanderer in the remains of America's capital, surviving on stolen ammo and rusting firearms – know that isn't true.
Fallout 3 seems calculated to evoke a profound nihilistic despair. But is it really?