Gunnery Sgt. Hartman, Full Metal Jacket – Perich
Gunny Hartman, as played by R. Lee Ermey, is the best pop culture sergeant for the following reasons: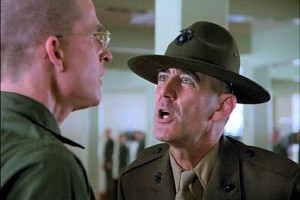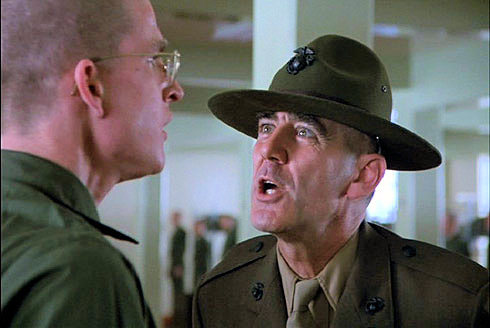 1) Ermey did not invent the stereotype of the profanity-screaming drill sergeant, belittling his recruits because he knows it'll turn them into real men. For one thing, the ogre with the heart of gold is not a stereotype. That's what drill sergeants actually do. They're responsible for disciplining the members of their unit, and they take that job seriously.
Sgt. Hartman's difference is that he never appears to care for these men. He makes some noise about wanting to weed out the slackers and produce hardcore Marines, but really that's just talk. Hartman doesn't have motivation. He's an unending torrent of psychological abuse given a human shape. He doesn't want soldiers – he wants killers.
Sgt. Hartman is the Platonic conception of the drill sergeant, the purifying flame made real.
2) Ermey has the best real-world qualifications as an actual sergeant. He served 14 months in 'Nam. The man has a Bronze Star and a Gallantry Cross. When Kubrick asked Ermey to produce some instructions on how to portray a drill sergeant, Ermey handed in a video of himself belittling British Royal Marines for 15 minutes straight. Without pausing, stumbling or repeating himself. While people off-camera threw oranges and tennis balls at him. Kubrick hired him for the role of Gunny Hartman on the spot.
(Now there's some lost footage I'd like to see – Ermey's audition tape)
3) The dialogue. The grabastic, skull-fucking, numbnutted, finger-banging dialogue. If you've seen Full Metal Jacket, then you're already in awe of the fountain of blistering hate that this man can spew on command. If you haven't, no IMDB Quotes page can put it into proper context.
Loading ...