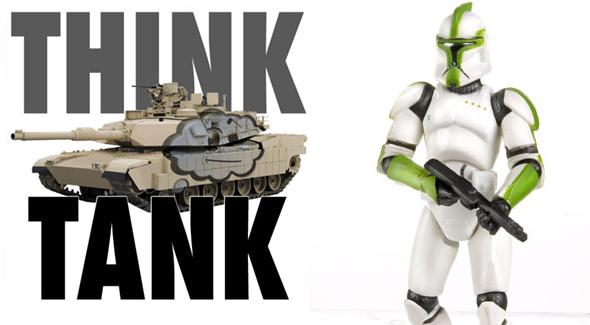 Eyes front, you maggots!
In this special Memorial Day Weekend Think Tank, Overthinking It takes a moment to honor the fictional sacrifices that fictional soldiers have made to defend our fictional country against its fictional foes.
But these noble heroes could not have made the sacrifices they did without a firm hand to guide them. Someone who was cruel to be kind. Someone who bitched them out like a New Orleans pimp but loved them like a father.
We're talking about the king of the non-commissioned officers: the sergeant.
This week's Think Tank: who is the best movie, TV, video game, cartoon, music or comic book sergeant?
Sarge. Beetle Bailey – Stokes
The answer, as usual, comes from the fertile mind of comedy genius Mort Walker, who also brought us the terms "squean," "grawlix," and "plewd." Yes, the greatest pop culture sergeant of all time is Sarge, from Beetle Bailey.  Being a little strapped for time, I will present my argument in list format.  (Ah, bullet points!  The last refuge of the lazy writer.)
• His name is just "Sarge." Well, technically it's Orville P. Snorkel, but he goes by Sarge.  And given his actual name, who can blame him?
• He's an enlisted man's enlisted man.  Some people see sergeant as a stepping stone on their way to commissioned officer status, but Sarge has been a Sergeant First Class since his introduction in 1951. This makes it possible to calculate his monthly salary.  Considering that he also gets an allowance for room and board, he is doing pretty ok. Adding to his old-school cred, Sarge is one of the very oldest comic strip characters that is still drawn – or at least supervised – by his original creator. Mind you, the strip has changed over the years.  Kind of a lot. (My favorite part here, definitely, is that Killer's hat has an erection.)
• He is pretty clearly the inspiration for Homer Simpson.  Look at the strangle action in the first panel here.
• He is gay as a day in May.  Obviously, under the current laws, this is not something that a career soldier like Sarge will ever be able to openly confirm.  But the signs are out there.  He's a confirmed bachelor.   He likes showtunes. He, uh… And if I can indulge in crude stereotyping for a minute – because the showtune thing wasn't enough, you see – he has a tiny dog that he dresses up in an adorable little outfit.

Come to think of it, Otto is probably the inspiration for Brian from Family Guy.  Hey, Mort Walker really is a comedy genius.
• Finally, he seems to be wearing a chef's hat for some reason.  Would someone please explain this to me?