First order of business: the new Taylor Swift song, "Shake it Off," is my new favorite song, and it should be yours, too.
Second order of business: this is not a country song, as YouTube commenters are all too eager to point out:
You should stop this and go back to your normal county self. Your going to end up like miley crius. Please go back. Please.
-Danny Ghanavati
I think she's trying to hard you should go back to her country thing
-Budderlover363
But what exactly makes a country song? In a recent episode of the Overthinking It podcast, we talked about some of the commonly recognized musical signifiers of the genre–banjos, fiddles, and twanging electric guitars–but after the show I thought about the lyrical signifiers of the genre.
Specifically, the truck:

This is not a new observation; even casual observers of the genre are aware that country songs often reference trucks. But how often?
In 2013, both Entertainment Weekly and country music critic Grady Smith made convincing cases that truck references in the top country songs of 2013 were exceedingly common. Me being me, I wanted to dig a little deeper and get a more quantified sense of the prevalence of trucks in country music. I assembled a dataset of all 232 songs that ever made it onto the Billboard Hot Country Songs chart between 2005 and 2014 (the idea being that the most popular country songs should serve as a representative sample of the overall genre) and searched each song's lyrics for mention of "truck" or truck-related terms such as "4×4," "flatbed," and "SUV."
First, the overall state of truck-ness of country music from 2005-2014: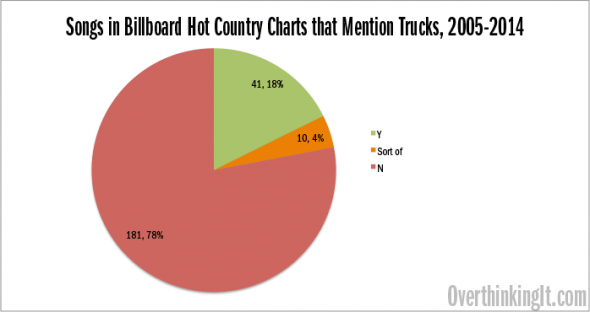 Only 18% of the 232 songs make an explicit mention of "truck," with another 4% contain truck-related references. That was a lot lower than I was expecting, especially given the way the above two pieces presented modern country music as being entirely trucked out, and the way outsiders to country music tend to stereotype the genre.
But looking at the data longitudinally presents a slightly different story: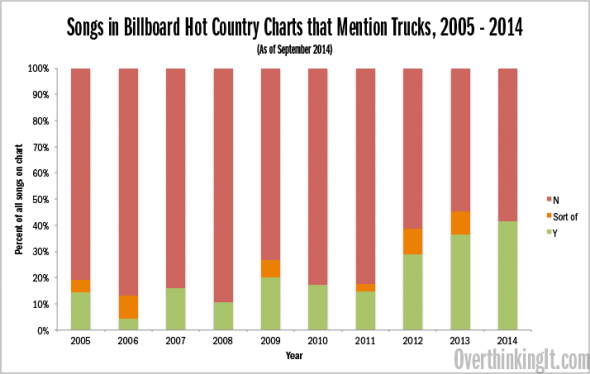 Truck references in country songs from 2012-2014 appear to be more prevalent than songs from the 2005-2012. As of September 2014, almost half of the songs on the 2014 Billboard Hot Country chart include a reference to a truck.
What's behind the recent increase in truck references? Is it the market for truck sales in the United States during this time period?
Truck sales as a percent of total automobile sales in the United States have remained remarkably consistent since 2000, hovering around 50% for each year since then. But in absolute numbers, truck sales dipped during the 2008 recession before rebounding in 2011 (along with the rest of the automobile market). Either way, there's no consistent correlation with truck sales during the 2005-2013 period.
So if not the truck market, then what? I haven't examined the data closely, but I might offer up the increased polarization of American politics during the Obama presidency as a possibility. The hypothesis would be that, as Americans' partisanship intensifies, they strive to differentiate themselves further from their political and cultural counterparts. One easy way to do so is to listen to country music that references trucks, which are powerful cultural signifiers of rural and blue-collar life, with an implicit opposition to urban, white-collar life.
But a more in-depth analysis of this idea will have to wait for another article, as will further analysis of the dataset. I have a rough sense that gender plays a significant role in the likelihood of referencing trucks, but still need to crunch the numbers on that. In the meantime, though, offer up your own theories as to the rise of trucks in country songs. Or feel free to counter the premise itself! I tried to create a representative sample of country songs over time, but there may be better ways to do so. Either way, get some inspiration from the sweet trucks in this country music video: