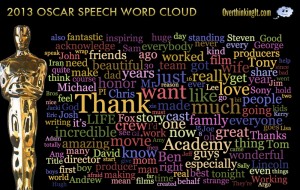 Since the 2010 Oscars, I thought I'd carved out a fun niche for myself on the internet by subjecting Oscar acceptance speeches to basic word-frequency analyses in search of interesting facts and trends. So imagine my surprise when I found out that Slate has been doing a more sophisticated version of this analysis since 2012 that parses the "thank-you's" down to specific actors and roles (directors, producers, etc.) I tip my hat to them, although I'm more than a little jealous that I didn't think of it first, even though I would've lacked the resources to have pulled something like that together.
Slate hasn't blown all of my work out of the water, though. One piece of analysis that I've always found most interesting is the prevalence of the term "film" compared to "movie" in Oscar speeches. Here are the latest results, expanded past my original starting year of 2010 to cover a full ten-year span (2005-2014):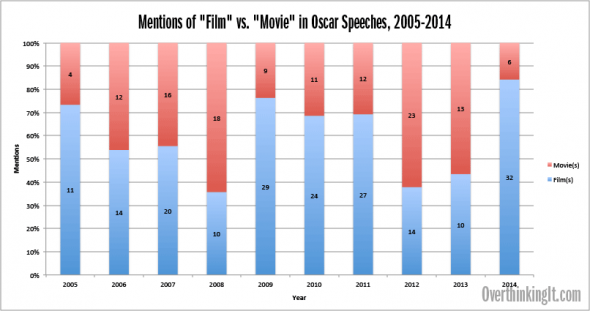 When I first noticed the prevalence of "film" over "movie" in 2010-2011, I assumed that you're more likely to hear the word "film" at the Oscars because it connotes motion pictures of higher artistic quality than that of "movies," or that this was somehow part of the old guard's rage against the digital revolution. But I've learned from our commenters across the Anglophone world that "movie" is a term that's rarely used outside of the United States. So when Aussies, Brits, and other non-Americans have a good year at the Oscars, the use of the word "film" is likely to prevail over "movie."
Was that the case in 2014, when "film" outpaced "movie" by a whopping 32-6 margin? Why, yes. Again, Slate provides the data: Non-Americans outnumbered American winners by a 24-18 margin. I couldn't find a similar dataset for 2013, but I have the sense that Americans were more represented last year, and if Ben Affleck's acceptance speech for Argo is any indicator, they preferred to use "movie" over "film," although it's not an either-or proposition: Affleck himself used "movie" four times and "film" twice.
By this time next year, I'll have assembled a Slate-like army of interns to help assemble a massive dataset of Oscar winners, nationality, and their usage of "film" vs. "movie," but until that time comes, let's use this occasion to have a discussion about these two tricky words:
AMERICANS: Do you think there is still a meaningful distinction between "movies" versus "films"? A few years ago a US cable TV channel–I want to say TBS or TNT–actually touted the fact that it showed "movies, not films" to let viewers know that they were safely in Adam Sandler "movie" territory. Were they actually on to something?
THE REST OF THE ANGLOPHONE WORLD: Why do you prefer to say "film"? Is the term becoming archaic, given that more movies motion pictures are being shot without film, and almost all are being projected digitally? Do you have some other way of distinguishing popular "movies" versus artistic "films"?
EVERYBODY: 
Is it useful or constructive to have a shorthand way of distinguishing between popular cinema versus arthouse cinema? Does that help us apply more appropriate standards to each, or are we creating an artificial separation between the two and excusing the weaknesses of both?
Sound off in the comments!