Perich's analysis and review of The West Wing Season 2 continues with Episodes 6 through 8: "The Lame Duck Congress," "The Portland Trip" and "Shibboleth."
Episodes 1 and 2
Episodes 3, 4 and 5
THE LAME DUCK CONGRESS
The administration considers recalling Congress to pass a nuclear test ban treaty; a Ukranian politician arrives unannounced at the White House; Sam reluctantly asks Ainsley to summarize a position paper; C.J.'s personal and professional relationship with Danny becomes more complex. (c/o IMDb)
"It's going to look like politics," C.J. complains, when discussing the prospect of calling a "lame duck" session of Congress to get a favorable vote on a nuclear test ban treaty. "It is politics," replies Toby. That's the core of the episode right there: the balance between political process and noble ideology. Toby has strong feelings about the test ban treaty. He considers it essential to avoiding nuclear war between India and Pakistan, a position that he yells to a White House tour group. And yet the strength of his belief does not help him barrel through the petty politics necessary to get the votes needed.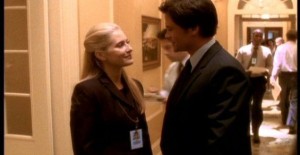 I can't imagine anyone watches The West Wing who doesn't already know American Congressional procedure backward and forward, but: when one set of representatives is voted out of Congress and another is voted in, there's a window of about eight weeks where a bunch of Representatives and Senators who are about to lose their seats still have power. Members who lose their seats typically fly home to immediately begin their career as lobbyists, but they can still cast votes until January, when the new members of Congress are sworn in.
A "lame duck" session isn't considered truly dirty pool, but it can look shifty or desperate. Since the party membership of Congress didn't change in "The Midterms" (S2E3), the Democrats have just as many seats now as they did before the election. Sneaking in a vote while many of the Republicans who lost their seats are out of D.C., while scrambling to make sure that the Democrats who lost their seats fly back to D.C. and vote for it, requires logistical finesse. And if it fails, it's a blow to the President's image as the leader of the Democratic party.
Those are the two facets of politics that frustrate the Bartlet Administration the most: process and image. Process is the "republic" part of America's democratic republic: the body of rules that govern how legislators can pass or block votes, the Constitutional trivia that the White House staff love to rattle off. Image is the "democratic" part: how the actions of elected representatives look to voters. Opening up on process can cost you image; relying on image can leave you vulnerable to process.
In S2E6, some folks worry about process (Toby and Leo, off "counting noses") and some folks worry about image. C.J. shies away from Danny Concannon, hoping that he'll take the editorial job he's been offered at the Washington Post so that they can date more openly. She doesn't like the image of a White House press correspondent dating the Press Secretary.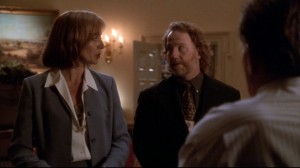 Meanwhile, Josh has to deal with a drunken Ukranian minister who insists on meeting with the President. Josh explains (and, we suspect, the minister already knows) that this man is too low on the org chart to merit a meeting with President Bartlet. But Romanov merely wants to say that he met with the President: a useful bit of currency in Ukranian politics.
Towering above process and image, the tip of the iron triangle, is ideology. Ideology is the element that gives meaning to process and image. Politics is a game, to be sure, but you have to be playing that game for a reason: the game is not an end in itself. Mastering process for its own sake makes you a schemer; mastering image for its own sake, a huckster. The question the Bartlet staff grapples with is "what noble goal does the process serve? what image should we be presenting?"
It's people without ideology who are the villains in The West Wing. Not people who believe different from the White House staff (as the next episode will illuminate), but people who lack ideology. This is why Ainsley can call the Republican staffer who Sam meets with a "schmuck" to his face: he's a games player, not a believer. This is why Ainsley still gets to work in the Bartlet White House, even helping Sam out with a key memo: because she believes in something and uses process and image to serve it.
AINSLEY
See, I don't think you think the treaty's bad, I don't think you think it's good, I think you want to beat the White House.

KEENE
Yeah.

AINSLEY
You're a schmuck, Peter. Today, tomorrow, next year, next term, these guys'll have the treaty ratified and they'll do it without the reservations he just offered to discuss with you.

(pause)

Can I take this muffin?
"You understand there is something outside yourself that has to be served," observes Michael Lonsdale in Ronin. "And when that need is gone, when belief has died, what are you?" Delight in battle is not enough for the Bartlet staff. This is why, when Toby realizes that Senator Marino isn't going to come back to vote for the test ban treaty that he helped to craft, the momentum deflates. There are a dozen other legislative tricks that Barlet might try to get the treaty signed. But ideology must yield to process and image. The tripod has to remain stable.
We have people for whom ideology trumps process or image: Senator Marino, honoring his voters' intention and staying out of Congress. We have those for whom process trumps ideology or image: Peter, the Republican staffer who won't help Sam out on the test ban votes. And we have people for whom image trumps ideology or process: Vasily Romanov, who just wants to tell his Ukranian constituency that he met with the President of the United States.
Were it not for a couple of lame (ha!) rhetorical flourishes, this would be a great episode. Bartlet caps the day off with a hokey observation about the difference between a democracy and a republic, an observation that would impress anyone who's too dumb to watch this kind of show but sounds obvious to its target audience. Sixth-grade civics, Sorkin; we expect better.