[In breathless anticipation of the premiere of Breaking Bad Season 4 this week, Overthinkers John Perich and Shana Mlawski talked about their impressions of the first three seasons. SPOILER ALERT, obviously – Ed.]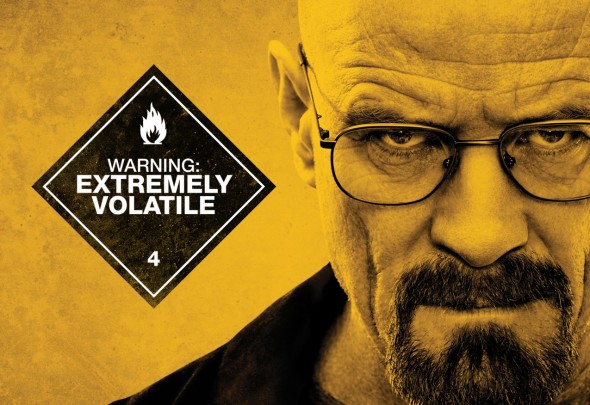 Perich: If I had to attach one theme to Season 3 overall – and, algebraically, to the show as a whole – it'd be about people rationalizing their urges. Every character whose head we get inside is moved by these deep animal urges and they all come up with pretty good ways to rationalize them. Jesse tells everyone he can watch them smoke up without being tempted to smoke up himself, but note how effortlessly he slides back into The Game. Hank convinces himself that he's about to crack the Heisenberg case as an excuse to keep from going back to El Paso. Skylar tells herself that she's sleeping with Ted just to get back at Walt. And Walter? He's the king of rationalization. He has more money than his family could reasonably hope to spend. And yet he's back in the lab again.
Mlawski: I think that's absolutely right. To me, BB is a Shakespearean tragedy about a villain whose fatal flaws are, fascinatingly, what most Americans would call "good values." Walter works hard to provide for his family; he wants to be a "real man" who isn't emasculated by his wife, his bosses, or his ex-girlfriend; he refuses to take charity under any circumstances; etc. All of his good intentions gradually become good justifications for criminal–and sometimes downright evil–behavior. Being a pinko commie liberal, I'd have to say my favorite Walter rationalization comes from the season opener, when he said, "If anything, I would blame the government." That's some good satire right there!
Perich: Watching Walter in the S3 opener was fascinating. There's the assembly in the gym where the high school students are sharing their feelings (in a predictably maudlin way) about the airplane crash. Walter's standing in the middle of the gym with his arms wrapped tight around himself. His adorable floppy haircut from S1 is gone. He's wearing a goatee and his face is sunken. And he's scowling with impatience at having to listen to this adolescent sentiment. I remember watching that and thinking, "He's gone evil." He just looks like a villain. Like an ogre in a castle on the hill, shrinking away from sunlight.
Mlawski: If I had to quibble with any of your points–and I guess I do, because otherwise this conversation is going to get really boring really quickly–I'd argue that, in this season, Jesse didn't rationalize as much as he used to. At the beginning of the season, he admitted, "I'm the bad guy," an admission Walt would never make. Walt rationalizes his behavior because he must believe he is the good guy. Jesse's been a really fascinating case study this season, because he spent most of it trying to justify his claim that he is a truly bad guy. He goes to a 12-step meeting and tries to get his cronies to sling there, for example. But when push comes to shove, Jesse can't actually bring himself to sell to Andrea–she has a kid. Or consider the two epic monologues Jesse delivered back when he was in the hospital after being destroyed by Hank. The first monologue is Jesse trying to be the Bad Guy: "Grr, I'm gonna get Hank and murder his family, blah blah blah." Then, in the second monologue, he reveals what he really wants, and what he's always wanted: Walt's approval.
Perich: I accept your quibble and offer a quibble further: I don't know that Jesse was ever the bad guy, even in S1. Jesse was a drug dealer, a slacker and a manipulator, sure. But the first three seasons have gone out of their way to keep Jesse from ever having killed anyone. It's Walter who poisons the two dealers in the pilot and who chokes Crazy-8 to death with a bike lock. When Walter sends Jesse to "take care of" the meth heads who robbed Skinny Pete, Jesse doesn't kill them – one of them kills the other with the ATM. The tension of the penultimate S3 episode, "Half Measures," is the question of whether Jesse is finally going to kill someone – the dealers who offed Andrea's brother. But then Walter drops in like the hammer of god in the family SUV.
(Of course, this makes the dilemma of the finale – is Jesse going to kill Gayle or not? – even more gripping. And then he does. Jesse's now just as bad as Walt is.)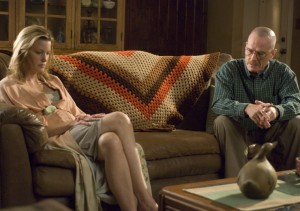 Mlawski: What's fascinating to me is the in-fighting among BB fans on the Internet. It seems half completely buy into Walter's rationalizations just as Skyler found herself doing toward the end of season 3. I'm on the other side of the fence.
Perich: I'm not as in touch with the BB fans on the Internet as you are. If I had to guess, however, I'd say the breakdown falls along the lines between those who buy into the myth of the Alpha Male – as Walt himself does – and those who recognize BB as exposing it. You see the same thing with Mad Men. Part of Mad Men's immense popularity comes from anchorless young men in its audience who want to be like Don Draper. And who wouldn't? He's handsome, he dresses well, he beds lots of women, he doesn't have a contract and he yells at his subordinates. Of course, the point of Mad Men is to expose that facade.
BB is similar. We see how pathetic the Alpha Male gestures are, moreso in S3 than in prior seasons. Walt tosses his money on the grill then lights it. Boom, dramatic gesture. Then he immediately realizes what he's done and dumps the money into the pool. Walt makes a pass at the gorgeous assistant principal, whom we all thought was flirting with him in S2. She recoils. Skylar threatens him with a restraining order over voice mail. His response is to clutch his junk (through his tighty whities, bits of popcorn still in his beard) and snarl, "Restrain this!" in barely coherent rage. S3's also about dealing with the consequences of one's bold, impulsive gestures – of following one's urges.
Mlawski: Well, I hate to generalize, but it sure does seem like the same people who rush to defend Walt regardless of what he does are the same people who say things like, "I'm not sexist! It's just that Jane is a shrill bitch who deserved to die, Marie is a harpy, and Skylar is a vapid cunt rag." (Interestingly, these commenters started warming to that vapid cunt rag when she started allying with Walt toward the end of the season.)
Perich: Totally with you. I'd say that the guys who think Don Draper's life is awesome are also probably a bit sexist.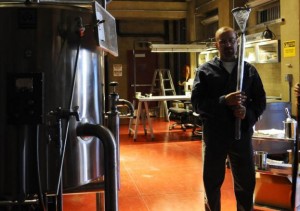 Mlawski: Speaking of Internet flame wars–TELEVISION IS SERIOUS BUSINESS, PEOPLE–there was also a big hullaballoo about the "Fly" episode. Was it "the best episode of all time" or a pretentious piece of garbage? Sadly, I lean more towards the latter. Not that I thought it was garbage… I usually love bottle episodes, but I think they only work if they tell us something about the characters that we don't already know. Most of "Fly" was about the fact that Walter is a crazy perfectionist control freak who goes after one problem when he can't solve another…and also he probably has a death wish. We knew all of this already. What made the episode for me was the bit at the end when Jesse was on the ladder and Walt apologized for Jane's death. I guess "Fly" is important in that it drew Jesse and Walt closer together (like the similar "4 Days Out") and alerted us that Walt was perhaps getting a little bit of conscience back. Could have done without the slapsticky fly-chasing and too-fancy camerawork, though. What did you think?
Perich: I don't know that "Fly" was the best episode of all time, but I really liked it. The latter half especially. Jesse drugs Walt just after the midpoint of the episode. The audience expects Walt to slump right over. Instead, he gradually slurs his words and grows more introspective. It's a masterful bit of intense acting and sceneplay – the kind of thing we only expect from good indie movies. The camera tricks were weird, but not so overwhelming as to take me out of the moment. I laughed at the slapstick; BB's better at that than most shows out there. And there really is nothing more annoying than the low-frequency buzzing of a fat housefly.