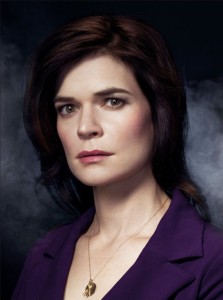 Perich: How do we feel about Marie? She had a compulsive lying disorder in S1/S2 that went nowhere. Her attitude towards Hank's job wavers from antipathetic to encouraging (her dreams of Georgetown). And, though it was a funny little scene, she gets Hank out of the hospital by giving him a handjob. Does Marie have any more depth to her? Or is she just supposed to be comic relief?
Mlawski: Yeah, I do think Marie is the most underwritten character on the show. But not only do I think that handjob scene was hilarious; it also remined me how much I buy her and Hank as a couple. I could also cite that scene where Hank was crying on her shoulder in the elevator and that scene when Hank was taking a shower and Marie was trying to get him to open up about his emotions. I do wonder where her kleptomania went, though!
I guess if we want to overthink Marie, we can look at her as a mirror-universe version of Skyler (where Hank is the mirror-version of Walt). Until recently, Marie and Sky were both being written as loving but slightly annoying characters. (Yes, I think Skyler was a loving wife. I happen to believe that Skyler "forced" Walt to get chemo not because she's a ball-busting control-freak bitch but because she really loved Walt and didn't want to lose him. The Internet tells me not everyone agrees with this assessment.) Anyway, both Marie and Sky have hidden or latent criminal streaks and a little bit of a desire for the nicer things in life, like Georgetown. Both have or had extremely proud husbands who fell apart due to near-death experiences and weren't allowed to express their sadness or frustration or fear due to societal pressures. Of course, Hank's situation is in some ways very different from Walt's. I wonder if Marie would have reacted the way Skyler did if she found out Hank was cooking meth.
Perich: Hank's arc has been interesting, and I'm glad he's had Marie with him. Hank starts as the typical Alpha Male: all bluff and bravado, talking big about the violence of his job. But he gets progressively more shocked by violence. He ends up surrendering his potency, literally – he wagers with his wife that he won't get an erection so that he can languish in the hospital.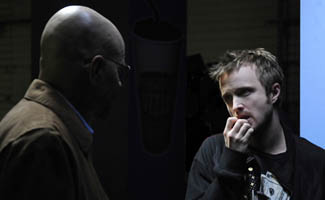 Mlawski: The thing I think I'm most amazed by about this show is how these two characters flipped so completely over the course of three seasons. Walt was initially the Good Guy and Jesse the Bad Guy. But now Walt is more the Bad Guy (who uses various rationalizations to convince himself and the world that he's a Good Guy) while Jesse is the Good Guy attempting and pretending to be the Bad Guy.
However! The last two episodes of the season may have shuffled the deck again. Here's a question for you: Did Walt's act of saving Jesse's life by mercilessly killing the rival drug dealers at the end of "Half Measures" mark the beginning of Walt's redemption arc (since he put himself in harm's way to save Jesse), or does it mark Walt's acceptance that he is Heisenberg, the badass Bad Guy who has no qualms about killing whoever gets in his way? Will season four be about a morally-gray but still-relatable protagonist trying to take down Gus Fring, the Big Bad Final Boss? Or will be it be about one super-villain (Walt) trying to take down another super-villain (Gus)? And what will happen to Jesse while all this is going down?
Perich: I hesitate to guess too much about S4, simply because I could not have predicted the entire arc of S3 based on S2 alone. But here's what we know:
Gus's position as unchallenged meth-lord of Southwestern America hinges on having a monopoly on blue meth. The sole source of blue meth, Walter White, has violated Gus's trust in many flagrant ways. He's also arranged the murder of an employee: Gayle. Gus is probably dying to kill Walt. He certainly doesn't want to trust Walt. The problem is: he can't afford not to. If he loses his position at top of the druglord food chain, he leaves an opening for the cartel to take revenge.
So what happens next?
[Do YOU know what happens next? Or is there something we missed? And did anyone else think Danny Trejo went out like a chump? Sound off in the comments! – Ed.]