Say what you like about Hitchcock, the dude knew his women! He surrounded himself with some world-class hotties – a fine stable of prime wool for himself, Cary Grant and Jimmy Stewart to pick from. He had game before The Game even had game.
Let's scope out The Five Hottest Hitchcock Blondes, bro.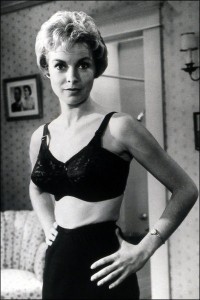 5. Janet Leigh
A good girl gone bad, Janet Leigh turned heads in Psycho. Not just good-looking, she knew how to jack that paper, too. Leigh made film history – and erection history – with her infamous shower scene. Word has it that if you freeze frame and look carefully, you can totally spot nips.