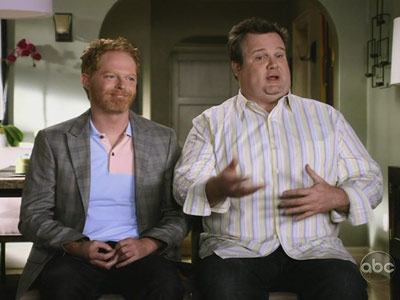 An easy response to why no one's that offended at Modern Family is that, while Cameron and Mitchell are gay, they aren't that gay. Sure, they talk about theater, they enjoy themed brunches, and they gesture with limp wrists. But they're not … y'know. Fa-LA-ming.
This sort of critique is, of course, dismissive to a wide swath of gay culture. Not every gay male needs to fit a particular, narrow stereotype. To insist on that – or to act surprised when someone steps outside it – reduces identity to a series of signals. And what's worse, they're rather blunt signals. Not every gay guy has to be a loud, gossipy Liza Minelli fan.
And yet it's worth considering, at least from the standpoint of cultural critique. Prior to the late 00s, gay characters on primetime television were primarily about their gayness. Their reason for existing was to be gay in a place. Some of them are simply neurotic and uptight (Will of Will and Grace); some of them are spastic and emotional (Will's friend Jack, also of Will and Grace). But their sexuality was a defining feature. The point of Will being gay in Will and Grace is so the two title characters can have a long-term friendship without the "will they or won't they?" ambivalence that two sexually compatible people would have.
Modern Family features two gay characters whose sexuality is not a punchline. At least, no more often than any other character. There are plenty of jokes about Jay and Gloria's May/December marriage, and Phil and Claire's sex life has been the focus of a few episodes (including one recent one, on which more in a moment). But aside from the occasional reference to figure skating or a taste in furniture, you wouldn't know that Cameron and Mitchell are gay.
Our first instinct is to say that that's a good thing. "Gay" is no longer a character trait, like "selfish" or "ambitious" or "nurturing." There's no longer a package of required behaviors and speech patterns that attach to homosexuality. People just are or aren't gay. If our preferred cultural outcome is to treat everybody exactly the same, this is an improvement.
Our second instinct?
Let's consider the recent episode "Caught in the Act."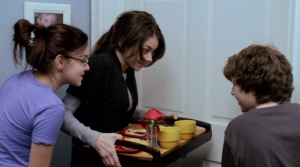 The episode begins with Phil and Claire's three kids making breakfast in bed for the two of them to celebrate their anniversary. They open the bedroom door, only to find Phil and Claire doing what married couples do on their anniversary. Nothing graphic is shown, since this is broadcast television. Handheld camera shakiness plus some quick covering up with sheets means we only see a bit of skin. But it's clear, given the relative positions of Phil and Claire, not only that they were having sex but how they were.
It's funny. It's a little bit salacious, but harmless when compared to (say) Glee or Gossip Girl. And it ends on an up note.
We've never caught Jay and Gloria in as flagrante of a delicto, but Gloria as a character is defined by her sexuality. The nature of her relationship with Jay – a second wife, a younger and hotter wife – carries with it the implicit assumption of why Jay married her. Most of her outfits show off her rather impressive figure. While there's more to Gloria than just being a sexy South American chick, it's impossible to forget for a second that that's what she is.
So Phil and Claire get their sexuality. Gloria and Jay have theirs. What about Mitch and Cameron?
Mitchell and Cameron's relationship was so Platonic through the first season that a Facebook campaign was started demanding that they kiss. When the two finally did kiss onscreen (S2E2, "The Kiss"), it was such a dry, brief kiss that you could easily have missed it. Ryan Murphy, creator of Glee, called the couple's lack of affection "ridiculous," and when the creator of Glee thinks you're ridiculous it's time to evaluate your creative choices.
Since then? No sex jokes. No one walking in on them. Not even the occasional smoldering glance. The closest we've come to seeing them express their sexuality is when they ogled James Marsden in "Slow Down Your Neighbors."
No one says that Mitchell and Cameron need to go to the other end of the spectrum – becoming dishy queens whose every sentence drips with innuendo. But given the acknowledged sexuality of every other couple on the show (usually played for comic effect), the monastic relationship of Mitch and Cam stands out. TV audiences are ready to accept a gay couple, it seems, just so long as they're not too gay about it.
Why is that?
First, the sitcom as an art form is inherently conservative. I don't mean "conservative" in this case as attached to a party's fiscal policies. Rather, I mean "conservative" as in "traditional." Preserving the status quo. Not rocking the boat. Predictable.
Though sitcoms showed married couples sleeping in the same bed as early as the Forties, it wasn't the TV norm. Lucy and Desi, Dick and Mary, Ralph and Alice – a decade or more of couples who slept in separate beds, despite the practice being pretty rare in America. Babies would arrive in a series and grow into sidekick brats, but the method of making babies was never mentioned.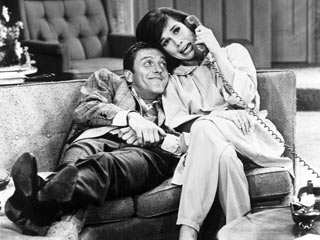 In fact, how many sitcoms can you name that ran longer than three years that didn't end with male and female leads marrying off? And having children? Seinfeld's one example, but Seinfeld is the exception that tries the rule: a groundbreaking instance of post-modern neurotic comedy that challenges us to find something likable in its stars. But even Friends, a sitcom which took place at the same time, in the same city, and with a similarly self-absorbed cast of thirty-somethings, ended its run with every star married and/or pregnant.
What do sitcoms tend to teach us? That you should stick by your family. That you should tolerate other people (except the REALLY weird ones). That you should find a job – preferably one you like, but that's not necessary – and work hard at it. That you have certain responsibilities that you have to live up to, no matter how painful they may be, and that doing so makes you a better person.
These morals are so ingrained into the sitcom formula that it's tough to escape them. We applaued Arrested Development and 30 Rock for being mold-breaking comedies, laden with self-reference and irony. But how many episodes of Arrested Development ended with Michael siding with his family – the family that regularly lied, cheated and schemed to get a few more dollars out of the Bluth fortune? How many episodes of 30 Rock end with Jack or Liz forgiving a member of their cast for an egregious mistake?
The morals of a sitcom may not sound that objectionable. And that's what makes them work. They're not objectionable. No one's going to label you a monster for saying "you gotta stick by your family." But it's not always true. Watch American Meth, or Precious, or Million Dollar Baby if you want a lesson on when you should abandon your family. Watch The Man in the Gray Flannel Suit or The Smartest Guys in the Room to learn the virtues of walking away from your job. The lessons of sitcoms, as agreeable as they are, present a staid, unchallenging view of life.
Part of this is economics. Sitcoms are the offspring of marketing departments, designed to sell washers, dish soap or mouthwash in 30-second increments. Advertisers hate courting controversy (unless it's in a calculated attempt to be edgy). So a sitcom can't be too challenging without alienating its sponsors.
Part of it is aesthetics. A sitcom is meant to run for as many seasons as it'll stay profitable. Creating a work of art that'll stretch into perpetuity is immensely challenging. You try writing a 1024-day song. Bringing characters back to stable points – family, work, neighborhood – keeps the narrative focused. So long as there aren't any radical changes, the writers can keep using the same characters, the same relationships and the same sets.
Whatever the cause, the result is the same. Sitcoms are rarely, if ever, going to break social barriers.