[Editorial Note: I hate prefacing my work with an apology or gloss more than anything. I've always believed writing should stand on its own merits. But I have to lay out before hand that I'm writing about a tricky subject from a great remove. Gay rights and gay culture are still a controversial subject in America. As a straight male, no matter how passionately I feel about these subjects, I'm still approaching them as an academic. These controversies don't affect me personally, except insofar as they affect several of my very good friends. So if the analysis of homosexual culture and the gay lib movement that follows is incomplete or overly broad, that's on me. I won't apologize for it. But I'll reiterate that it's just one man's opinion.]
Here's what the Parents Television Council had to say about Glee after the episode "Showmance":
Parents, please be aware: Glee is not High School Musical: the T.V. Series. Don't let the singing and dancing and high school setting fool you. This is an edgy, sexually-charged adult series that is inappropriate for teenagers. Unfortunately, Fox has marketed the show heavily at tween audiences. What did those pre-adolescents tune into when the show finally premiered in its regular timeslot on September 9th? A veiled reference to fellatio, a speech denouncing abstinence, simulated sex during a musical dance number, and premature ejaculation. For containing explicit sexual content in a show aimed at kids, yet lacking the "S" warning descriptor in the rating, Glee has been named Worst TV Show of the Week.
Here's their take on Gossip Girl

:
The CW's new teen drama Gossip Girl, which airs on Wednesday nights at 9:00 p.m. ET, takes all the foul content from The O.C. while stripping away any of that program's redeeming features. This far-fetched soap opera about filthy rich teens deals with every vice from drug use to promiscuous sex to violent rape. In the November 7th episode, we see a father with a drug addiction who gets caught and blames it on his teenage son; a teen who watches internet porn to learn sex tips for an evening with his girlfriend; and a high school slacker who convinces his father to purchase a burlesque club.
And here's the uneasy response to MTV's adaptation of the UK series "Skins":
MTV's rocky road with its racy new television series, "Skins," continues.

L'Oréal SA and sandwich-chain Subway on Monday brought to seven the number of marketers publicly pulling their advertisements from the program, which has prompted a barrage of criticism because of its depictions of minors engaging in sexual activity as well as drug and alcohol abuse.

Several other high-profile companies—from Taco Bell to General Motors Co.—have distanced themselves from the series on the Viacom Inc.-owned network, which the Parents Television Council dubbed "the most dangerous television show for children that we have ever seen."
The Parents Television Council seems to be the common denominator here. So what did they say about Modern Family?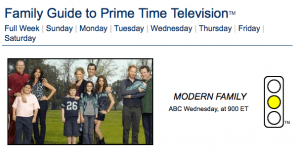 Hmm … yellow light. That means "the show contains adult-oriented themes and dialogue that may be inappropriate for youngsters." Well, true as far as it goes. The PTC's rubric has always been sex / drugs / violence more than Old Testament values. What did the 700 Club have to say when Modern Family debuted?
The start of fall also marks the beginning of a new season for several TV shows, but this year some viewers are noticing more homosexual characters and story lines.

The Gay and Lesbian Alliance Against Defamation (GLAAD) recently released a report saying about 44 gay and bisexual characters are making regular appearances in this season's show line-up.

"Americans now see gay and lesbian couples marrying, raising families and contributing to their communities," GLAAD president Jarrett Barrios said.

"[Those characters help American's] come to accept and better understand their homosexual family members and neighbors," he added.

"The Modern Family" on ABC is one new show in question. One of the main plots includes a gay couple who adopts a baby.

Another ABC show with a similar plot is "Brothers and Sisters," which has two male characters who are married.

Other shows with gay and lesbian characters include NBC's police drama "southland" and the popular prime-time medical drama "Grey's Anatomy."
… and that's it. (Notes on the page indicate that CBN may have devoted some TV time to talking about it, but no further record exists online)
How about Focus on the Family? I'll bet they have some nasty things to say about Modern Family, right? Right?
It's interesting to note how natural the show's gay couple appears to be: While Cameron can be a caricature of stereotypical effeminacy, he and Mitchell are presented as normal people living an acceptable lifestyle. They merely want to be great parents to their adopted girl, and they try to support each other as best they can through life's trials and tribulations.

Those small facts speak to how much television has changed in your lifetime.

[…]

"As the networks gradually add characters from all backgrounds and all walks of life to prime-time programming, more and more Americans are seeing their LGBT friends and neighbors reflected on the small screen," GLAAD president Neil Giuliano told USA Today in 2008.

Mitchell and Cameron, then, are now "just" part of the landscape. And that says a lot about how TV has changed and how it—by presenting shows like Modern Family—has helped normalize something society once shunned.
… that's it? Really? I can almost hear the wistful tone – "oh, remember those good ol' days when gays were shunned" – but that's the worst they're gonna throw at it?
Why isn't anyone up in arms over Cameron and Mitchell?
If you haven't been following Modern Family, Cameron and Mitchell are a married gay couple, one of the three families featured in the ABC sitcom. They have an adopted baby named Lilly. Mitchell is a successful lawyer: uptight, concerned about appearances, a touch on the neurotic side. Cameron is a former college football player and theater buff who's now a stay-at-home dad.
They're gay. They're unmistakeably gay. And yet none of the usual suspects seem that concerned.