Part Three: The Gospel According to Martha Jones
Here's the other big difference between Who and Twilight.  Edward isn't all that different from any other teenage boy in the world, so when he bosses Bella around, and she takes it, it grates.  Because, seriously, she does not have to follow him around like a puppy-dog or risk destroying space-time.  On the other hand, when the Doctor bosses his female Companions around, you can't really blame them for obeying.  Dude's a nine-hundred-year-old super-genius who lives in a time machine.  What, are you not going to listen to him when he says, "Reverse the polarity?"  Please.  Edward Cullen is a teenage boy who drinks blood sometimes; the Doctor is two steps away from a god.
The third season's constant references to the Doctor's pseudo-godhood puts a whole new spin on the show's gender dynamics.  In my head, there's another epically-long post waiting to be written about Who's feelings about spirituality and science and faith and logic, but let's cut to the chase: Doctor Who is not about Jesus or God or Christianity but it is most definitely a Gospel.  It is a televised Bible written by a gay atheist about the dual gods of science and faith in humanity.  Season three is secretly called the Gospel According to Martha Jones.  For the first twelve episodes she acts as the savior's disciple, and in the thirteenth episode, she spreads the Word—the Word being "Doctor."
Let's say that, like Jesus, you happen to be part-god and part-man.  It's tricky, 'cause you have to keep a balance.  Try to scoot too far over to the "god" side and you become a crazy-evil sumbitch.  Yet, if you give up that god side entirely, humanity is doomed.
So how do you strike that balance?  Well, if your name happens to be Jesus, you hang out with humans a lot.  Call 'em disciples, call 'em Companions—same diff.  In recent years, the Doctor has taken to hanging out with only one Companion at a time, typically a woman.  The Companion is a disciple, a friend, but never an object of romantic love or sexual desire.  I'm going to go so far as to say that each Companion fills the role of the Virgin Mary or a non-sexual Mary Magdalene to the Doctor's Christ.  The man's half-god, but the Companion-Apostle keeps him anchored to humanity and to the Earth.  (And, as far as the Doctor knows, his Companions really are virgins.)
If the Companion represents the Doctor's Virgin, does he also get a whore?  Well, sorta.  In season three, we see a lot of scary, sexualized female villains: the hot spider-mama in "The Runaway Bride" (who interestingly mocks Donna for not being married); the sexy young witch from "The Shakespeare Code"; and, most obviously, the Master's bizarro-Companion, Lucy Saxon.  And, although she's not sexualized like the others, we also get an anti-Madonna in the figure of Francine Jones, Martha's pain-in-the-ass mother who sells the Doctor out to the Master and ends up getting completely screwed for her efforts.
In theory, then, you could probably write a post about how the new Who, Shakespeare-style, surrounds its fascinating male lead with a bunch of sweet Companion-virgins and evil villain-whores.  But that argument would A) require you to overlook the more complicated psychologies of the Doctor's female Companions and B) require you to overlook season three's "Human Nature/Family of Blood" two-parter—a story I like to call "The Last Temptation of the Doctor."
As in the film "The Last Temptation of the Christ," "Human Nature/Family of Blood" shows a god-figure being tempted by his human side and visions of a normal life with a woman.  In "Human Nature," we see the temporarily-human and memory-less Doctor falling head over heels for Joan Redfern, a character who is neither virgin nor prostitute, and yet a little of both.  In other words, she's an adult woman.  At the end of the episode, "John Smith" is asked to choose between Joan and Martha, between his human life and his god's life, between love and duty.  Most intriguingly, the episode explicitly frames this choice in sexual terms: Son of Mine demands that John choose either his "maid" or his "matron."  Technically, the word "maid" refers to the fact that Martha is literally pretending to be a maid (with a feather duster and all), and "matron" refers to the fact that Joan is literally a school nurse, but the sex-oriented double-meaning is very evident.
This episode is merely one example that proves that Who is not a simple story of a Jesus figure surrounded by a series of evil whores and one virgin Companion but a story of a Jesus-figure given a series of near-impossible choices that have to do with women, sex, and mortality (which are, of course, interrelated concepts):
OPTION 1: Completely give up the human side, the virginal Companion/Disciple, and the would-be wife.  This option is a non-starter; we get the impression that without "the love of a good woman," the Tenth Doctor simply go mad.  (Which kind of happens in The Waters of Mars, but we're getting ahead of ourselves.)  Long story short, without Companions around instead of this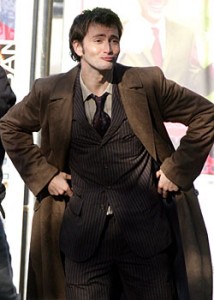 we'd have to deal with this guy all the time: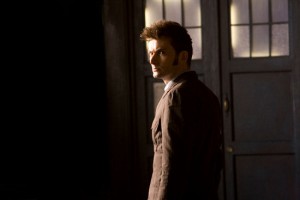 Bad idea for all parties, I think.
OPTION 2: Strike a balance between the human side and the god side.  Keep the virginal Companion, but lose the wife.  This is the option the Doctor chooses, but it clearly has its drawbacks: no sex, no true love, no children, no mortality.  He can save the Earth but never be part of it.  He's always a visitor, an alien.  And since Gallifrey was destroyed, that means he's always alone.
OPTION 3: Completely give up the god side and the virginal Companion/Disciple; become a human and get married.  Get the wife, get the sex, get the love, get the children, get the mortality.  Become a true part of the real, physical, human world.  This is the option and temptation proposed in "Family of Blood"; the Doctor rejects it.
OPTION 4: Instead of being half-god and half-human, try to be full god and full human at the same time.  Use the godlike TARDIS to take over the Universe.  At the same time, indulge your human side by boning your Companion.  This is the option the Master chooses in the season three finale, and it's shown to be really icky.  The Master managed to take a Companion-Virgin and make her into a true prostitute, a woman who let him live out his sexual fantasies in exchange for her life.
Somewhat-related musical interlude!
The Master may like Option 4, but the Doctor never considers it for one of two reasons.  Either he's sublimated his sexuality so thoroughly that it is physically impossible for him to look at his Companions "that way," or he's incredibly aware that the lopsided power dynamics would make boning a Companion super-creepy.  Either way, Option 4 is off the table.  For now.
NEXT UP: Doctors are from Mars, Donnas are from Venus?