Part Four: The Yin and Yang of the Doctor-Donna
Hold the Jesus phone for a sec.  Let's take a moment to inspect Donna Noble.
Thank god for season four, because if Davies et. al had offered up yet another "Companion with a crush" story, I think we'd all scratch our eyes out.  Where the first three seasons of the new series told the tales of two lopsided relationships, the fourth season was the story of two kinda-equals who complemented each other in a very yin-yangish way.  Oh, look!  A chart!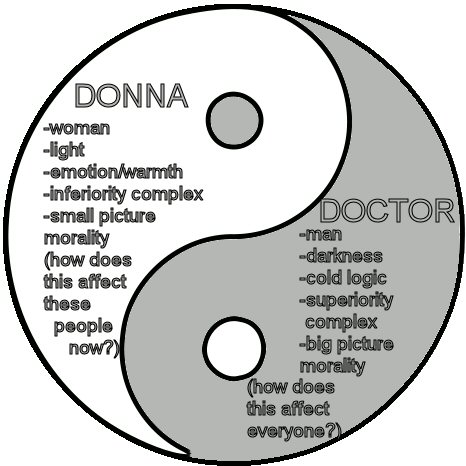 I think we can agree on most of these points.  (If not, please criticize below in the comments.)  I am not saying, of course, that the Doctor is never warm, or that Donna doesn't have any darkness in her—that's what the dots inside the yin-yang are for.  The Doctor and Donna make such a great team because they bring out in the other what they already have in themselves.  With the Doctor around, Donna gains some confidence, uses her super-temp logic to solve some episodes, and learns to make some tough "big picture" decisions.  Donna, more than any other Companion, keeps the Doctor grounded in the here and now, gives him an earful when he starts getting too coldly utilitarian, cuts him down to size when his ego gets too large, and gives him hugs after he's mind-raped and almost killed by an angry mob.
(There's also some indication throughout this season that the Doctor and Donna don't only represent themselves and their conflicting philosophies but that they also represent a metaphorical "father-mother" pairing.  The entire season focuses on surrogate parenthood: "Partners in Crime" is about an intergalactic nanny; "The Fires of Pompeii" sees Donna becoming a symbolic "mother" to a Pompeiian family; "The Unicorn and the Wasp" features an abandoned child; "Silence in the Library/Forest of the Dead" shows Donna raising a false, computer-generated family; "The Doctor's Daughter" is self-explanatory.  In this season we also see a lot of Donna's mother, who is presented as a shrew who takes her own inferiority complex and bitterness and grief out on her daughter.  This focus on the family becomes nearly explicit in "The Stolen Earth/Journey's End" two-parter, where the Doctor is implied to be the father of his "Children of Time," meaning all of his past Companions.  It's also implied, more subtly, that Donna represents the mother to the Doctor's father.)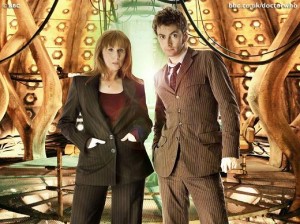 The Doctor-Donna idea reaches its final, climactic form in the season finale when Donna literally becomes half-Doctor and a Doctor clone is made with some Donna mixed in.  It turns out to be a pretty good mix, for a time: hybrid vigor allowed Donna to temporarily be smarter than the Doctor, because her human emotions and creativity gave her ideas that logic alone couldn't provide, and Clone Doctor, while not perfect, had enough humanity to finally settle down and allow himself to enjoy a happy, domestic life.
The show doesn't allow Doctor-Donna to last, sadly, and the separation leaves both parties in a shambles.  Left without memories of her time with the Doctor, Donna reverts to her old shrill self: a woman with so little self-confidence and interest in the rest of the world that she spends most of her days viciously gossiping about celebrities.  Left without Donna's tempering influence, the Doctor goes to Mars and goes a little nutso.
We've seen this story before throughout the ages.  Men and women are different in clear, binary ways—one's the yin, the other's the yang—but they need each other, too.  The underlying assumption is that women by themselves are too emotional and weak-willed to get anything done, which is why they need men to run the planet.  At the same time, those men need the love of a good woman like Joan Redfern and Donna Noble to round out their rougher edges, especially by softening their supposedly-sharper intellects.  This idea can be seen in "Midnight," a story explicitly about how cleverness without compassion can lead to disaster.  Tellingly, this episode barely features Donna at all.  If the compassionate mother figure were around, the Doctor wouldn't have gotten himself into that kind of dire trouble.
Reducing men and women in this fashion is pretty sexist any way you slice it.  And yet, it doesn't bother me all that much in Doctor Who's season four.  Again, that probably has to do with the fact that Donna and especially the Doctor are so well-drawn in this season that I never got a "Men Are from Gallifrey, Women Are from Earth" kind of vibe.  Instead, I got a "This is What Donna is Like, and This is What the Doctor is Like" vibe.  Their genders seemed mostly incidental to me.
My reaction to season four also has a lot to do with the re-imagining of Martha Jones.  This season finds her completely over her crush on the Doctor, and she's become the badass Spock we always suspected she could be.  With her somewhat cold but efficient intelligence, Dr. Jones throws a wrench into the "men are intelligent but evil/women are compassionate but weak" dichotomy.  (Though you could make an argument that this is still sexist, seeing as Martha couldn't fully realize her badass potential until she was trained by the Doctor.  But, ehhhhh, I don't know.  I think the fact that she was left to fend for herself as a resistance fighter during the Year That Never Was had a lot more to do with it.)
ON THE LAST PAGE: We discuss the writings of Steven Moffat, and conclusions.