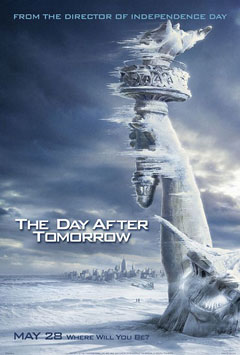 The Day After Tomorrow – Belinkie
It's one thing to run away from the cold.
It's another thing to look over your shoulder, as if you expect to see the cold chasing you.
It's yet another thing to look over your shoulder and discover that yes, you can actually see the cold chasing you.
And it's the icing on the cake when you include a couple shots from the point of view of the cold.
The Day After Tomorrow is about (trendy trendy!) eco-disaster, which most memorably takes the form of a giant tidal wave hitting Manhattan. (By the way, the movie was directed by Roland Emmerich, who also directed 2012, which I believe also features a giant tidal wave.) But that set piece comes relatively early in the film. The movie needs another threat for the characters to run away from.
The movie follows up the wave with maybe my second-favorite escape in a disaster movie: Jake Gyllenhaal fleeing a pair of hungry timber wolves, escaped from the Central Park Zoo. It's both incredibly contrived and incredibly anti-climatic, considering we've just seen a good chunk of the world's population wiped out. And if that was the most ridiculous escape in the movie, dayenu.
But TDAT still has its trump card: a massive hurricane with air a hundred degrees below zero. And the really novel thing about this mother of all cold fronts is you can literally see it coming. The temperature differential is so great that it shatters windows as it passes. When it gets closer, you can even see the ice racing along the ground towards you.
That's the set up for the greatest (i.e. silliest) disaster movie escape of all time, as Jake flees back to his shelter, located in the main branch of the New York Public Library. Yes, the one with the ghost in the basement.
http://www.youtube.com/watch?v=Mzd9G9h27hc
I think what makes this genius is when Jake screams, "Close the door!" And then his friend just barely slams it before the cold can get in. It's like the very air is a b-movie serial killer, stalking them with a frosty chainsaw.