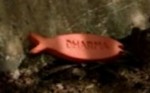 I was planning on writing some long article about some Lost-related topic of my choosing, but your comments re: last week's article were so good and so full of ripe questions that I couldn't pass up doing another Q & A week.  This week we'll tackle the mythology of Lost, the possible whereabouts of Michael and WAAALT!, the paradoxical character of Mr. John Locke and the less-paradoxical character of Mr. Eko, and issues of literary form.  Plus did you know Kate tastes like strawberries?  The things you learn from Lost, season three.
As usual, before we get to the nitty gritty—yeah, I don't really know what that term means, either—let me remind you all of what happened in these eight episodes.

Episode 3.1 ("A Tale of Two Cities"): In the past, Jack thought his dad was boning his ex-wife.  It's unclear if he was or he wasn't.  In the present, Jack is trapped in an aquarium and watched over by Juliet.  Kate gets a sexy dress, and Sawyer gets himself a fish biscuit. How'd he do that?
Episode 3.2 ("The Glass Ballerina"): In the past, Sun did bone Jae!  And then her dad sent Jin to kill him!  But he didn't.  Then Jae jumped out a window and died.  In the present, Sun kills Colleen.  Yeah, Sun!  I was waiting for you to become a badass.

Episode 3.3 ("Further Instructions"): In the past, Locke belonged to a pot-growing commune but was found out by an undercover cop.  In the present, Locke has gone back to being an Island version of a Bible thumper—I'll call him an "Island thumper"—and saves Mr. Eko from a polar bear.

Episode 3.4 ("Every Man for Himself"): In the past, Sawyer helped the government by conning some white-collar criminal out of $10 million.  Also Sawyer knocked up his old girlfriend-slash-dupe, so he's got a daughter.  In the present, Sawyer is led to believe that he has a ticking time bomb in his chest, but unsurprisingly he's been conned.  On the other side of the island, Desmond apparently can see the future.
Episode 3.5 ("The Cost of Living"): In the past, Mr. Eko the priest killed three Bad Guys in his church.  In the present, Mr. Eko refuses to apologize for any of his actions, because he did what he did in order to survive.  The Island does not approve.  The Monster kills Mr. Eko.  Man, so now Bernard is the only back-of-the-plane guy left?  Weak.  Other things: some eyepatch-wearing guy is using a computer in one of the hatches, Ben Linus (nee Henry Gale) has a tumor that needs operating, and Juliet asks Jack to kill Ben.
Episode 3.6 ("I Do"): Nathan Fillion!  Nathan Fillion!  Nathan!  Fillion!  …And some other stuff happened.
Episode 3.7 ("Not in Portland"): In the past, Juliet the fertility scientist stole medical stuffs from her lab to get her sick sister preggers the same day the "Not Dharma Initiative" asked her to join the team in "Not Portland."  But the only way she could join them would be if her ex-husband—really, writers, you named him Edmund Burke?—got run over by a bus.  So of course the Not Dharma Initiative arranged for that very thing to happen.  In the present, Jack holds Ben hostage by nicking his kidneys and arranges for Kate and Sawyer to escape from the Mini Island.  Or maybe we should call them "The Big Island" and "Other-ahu"?
Episode 3.8 ("Flashes Before Your Eyes"): In the present, watching this episode simultaneously got me interested in Lost again and made me trade in my Sayid and Sawyer Fan Club cards for a Desmond Fan Club card.  Yeah!  Desmond!  Here's what happened in the episode: In either the distant past OR the near past right after the failsafe key incident, Desmond either went back in time to right before he broke up with Penny OR had some wacky vision of what would happen if he tried to change the past but couldn't.  In the present, Desmond the Grey wakes up naked to find he has come back as Desmond the White.  Desmond the White can see the future.  More specifically, the future that has already happened.  So the future-past.  I dunno, go read Slaughterhouse-Five if you're confused.  Desmond the White was apparently sent back to save a hobbit.  Uh, I mean, to save Charlie.  If he can.  But he probably can't.  And there go my Lord of the Rings parallels.
And so, in one fell swoop, Lost completely invalidated my post from last week.  You know, the one where I said, "I don't really see any evidence that Lost is run by a 'fate principle' blah blah blah determinism can suck it."  In the words of Mr. John Locke, "I was wrong."  With episode 3.8, there is now some evidence that the show is set in a deterministic universe.  But I'm not going to go all out and say that the characters have no free will just yet.  That would be crazy.  First, we'll have to wait and see if (cue scary voice) Charlie dies.  Even Charlie dies, it doesn't necessarily prove there's no free will; it only tips the scales in that direction.  But even if somehow it's proven that fate is real in this universe, I'm going to bet Jack is going to go all John Connor and say, "no fate but what we make," and try to alter the space-time continuum or something so he gets his free will back.  "Hey, Fate!  Don't tell me what I can't do!"  It's going to happen.  I have foreseen it.
Now to your questions.