Today, Part 2 of yesterday's 80stravaganza. Read all the options and vote at the end!
Crazy Eddie, by Fenzel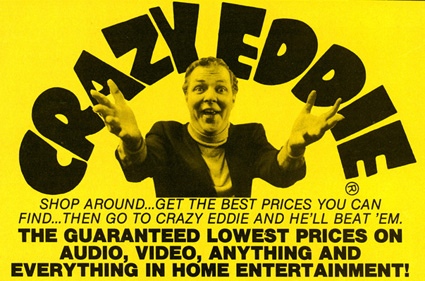 If we're going to revive an 80s franchise, let's go whole hog. None of this "I kinda like this unremarkable cartoon because it was on after cookie time" crap. I mean the real deal. It's time to get crazy! 80s crazy!
How crazy, you ask? How about Tri-State Area discount electronics store crazy? How about the stock symbol CRZY, and taking it from $8 to $75 and back to $9 in three years crazy?
http://www.youtube.com/watch?v=zsCb_eQlKGo&NR=1
How about paying all your employees off the books in cash and skimming 1 out of every 6 bucks for yourself crazy? How about laundering tens of millions of those embezzled dollars through offshore accounts in Israel and Panama back into your stores to boost sales figures and inflate your stock price crazy? How about making a public announcement you resign as CEO and President, only to not really resign, fire your father from the business, and dump all your company stock right before somebody catches up with you and the shares tank crazy?
http://www.youtube.com/watch?v=eXf8oKJ2mu8&NR=1
http://www.youtube.com/watch?v=jc-Mhynh_pg&NR=1
How about losing control of your company to a hostile takeover crazy? How about fleeing the country with a warrant out for your arrest crazy? How about getting charged with racketeering and securities fraud three times–the first time, fleeing the country, the second time, getting the 8-year prison sentence overturned on appeal because you claim the judge was biased against you, and the third time going to the federal pen for a decade with $1.1 billion in overdue fines and judgements against you crazy? (Man, these Christmas ones are the best!)
So, yeah, if you're going to reboot an 80s franchise, DO IT NOW! Crazy Eddie CANNOT BE UNDERSOLD and WILL NOT BE UNDERSOLD!
http://www.youtube.com/watch?v=ehOrW4n7CaQ
Plus, because of the dozens of convictions across the family business, the millions upon millions of dollars in fraud perpetrated against customers and shareholders, the public debasement of the extended legal drama, Crazy Eddie is the only 80s franchise you can remake now, because it's the only one somebody isn't already remaking!
Wow. I guess I was wrong. Apparently people will literally forgive and forget anything.
Crazy Eddie is back in business, and that, dear Overthinkers, is INSANE!!!!!
(By the way, contrary to popular assumptions, the guy in the commercials isn't the Crazy Eddie who owns the stores and committed the crimes. The guy in the commercials is radio DJ Jerry "Dr. Jerry" Carroll, who, as far as I know, never did anything to anybody except make awesome commercials.)
And seriously, a vote in the poll for Crazy Eddie is a vote for bringing back these totally awesome commercials – not the crime, so much. If they can do Monopoly as a movie, they can do this.