Ferris Bueller, by McNeil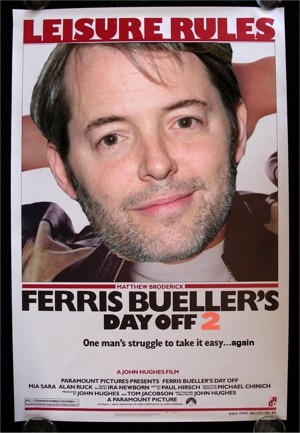 Ferris Bueller's Day Off was one of the seminal artistic endeavors of the decade. It's characters are memorable and endearing (to the point that we'll forgive Matthew Broderick for pretty much anything), the catchphrases still resonate ("Bueller… Bueller…") and we all still pretty much want to be him. It's time for a sequel.
Back in the 80's, Ferris led us to consequence-free rebellion, to the realization that breaking the rules was fine if you were smart, friendly, and well-intentioned. Ferris had a loving relationship with his parents as well as the sportos, the motorheads, the geeks, the sluts, bloods, waistoids, dweebies, and dickheads think he's a righteous dude. His rebellion was a bloodless coup, a 20th century Saturnalia, when for a single day, the young were in charge (Cameron as Mr. Peterson lording it over Principal Rooney; Ferris as Abe Froman, the Sausage King of Chicago). Nobody was hurt, everybody had fun, and Cameron realized the Oedipal complex with a $10.8 million sports car.
1986 was the middle of Reagan's second term—America was poised to win the capitalism vs. communism debate, and we were obsessed with success, money, and hair gel. Ferris offered escape from that mindset. For Ferris, it wasn't about the cost of the Ferrari (as it clearly was for Cameron's dad), it was about the freedom it represented, the freedom to sing, to dance, to see fine art to eat fine food, to see something good today.
In 2009, things are a little different. We wanted to be Ferris, but we probably turned out more like Cameron. As we sit in front of our computers day after day, we know that capitalism's star isn't quite as bright as once it was. We're still obsessed with money, but it's no longer about getting more, it's about getting enough. We're stressed out, we're worried, we're working as hard as we can to keep the boss happy so that we'll survive the next round of pink slips. Couldn't we use another day off?
The sequel to Ferris Bueller's Day Off could offer us the same kind of hope. After lackluster academic performance, but showing great potential in computer science, Ferris is a depressed software engineer. (If this sounds like Office Space, consider the fact that Lumbergh clearly stole his shtick from Ben Stein.) As the film opens we see him in bed, on the phone, convincing both his suspicious boss and his watching wife and children that he's too sick. Then he calls Cameron, successful Cameron, and tells him to borrow the company jet and come on over. After that, it's the same movie: a celebration of rebellion over rules, giving those of us with kids, mortgages and 401ks another chance to hit the road, to twist and shout, to see Sloane change by the hot tub, to put our bosses in their place, and to be kings for a day.
Oh yeah.
Chickachicka.
BTW: Mr. Broderick is clearly ready for this: