[Today, December 24, 2008, is Christmas Music Day on OTI. Here's a holiday guest post from Trevor Siegler. Let us know what you think in the comments! —Ed.]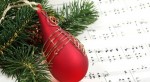 Christmas is in the air, and that means one thing: Christmas music is back and in full force. No other season has as many songs written about it, and it's almost like Satan sets his iPod on shuffle every year.
Many songs simply suck the Christmas spirit out of you, especially if you're stuck in a customer-service job where it's piped in 24/7 between Thanksgiving and New Year's Day.
But there are some holiday tunes that rise above the pack, some golden nuggets in a field full of overdone horse manure. I'll keep the disgusting metaphors to a minimum and simply list the six seasonal songs that always fill me with Christmas spirit no matter how often "Jingle Bells" is on repeat.
1. Nat King Cole, "The Christmas Song"
http://www.youtube.com/watch?v=6oj3jixMGaw
Written by Mel Torme and recorded by Cole's band in 1946, this beloved classic has become the most covered holiday song of all time. But like most songs covered ad nauseum, the original is usually the best. Cole's version (re-recorded twice, in 1953 and again in 1961) has an odd melancholy to it that helps to undercut the overly gooey and upbeat tenor of many other established classics (only the original "White Christmas" has the same sense of barely restrained despair underneath the holiday pleasantries). A simple arrangement with sweeping strings and Cole's distinctive voice make the song the perfect alternative to overwrought retreads by God knows how many one-hit wonders and "American Idol" rejects. It's the perfect Christmas song for an entire bar's worth of lonely drunks on Christmas Eve as well as a family gathering from near and far around the fireplace on Christmas Day.