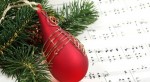 Popular musicians all belong to one of two categories: those that record Christmas songs, and those that don't. A few examples:
Winger has a Christmas song: a fantastically bad cover of "Happy Xmas (War is Over)."
Metallica does not.
Weezer has several Christmas songs, including a great version of "O Holy Night."
Radiohead does not.
R. Kelly has a Christmas song: "World Christmas." It's no "Trapped in the Closet," but it's totally passable.
Kanye West does not, but someone else clearly has thought that he should:
http://www.youtube.com/watch?v=8yZsTsF1v8A
So what do Metallica, Radiohead, and Kanye West all have in common, besides their lack of Christmas music and the fact that they all take themselves too seriously? Are they all Jewish?
Obviously, some musicians would object to Christmas music on religious grounds (e.g., the Beastie Boys,  Matisyahu), but that reason aside, I suppose some "artists" see themselves as above the crass commercialism and cheesiness of Christmas music. That's all fine and good, but I think the world deserves to hear Thom Yorke give us his rendition of "Blue Christmas."
After all, he's not above covering "Rhinestone Cowboy."