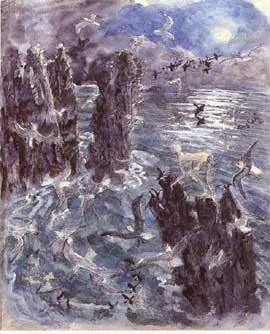 By which we mean not "the mysterious poetry inherent in random events," but rather "for no real reason, today, here's some poetry." The Madness of Sweeney is a landmark work of medieval Irish literature, one that has stood the test of time and inspired writers ranging from T.S. Eliot to Neil Gaiman.
Also, it is totally emo.  Observe!
God has given me life;

without music, without rest,
without woman's company,
loveless
he gave me life,

and so you find me here
living disgraced in Ros Bearaigh;
the life God gave
seems somehow dislocated.

You do not wish to know me.
Later, it starts to get into goth territory,
Madness shrieks beneath my feet
as I search for watercress.

Madness lurks among the reeds
leaping at me when I stoop
about a hill-pool.

Madness has a white and haggard face.
and then sometimes it's just weird:
O great God above
my weakness is also great
and black are the sorrows of Sweeny
whose scrotum hangs slack.
The excerpts above are from a modern translation by Trevor Joyce, which you can read for free on his website; if you prefer a somewhat more "translator-y" translation, J. G. O'Keefe's 1910 version is available here.
Never let it be said that we don't sometimes class it up around this joint.