This year, we're going to be putting our day-after observations about Game of Thrones into writing, in a series we call Game of Thrones Unlocked. In keeping with our tradition, these will focus on explicating one scene as an interpretive key for unlocking deeper interpretations of the episode's themes. These articles will contain spoilers through the episode under discussion. This week, Matthew Wrather tackles "Battle of the Bastards" (Season 6, Episode 9).
I should have been back with you earlier in the season. When we planned "Game of Thrones Unlocked," we meant it to be a more or less regular rotation. But some scheduling and some internal horse-trading means that I started the series off with a consideration of how the show uses dramatic reversal, and only now am I returned to talk a little bit about…dramatic reversal. Say what you will about Game of Thrones: its preoccupations are consistent.
As we lick our lips and sharpen our knives to tuck into the traditional Episode 9 meal (we, like Ramsay's dogs, may once have been loyal beasts, but now we're starving), let's whet our appetite by sniffing and licking a little at the title of this episode: "Battle of the Bastards."
The titles of the episodes in Season 6 have thus far been quotations of dialogue ("Home", "Blood of My Blood", "No One") or else of in-world literature and lore ("The Book of the Stranger", "The Red Woman"). This is the first one that functions as a gloss on the plot or, more interestingly, as a promise from the writers to the audience.
Here, the writers tease, is the confrontation you have been waiting for. Here is where the truly evil (and Ramsay is truly evil: his sadism has been developed using every tool of TV storytelling, and he lacks the meaningful interiority that even the baddies like Cersei have managed to achieve) will get his comeuppance. Here is where we will blow fully a third of our CGI budget. Click to subscribe to HBO Now.
When I wrote about Ramsay in Episode 1, I ended by pointing out his haunting vow: "Your pain will be paid for a thousand times over. I wish you could be here to watch." In precisely the kind of dramatic reversal we have come to expect as normal from Game of Thrones—he gets his wish, but not as he would have wished it. The pain is paid back on him, not by him.
So we're going to get a battle of the bastards. But when we say "bastard," what do we really mean? Game of Thrones has always scoffed at cut-and-dried notions of legitimacy. It's baked into the earliest seasons of the show: as soon as you realize the heir to the Iron Throne is not actually Robert Baratheon's son but the product of Cersei and Jaime's incestuous affair, you realize that we are in a world where, to borrow a phrase, "the base shall top the legitimate." Westeros is a universe of competing interests, all equivalent insofar as they are all merely interests; "legitimacy" is a kind of authority, but as Jordan pointed out last week, you can't always tell what the sellsword will do.
Melisandre actually addresses this sort of moral relativism. She has been humbled enough by fervently backing the wrong horse that she has learned to soft-pedal the righteousness ever so slightly. To her there is a clear right and a wrong, a light and a dark, but she hedges her bets by insisting that she can only interpret the signs to the best of her ability. "Maybe you're just a small part of his plan," she tells Jon, relating to R'hllor the way some of us relate to Messrs. Weiss and Benioff, but she has lost faith that there is even a grand design. God may not be merciful or good, but he's the one we've got.
I have to confess that, aside from the beauty of the firebombing of Mereen as captured by the swooping camera and the visceral horror of the battle for Winterfell as captured in punishing long takes as Jon dodged swords and dealt deathblows, I was frankly disappointed in the battle as a climax of the episode and the season (in Game of Thrones, episode 9 is for climax; episode 10 is for denouement and setting the table for next year). It fails as storytelling because we don't really care (Rickon who?) and it doesn't really matter (what does this battle change with respect to any of the large-scale plots: Kings Landing; the white walkers; Dany's march to Westeros?); it fails as a morality play because, real talk, if we've stuck it out this long we must enjoy the brutality on some level, so what really is our case against Ramsay, who delivers us more of what we're hungry for than anyone else?
He was a Bad Guy, sure. But are the Good Guys even good? Danerys, no bastard Targaryen she, is wild-eyed with glee at the prospect of creating a smoldering pile of rubble where Slaver's Bay used to be and needs Tyrion to show her the more moderate path. Recently Varys warned of the Red God's fanatics; she has thrown in with the dragons, those winged fanatics, who have gone from uncontrollable to barely controllable, which I guess is progress, and with a horde of orientalist caricature fanatics in her new Dothraki army. There's a lot of suffering in store before she ushers in that better world she's so excited about.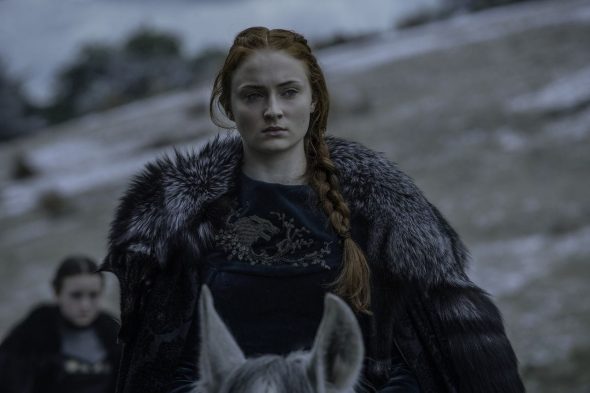 And are you really happy with the how this episode ends Sansa's two year long rape-revenge plot? Sure, we all knocked Sansa for her naïveté early on, but is her smirk at Ramsay's canine dismemberment—an echo of Ramsay's smirk at similar carnage—really an improvement in her worldview? Eddard Stark had the taste to be dour and dutiful when he had to mete out violence. "No one can protect anyone," Sansa spits at Jon nihilistically. You've come a long way, baby.
And Jon, even after the insipid scene between him and Sansa where they hash out a conflict they should have aired weeks ago and where Sansa withholds crucial information that might have saved thousands of lives, proves to be precisely the terrible commander Sansa predicted, goaded into charging recklessly at the Bolton army and leading his men into exactly the kind of trap they'd been digging trenches to avoid. Thank goodness the Knights of the Vale arrive just when all seems lost (as the Tyrells did at the Blackwater; as Stannis Baratheon did at the Wall)! Who could have seen that coming?
Because it's long on sensation, it's a bit short on thematic development, but I think there are still three key "battles" that we can use to understand something about the episode. And none of the involve bloodshed. They are the confrontations and subsequent negotiations between Tyrion and the slavers; between the titular bastards, and between Danerys and Yara. In each case an ungenerous person could find grounds to challenge the "legitimacy" of one of the participants, so In A Way, they're all battles of the bastards.
Tyrion and company are clearly delighted to say that they have "miscommunicated" their intentions in meeting with the Wise Masters to negotiate terms of surrender. But the fools fall prey to a now very familiar reversal, and you just want to shake their corpses and shout, "Did you guys really not know you were dealing with a superhero? Even after all those times she did superhero things and the word spread far and wide?" As when Danerys liberates the unsullied, revealing that she knows their language and that the dragons will destroy everybody; as when Danerys bests her Dothraki captors, revealing that she knows their language and that, after a brief spa day with the Dosh Khaleen, the dragons will destroy everybody; so too here does here superhero status end up besting a bunch of hateful, arrogant bros, turning the tables but not really changing the game.
In the parlay between Ramsay and Jon, unlike Mereen, where the power dynamic reversed, they both begin the conversation on a more or less equal footing and both struggle to get the upper hand. "I didn't want to fight him," Jon admits later, "I just wanted to make him angry." Ramsay has something similar in mind, repeatedly calling Jon "Bastard" as through it would bother him any more than it would bother Ramsay at this point. But of course, to Rikon's great cost, Jon either doesn't truly understand the game is playing or else doesn't truly understand his adversary. (He's been busy fighting White Walkers, who are terrifying and relentless but not treacherous—in fact, relatively straightforward by Westerosi standards.) Drowning in bodies, Jon is literally in over his head, and the later shot of Jon kneeling over a felled Ramsay, pounding away at his face until it's a puddle is a triumphant recapitulation of that near-suffocation under the pile of corpses, trampled by the Wildlings' retreat.
The third negotiation I want to highlight happens when the Greyjoys get to Mereen, which, woah, I guess it was closer than I thought. Here the parties start at opposite ends of the power spectrum, with Dany, the ruler, at the top of the stairs and Yara, the suppliant, at the bottom. But by the time they have negotiated, each has recognized a kindred spirit in the other, and they are standing on the same level. I believe Dany when she says, "We're going to leave the world better than we found it." Or at least I believe that she believes it, and that she sincerely wants an ally in Yara.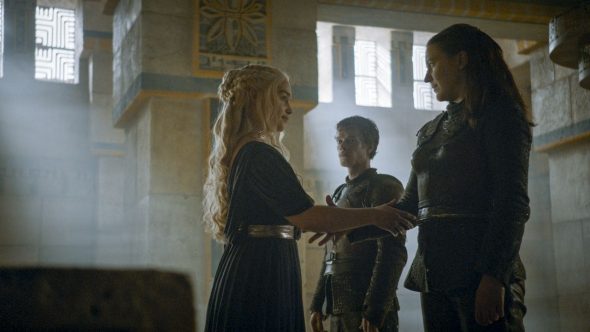 And thought there's a lot of trouble to be had between here and there, and a lot of potential for betrayal and dramatic reversal (I for one think that Yara will have as much luck selling the new "no raping" regulations as Josh Charles did on Inside Amy Schumer), the agreement between Danerys and Yara does represent an actual development: changing the game rather than just changing the terms.
They recognize one another as equals—or, let's say, equally entitled to their interests. (Dany is still a superhero.) The represent a progression over the old Westerosi order—Robert Baratheon, Eddard Stark, Tywin Lannister—because they are the next generation, with their own values and experiences (so do Sansa and Jon), and because they are women determined to exist in and shape the world on their own terms, not just as crafty players in the men's game (more like Brienne than like Cersei or, yes, Olenna and Margaery).
It may be just me, but I was more affected and more intriguted by the shot of those two women gripping forearms than I was by the whole arms race of sensationalistic computer-generated carnage that preceded and followed.
One more episode to go—what did you think of Battle of the Bastards? And where do you see the story going from here? Let us know in the comments!