This installment in our ongoing Podcast Week coverage situates our very own Theory for Turntables Podcast among the many excellent pop music podcasts that have popped up in recent years.
In addition to celebrating the 400th episode of the Overthinking It Podcast, this week marks another podcasting milestone, the 200th episode of the TFT Podcast.  This week's episode on Paul Simon's Graceland is our 125th episode as Theory for Turntables, the podcast in which Matt Wrather and I use concepts from the social sciences, literary analysis, and cultural theory to analyze one great album each week. (TFT Superfans know that we spent our first 75 episodes as These F***ing Teenagers, a podcast that used the same set of analytic tools to discuss Gossip Girl, Glee, and other teen soap operas.)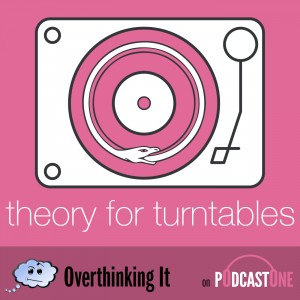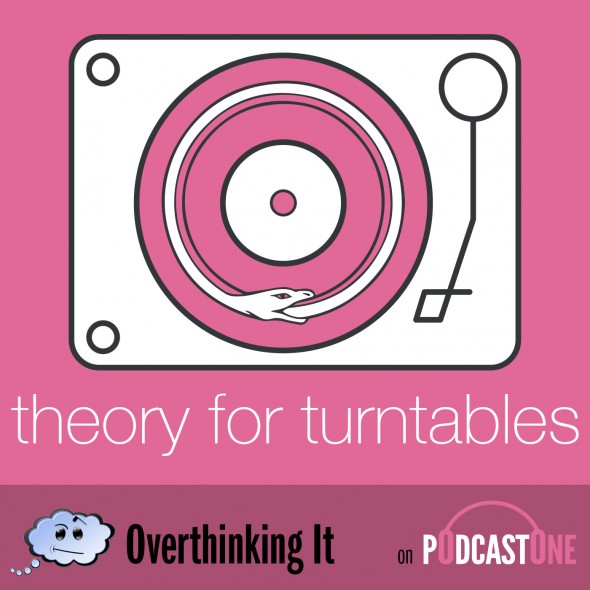 For those of you who've never listened to an episode of Theory for Turntables, our format is that Matt and I (along with frequent guests Jordan Stokes, Rachel D, Pete Fenzel, and Mark Lee) listen to an album on repeat for about a week, and then spend an hour discussing the album. We usually start by trolling each other with borderline unanswerable questions about genre ( "Is the Arcade Fire an Indie Band?") or the artist ("Is the Weeknd okay?" ) that get at the broader public discourse around an album. We then use this as an entry point into discussing what is going on with the album thematically, often focusing on issues around authenticity, identity, and rebellion. We then drill down into a few songs, closely reading the lyrics, and occasionally their interplay with the music (especially when our in-house musicologist Jordan Stokes joins us). It is entirely unplanned, which has allowed us to stumble on some fun insights and discoveries. It has also allowed us to get pretty ridiculous at times. The highest praise we have ever received is from Ryn Weaver, who after listening to our episode on her album said, "This is funny. And obnoxious. Keep it up."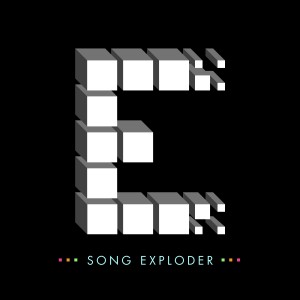 When the TFT Podcast first morphed into an album-oriented pop and indie music podcast in October 2014, there weren't many other podcasts focused on analyzing pop music. However, in the last year and a half, the world of music analysis podcasts has gotten much more crowded, with shows such as Song Exploder, Switched on Pop, and Tuner all focusing on breaking down pop songs and figuring out what makes them tick. Although it isn't strictly speaking a podcast, I also include Chilly Gonzales's Pop Music Masterclass video series for Germany's 1 Live Radio in this category, because his approach to breaking down pop songs is a very close fit with these other shows.  All of these shows focus each episode on a deep dive into a single song (or maybe a few songs by a single artist, as in Switched on Pop's deep dive into Max Martin's catalogue). The shows all use tools and concepts that focus largely on the music, whether it is tools from music theory (as on Switched on Pop, Tuner, and Pop Music Masterclass) or from the practice of writing and recording music (Song Exploder focuses explicits on artists describing the writing and recording process for one of their songs).  Regardless of the specific analytic approach, all of these shows make extensive use of audio samples, both of the song being discussed, and with the host breaking down an element of the song on the instrument of their choice. All of these shows are fantastic. Go subscribe to all of them right now.
Why is Theory for Turntables so out of step with the rest of the music podcasts out there? There's one simple explanation here. We're doing it wrong and we need to get our act together, get Jordan Stokes on the podcast every week to step up our music theory chops, and start getting WAY more focused on individual songs.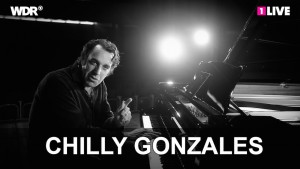 But because I'm the kind of guy who always prefers a Rube Goldberg machine to Occam's Razor, I'm inclined to think of the differences between TFT and these other music podcasts as choices in research design. While it might seem like a stretch to talk about research in the context of podcasts about pop music, it is worth noting that almost all of these shows have at least one foot in academia: I'm a political scientist, co-hosts of both Tuner and Switched on Pop are musicologists, and Chilly Gonzales is a musical genius.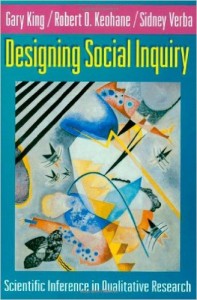 In the social sciences, research design refers to the process of selecting a combination of methods to maximize the leverage that can be brought to bear in answering a given research question. The core idea here is that different research methods may have different strengths and weaknesses in terms of what inferences they allow researchers to make, so it makes sense to select a method or set of methods that allow you to validly answer your question. Some questions lend themselves very clearly to one kind of research method, but others benefit from a mixed-methods research design.  For example, if you are a political scientist studying the relationship between democracy and development, you might choose to adopt a mixed-methods research design because statistical analysis of a large number of countries will help you establish a generalizable pattern (and in some cases a causal relationship), while an in-depth historical case study of one or two countries may help you trace the processes linking political institutions and economic outcomes.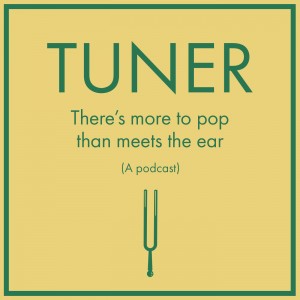 Viewed through this lens, divergences between pop music podcasts can interpreted as the result of research designs that are tailored to different research questions.  The core research questions of most of the song-oriented podcasts are about the listening experience: What makes great songs great? How do words and music interact to produce meaning in pop songs?  As a result, the focus on music theory and production practice in these shows is perfectly tailored to answering these questions.  In contrast, Theory for Turntables is a bit more macro. We're interested in how individual albums (and the artists who make those albums) are situated within broader social and cultural contexts, and what these patterns say about the relationship between individuals and society in given subcultures and historical moments.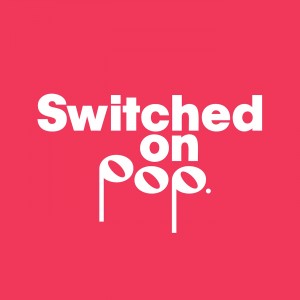 Although these two groups of music podcasts are primarily answering different research questions, there are enough overlaps to indicate the possible benefits of rallying this diverse group of music podcasts into an interdisciplinary research program. Switched on Pop's discussion of the musical roots of the love song/drug song dichotomy in Fetty Wap's "Trap Queen" nicely complements the discussion that Rachel D and I had about communitarianism and feminism on Fetty Wap's self-titled debut album.  Tuner's fascinating discussion of genre as a contract with the listener in their recent episode on Seal's "Kiss from a Rose" overlaps in interesting ways with a long standing Theory for Turntables fixation on genre as fluid, socially constructed, and subject to change and hybridity due to strong misreadings by either artists or the audience. Chilly Gonzales's Pop Music Masterclass episode on The Weeknd's "I Can't Feel My Face" identifies the tension between the Max Martin catchiness and what Matt and I identified as Abel Tesfaye's "Electronic Sad Music".  The Björk episode of Song Exploder provides some of the insight into the emotional and musical calculus that went into writing "Stonemilker", which nicely illuminates our discussion of the opacity of last year's Vulnicura.
Given that there are many coincidental points of overlap and comparative advantage within the world of pop music podcasts, just imagine the cool stuff that we could do if we started working together. Part of the value of interdisciplinary academic research teams is the ability to harness comparative advantage by combining different methods and approaches to answer shared questions. The tricky thing about analyzing pop music exclusively using only songs or only albums (and the associated disciplinary lenses and methodological tools) is that albums are made up of songs (just as Solyent Green is made up of people…. PEOPLE). As a result, if our shared goal is understanding how pop music works and what it means, some aspects of these questions can only be answered by looking more closely at how songs interact musically with the albums they're on and how the music interacts with the broader social, cultural, and historical context in which artists are working.
So consider this post a call to arms collaborate.  Tuner, Switched On Pop, Song Exploder, and Pop Music Masterclass-let's leverage the strengths of each of our respective approaches to pop music and a create a new multi-disciplinary approach.  Let's build a Grand Unified Theory of Pop Music.