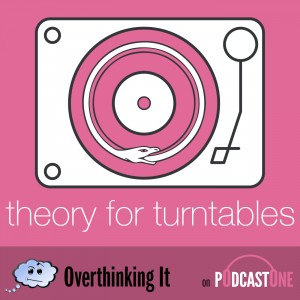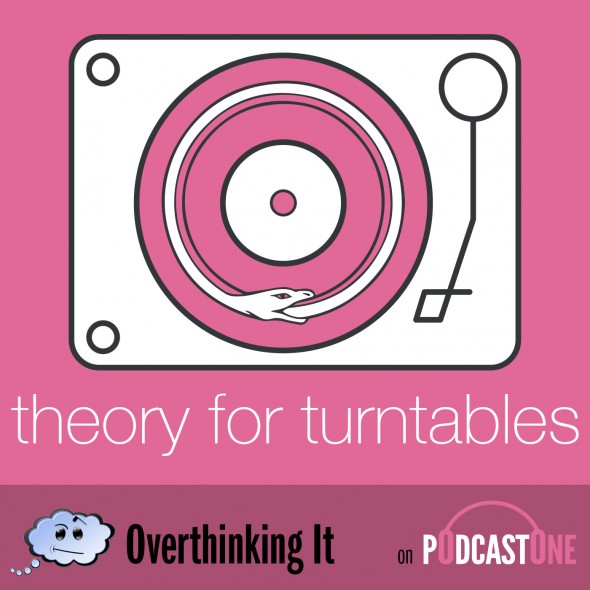 Given that Overthinking It's Theory for Turntables podcast discusses one great album every week, you might have expected us to weigh in with a list of the best albums of 2015.  However, as Matt and I started ranking our favorite records of the year, we started to realize the futility of the endeavor. At this point in the year, nearly every single publication on the internet has published their own best albums list. Metacritic identified 136 year-end lists from music websites, music magazines, and other publications, meaning that our rankings would immediately be drowned out by the chorus of hot takes.
Not only are there way too many Best Album lists, they are also remarkably homogenous.  Over at FiveThirtyEight, Hayley Munguia's meta-analysis of 19 year-end album lists revealed that every single one of them listed Kendrick Lamar's To Pimp a Butterfly. This list also reveals that our finger is very much on the pulse of contemporary music (or at the least that our cognitive agenda is very much set by what shows up in the music press).  Several of our favorite TFT albums were mentioned in a majority of the lists that 538 analyzed, including Carly Rae Jepsen's Emotion, Courtney Barnett's Sometimes I Sit and Think and Sometimes I Just Sit, Joanna Newsom's Divers, Sleater-Kinney's No Cities to Love, Björk's Vulnicura, and Sufjan Stevens's Carrie & Lowell.
The dirty secret about top ten lists is that the really interesting activity — the thing actually worth arguing about with your smart friends — is hidden from view. It's one thing to wonder about the relative merits of the albums in the #1 and #2 spots — or, often more heatedly, #10 and whoever got edged off the list and wound up in the honorable mention section. It's another thing entirely to argue about what the criteria for "best" is: What counts as legitimate or valuable achievement in a field as vast as music, situated in a cultural landscape whose fragmentation has become a truism almost not worth mentioning?
Is it novelty? Virtuosity? Cool? Sentimentality? Production? Vocal performance? Instrumental arrangement? Personal emotion? Political statements? Are the best albums the ones we find most compelling and original on first listen? The ones whose lyrics we find ourselves muttering as we walk down the street? Or are they the ones we are going to want to return to again and again, the ones we are going to add to our shuffle playlists and ride the train or vacuum the floor to, the ones that will become the unacknowledged soundtrack of our lives, barely registering to consciousness but always there, just below the level of our attention?
So each of these lists is not just a history of what was best, but a polemic concerning the nature of "bestness." "This is what you should value," each critic says. "This is the kind of thing that is important." And in this light, we see another dynamic operating, one that has to do with storytelling and self-deception. The question is not exactly "What kind of year has it been?", but rather something closer to "What kind of year do we want to tell ourselves it has been?" In Robert Frost's poem The Road Not Taken, which is quoted out of context more often than in context, the speaker has chosen a path more or less randomly at a fork in the road, but concludes:
I shall be telling with a sigh

Somewhere ages and ages hence,

Two roads diverged in a wood, and I,

I took the one less traveled by,

And that has made all the difference.
The story we tell — what mattered? what made a difference? — is always constructed ex post facto, under different conditions than what we faced when we stood at the fork in the road. We are maybe not ages and ages hence — months and months or in some cases weeks and weeks, but proximity in time doesn't dull the urge to fudge the conclusions and even the facts in the name of a good story.
As a result, we're not going to be the 140th website to tell you how great To Pimp a Butterfly is (and it is indeed that great, just listen to our podcast episode on it, in which we name it the record of the year, if not the album of the year). Instead, we decided that we'd much rather be the only publication to wade through the the hundreds of year-end album lists to identify the ten best top-ten lists of the year. We'll mention their rankings, sure, but we're more interested in who told us the most interesting story about who we are, where we were, and what we liked in 2015.
The Theory for Turntables Podcast's Ten Best "Best Albums of 2015" Lists of 2015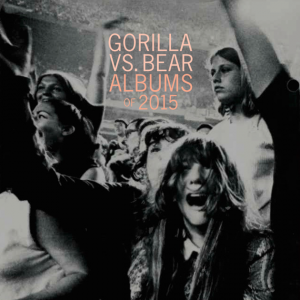 Gorilla vs. Bear was once described as "The New Yorker of hipster blogs,"  and it has earned a spot on our top ten list for holding on to that spirit long after we have passed "peak music blog".  In a year where critical consensus coalesced around To Pimp a Butterfly, GvB editor Chris Cantalini had the audacity to leave the record off of his list of the 50 best records of the year. Kendrick Lamar wasn't the only 2015 critical favorite that GvB snubbed: Sleater-Kinney, Courtney Barnett, Bjork, Father John Misty, and Tame Impala are all conspicuously absent from this list. This set of high-profile snubs clears the way for Art Angels by Grimes to take the top spot on the GvB list. And if you were hoping for any rationale for why your favorite album was excluded, you're out of luck– this list just gives you the rankings without any rationale or explanation, because context is for suckers.
If you want to hear our take on Art Angels, check out Episode 184 of the TFT Podcast: "let grimes be grimes bb".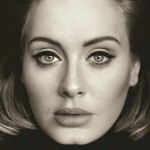 If Gorilla vs. Bear earned a place on our list-of-lists for being so contrarian that it is impossible to take seriously, People Magazine earned the penultimate spot on our meta-top ten list for being so basic it is actually kind of interesting. Although many lists acknowledged Adele's 25 with a spot on their list, People caught our attention for being one of only two publications to actually give 25 their top spot. Even Us Weekly opted to play it safe by comparison, sticking with the pack and giving their #1 spot to To Pimp a Butterfly. 
For an in-depth analysis of 25, listen to Episode 186 of the TFT Podcast: "Adele has Phoned Home".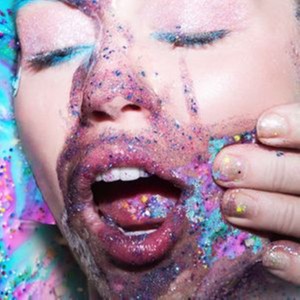 Entertainment Weekly earned its place on our top ten list by ranking Miley Cyrus  and the Flaming Lips's collaborative album Miley Cyrus & Her Dead Petz at number 10 on their list. For context, Pitchfork gave this album a rating of 3.0. Only three albums (by Mumford & Sons, The Pop Group, and Giorgio Moroder) received lower P4K ratings this year. It takes a tremendous amount of editorial confidence to put a universally derided album on your top ten list (right alongside albums by critical darlings like Kendrick Lamar, Courtney Barnett, and Father John Misty).  This move is enough to signal that Miley's album is probably more interesting and worthy of a listen than the negative critical reception indicated. Entertainment Weekly also stands out as one of a handful of lists to include A$AP Rocky's At.Long.Last.A$AP in its top ten. This album was one of my favorites of the year, but was overlooked in most lists.  Finally, EW's online list deserves special recognition for having an image carousel with a user experience so terrible that I can only assume that it is intended to be a work of performance art as alienating and confounding as Miley Cyrus & Her Dead Petz.
We didn't get around to discussing Miley Cyrus & Her Dead Petz in the current semester of TFT, but we dug into our vaults to share our episode on Cyrus's 2013 album, Bangerz.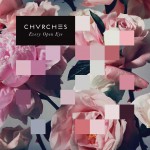 NME's list makes our top ten for one very simple reason: it ranked Every Open Eye by Chvrches at #6, which is that album's best performance on any year-end list. In fact, only one other publication (Under the Radar) listed EOE in its top ten.  This highlights one of the biggest ways in which Theory For Turntables is out of step with the critical consensus- this album was Matt's favorite of the year, and easily is in my top five. This is is a fascinating illustration of how critical narratives can lead great albums to fall into end-of-year blind spots. Critical consensus around Every Open Eye was generally positive. The album had a Metascore of 77, which is the same as Carly Rae Jepsen's Emotion.  However, Emotion was framed as a surprising "comeback" from "Call Me Maybe" one-hit-wonder purgatory, while Every Open Eye was largely treated as a more linear progression from Chvrches's debut The Bones of What You Believe. The result? Carly Rae wound up on 24 top ten lists, compared to two mentions for Chvrches.
For more on Every Open Eye, check out Episode 178: "Real People Have Arena Rock Feelings". For our discussion of Carly Rae Jepsen's album, listen to the following week's episode: "Slap Bass In the Face".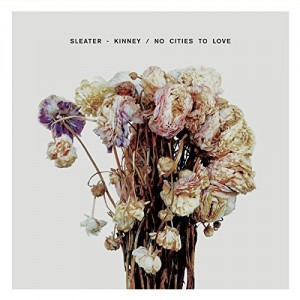 The Daily Beast's list of the year's best albums earned a spot on our list-of-lists by being one of the only lists to give its top spot to my personal favorite album of the year, Sleater-Kinney's No Cities to Love. By identifying No Cities as the top entry on a list that includes To Pimp a Butterfly, Sufjan's Carrie and Lowell, Future's DS2, Joanna Newsom's Divers, metal band Deafheaven's New Bermuda, and the Hamilton soundtrack, The Daily Beast's Marlow Stern is able to capture a set of contradictory themes that ran throughout the year in music (and in the culture more broadly)- loud and soft, rage and resignation, anger and acceptance, love and hate. The music of 2015 was the sound of living in dread in our own gilded age.
For more detail on why we found lots to love in No Cities to Love, check out Episode 146: "The Periodic Table of Indie Rock".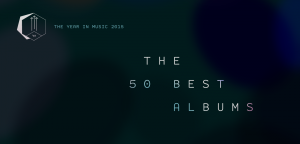 In contrast to many year-end lists, the value of Pitchfork's annual"50 Best Albums" lists is not in the rank-ordering, but in the prose itself. Rather than simply paraphrasing the previous reviews, P4K's list typically includes mini-essays on each album from writers who didn't do the original review, providing a vital second opinion on the album, and allowing the year-end-list to stand on its own as a work of criticism (rather than reheating stale content). The writing in this year's top ten section is especially virtuosic and contains many lines that compelled me to revisit a number of the best albums of the year, including Mark Richardson's evocation of Broadway musicals and Flash Gordon in his blurb on Kamasi Washington's The Epic, Laura Snapes's articulation of Courtney Barnett's "weary worldview", and Jeff Weiss's description of Vince Staples's work on Summertime '06 as "the halfway point between Ice Cube and Ian Curtis".  The strongest piece of writing in the whole list is Kris Ex's essay arguing why To Pimp a Butterfly is the best album of the year. Even though this ranking doesn't stand out from the pack of other year-end lists, the writing does, eschewing the frequently repeated surface-level platitudes in favor of one of the stronger analyses that I have read about the interlocking political, poetic, and musical achievements of this album.
For our discussion of To Pimp a Butterfly, download Episode 191: "It's Not the Album of the Year, It's the Record of the Year".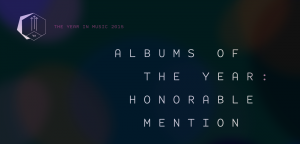 As much as I enjoyed Pitchfork's "50 Best Albums" list this year, it is actually only my second-favorite Pitchfork list of 2015.  P4K's list of Honorable Mention albums slightly edges out its more prestigious sibling by being freed from the obligation of anointing "the best album" of the year. This allows the Honorable Mentions list to be more adventurous and less tied to "mainstream" and "mainstream-indie" conceptions of which albums are "important".  As a result, many of my favorite albums of the year were actually on this list (rather than Pitchfork's "50 Best Albums") including Full Communism by the Downtown Boys, The Agent Intellect by Protomartyr, and the self-titled debut albums by Fetty Wap and Viet Cong.
Grab a bottle of Remy Martin 1738 cognac and join us for our discussion of Fetty Wap in Episode 181: "Offering the Bottle".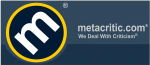 Although Pitchfork's "50 Best Albums" list makes a compelling case for To Pimp a Butterfly's status as the overall album of the year, the aggregate year-end lists from Album of the Year and Metacritic make the same point even more forcefully by simply crunching the numbers. Although AOTY and Metacritic use different formulas and sets of publications, the results are broadly similar: on both lists To Pimp a Butterfly has more than double the points of the runner-up album (on AOTY's list, Sufjan is #2; on Metacritic, Courtney Barnett has the second slot).   Other patterns in the two aggregate lists are robust to methodology.  On both lists, Art Angels by Grimes holds down the number 5 spot and Sleater-Kinney is ranked 8.  At the same time, other rankings are more sensitive to methodology. In particular Metacritic's larger sample favors Courtney Barnett, Tame Impala, Björk, and Adele over Sufjan, Father John Misty, Jamie XX and Julia Holter.  These (and many other meta-patterns) revealed by these two lists provide a lot of the raw data that inspired this meta-list. In another five years, all top ten lists will be aggregate lists ranking their favorite aggregate list, in a perfect year-end-list ouroboros.
Check out our discussions of the #2 albums on each of these aggregate lists. Episode 160 ("Spoiler Alert: Jesus Dies") is on Album of the Year's #2 album, Sufjan Stevens's Carrie and Lowell, while Episode 157 ("Ironic Clown Posse") is on Metacritic's #2 album, Courtney Barnett's  Sometimes I Sit and Think, and Sometimes I Just Sit.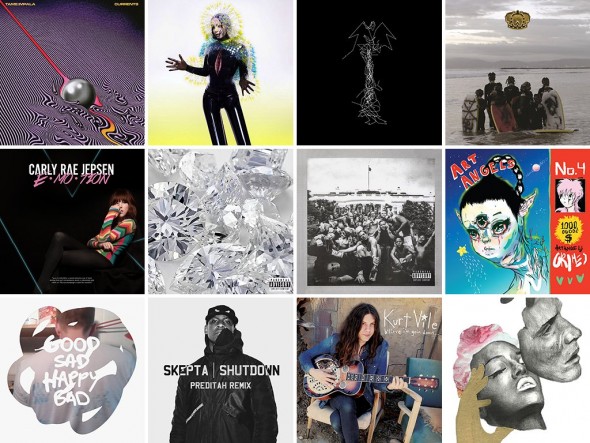 The Vogue list stands out for recognizing something that we've long argued in our analysis of contemporary and classic albums on the TFT Podcast– it is not particularly useful (or even possible) to analyze and rank albums on a single dimension. Instead, the ideas and influences that matter in any given moment are continuous and hyperdimensional. Vogue's year-end list by Peter Macia recognizes this idea by eschewing a ranked list in favor of a set of linked mini-essays that place many of the albums that topped other lists (To Pimp a Butterfly, Art Angels, Vulnicura, No Cities to Love) in the context of many other noteworthy albums that were absent from other lists (Drake & Future's What a Time to Be Alive, Enya's Dark Sky Island, Rustie's EVENIFUDONTBELIEVE) to identify a set of connected trendlets and micro-genres that characterize the state of popular music in 2015.  More than any other list, Vogue's list helped me to synthesize my thoughts on the year in music, helpfully pointed me towards albums and genres that I maybe have overlooked earlier in the year, and got me excited to gear up for the albums and meta-trends that are headed our way in 2016.
Want more analysis (and meta-analysis) of your favorite contemporary and classic albums? Subscribe to Theory for Turntables on iTunes or using our RSS feed with your podcast app of choice.