In October, we paid tribute to Marty McFly Day by recording Overview commentary tracks for all three films in the Back to the Future trilogy. But as soon as we finished recording our last BTTF Overview track, we felt a great disturbance in the force. Like a small band of rebels deployed to the forest moon of Endor, the December release date of new Star Wars movie, Episode VII: The Force Awakens had started to sneak up on us.
From that moment on, we knew that it was our destiny to record Overview commentary tracks for the entire original trilogy. Queue up your video stream, DVD, or Blu-Ray (any of the special edition releases, not the theatrical versions)  and get ready to spend a great evening delving into the Star Wars universe with your friends from Overthinking It.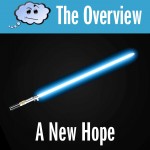 For Episode IV, we delve into the mysterious motivations of Obi-Wan, the curious ineffectiveness of Vader, and the enduring terror of trash compacting. This commentary track is hosted by Peter Fenzel and features Matt Belinkie, Mark Lee, and Matt Wrather.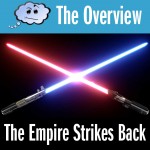 For Empire Strikes Back, we dissect the Jedi certification process, the tricky nature of cliffhangers, and whether this film deserves its reputation as the greatest film in the original trilogy. This commentary track is hosted by Matt Wrather and features Ben Adams, Peter Fenzel, and Ryan Sheely.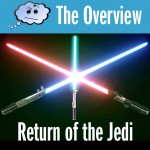 For Return of the Jedi, we ponder the logic of the Han Solo rescue mission, the polarizing Ewoks, and what the Emperor does for fun when he's not ruling the galaxy. This commentary track is hosted by Mark Lee and features Ben Adams, Matt Belinkie, Peter Fenzel, and Ryan Sheely.
You can get in on the fun by purchasing the commentary tracks for Episode IV, Episode V, and Episode VI one-by-one for $2.99 each.  But if you truly love Star Wars, you can buy the "Virtual Box Set" of all three Star Wars original trilogy Overview episodes for the discounted price of $7.99.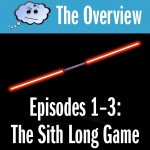 When you buy the "Virtual Box Set", you also get an exclusive bonus podcast episode, "The Sith Long Game", which focuses on the three Star Wars prequel films. This hour-long free-form discussion focuses on finding what is good about the prequel trilogy, focusing on the concept of the Sith, the nature of Jedi civil-military relations, and the political dynamics of the collapse of the Galactic Republic. The episode is hosted by Ryan Sheely and features Ben Adams and Matt Belinkie.
###
The Overview is a series of alternative commentary tracks from Overthinking It, where the we watch and discuss your favorite movies in real-time. The commentary is meant to be played while watching the movie, so get your own copy (or stream) of the movie and get ready to watch the video and listen to a MP3 of the track at the same time.