Please enjoy the thrilling thrilling conclusion of the sport court series from Emily Smith and the Sport Court Team!
Its been two weeks since Sochi Bear shed a single tear and the Olympic flame was extinguished. That doesn't mean we here at the Sport Court have stopped thinking of them, and not just because our DVR is still full of curling matches. We're here to recap the Olympics in the only way we know how to—by breaking down the medal counts in terms of sport and non-sport. If you're wondering how we decided what is a sport and what isn't, check out our rulings over at the Sport Court.
USA! USA! USA!
While the United States wasn't able to repeat its historic performance at the Vancouver Olympics, Sochi still proved to be a successful Olympics if we agree to never speak of the hockey tournament again. Overall Team USA won 28 medals at Sochi: 9 Gold, 7 Silver, and 12 Bronze. Now, many websites rank countries in terms of Gold medals won, but we're not going to do that because that puts the US in fourth place, just off the proverbial medal podium and we're nothing if not patriotic homers. So, looking at the final count, Team USA is second in total medals won and first in Bronze medals won.
Of the 28 medals we took home, 15 of them came from sport events and 13 came from non-sport events. Team USA excelled this year at the non-sport Freestyle Skiing events sweeping Men's Ski Slopestyle and taking Gold in both Men and Women's Ski Halfpipe. The majority of our sport medals came from the Sanki Sliding Center where Team USA picked up medals in bobsled, luge, and skeleton. Team USA struggled this year in the non-sport snowboard events (we're looking at you Shaun White) and the sport events of Speed Skating (we're looking at you Netherlands.) Interestingly, only 2 of the Gold medals won by Team USA came in sport events, Women's Slalom and Men's Giant Slalom
Looking forward we expect to totally dominate in Rio.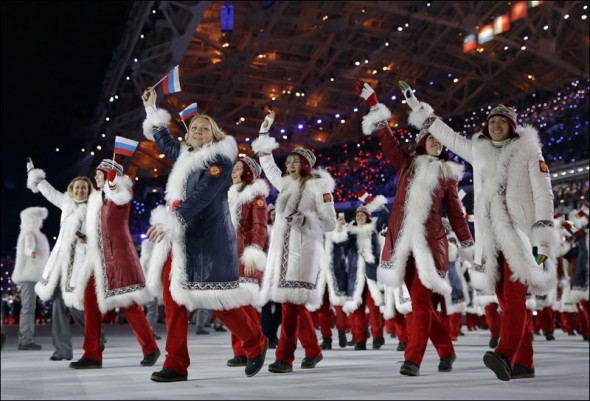 Russia
The host country lived up to its exceedingly high expectations for itself winning 13 Gold, 11 Silver, and 9 Bronze medals. Team Russia not only took home the most medals overall, they also won the most Gold medals of any country. So you know, they did alright we guess. Looking at the sport breakdown, 26 of their medals came from sport events and only 7 came from non-sport events. This means Team USA brought home more non-sport medals than Team Russia, not that we're bitter about them winning more medals or anything.
The majority of their non-sport medals came from figure skating an event where they won 3 Gold, 1 Silver, and 1 Bronze medal including taking home Gold in the brand new Team Figure Skating event.
Norway
Perennial Winter Olympics power-house Norway lived up to its expectations coming in third in overall medal count winning 11 Gold, 5 Silver and 10 Bronze medals. Of these 20 medals came in sport events and 6 came in non-sport events. This is largely due to Norway's supremacy in any events that involves skiing for a really long distance winning just shy of half of their medals in Cross Country skiing events. Norwegian biathlete Ole Einar Bjoerndalen also became the most decorated Winter Olympian in history.
Netherlands
The Netherlands are probably the oddest outlier of the bunch. Of the 24 medals they won all of them came in a sport event. They were fifth overall in the medals count and all but one of these medals came from speed skating (the other one came from short track, so team speed skating.) In their complete dominance of speed skating the Netherlands swept the podium in four different events. If only Team USA had had better suits.
Canada & Germany
Canada won gold is this sport called hockey. It's not really a big deal or anything. They also won some other medals, 15 in sport events 10 in non-sport events for a grand total of 25.
Last and technically least, Germany won 19 medals overall rounding out the Top 6 (because a Top Recap is for people who can count.) 13 of their medals came from sport events and 6 came from non-sport events.
So what does this mean? Well, Team USA took home the most non-sport medals (including the most gold medals) thanks to many of the newer Olympic events. Russia has a weird way of following-up a successful Olympics. People in the Netherlands must get around solely by speed skating, this is the only possible explanation for how impressively good they are at the event. Norway has lots of snow. Canada is a silly place.
We hope you've enjoyed our forays into defining sport and you're looking for more, please follow us at the Sport Court – where coming soon we'll tackle NASCAR. Oh and we'll see you all in Rio!
The authors, Emily Smith, Jake Wolf, and Andrew Buonopane, live in the general Washington, DC/Ithaca, NY metropolitan area and maintain a the Sport Court Blog with similar in-depth discussions of sportishness.