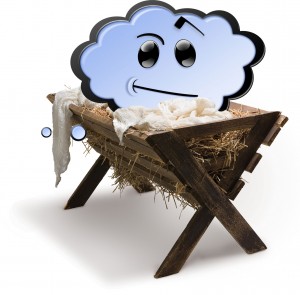 Merry Christmas from all of us at Overthinking It. We're enjoying a little time off, and posting is going to be light(er) for the next week or so, but we didn't want to let the holiday go by completely unoverthought.
Since the early days of OTI, we have been fans of off-beat verbal challenges, including the Ernest Hemingway-inspired six words meme. (I just laughed out loud reading back through those. They're worth a look.)
Recently, we become aware of a new (to us, at least) arena for verbal dexterity, known as Mad Ape Den, the point of which is to retell a story in words of three letters or less.
"But it's Christmas!" we thought. "Why retell just any old story when we can retell… the greatest story ever told?"
So as our gift to you this Christmas, here is our Mad Ape Den version of the Gospel according to Matthew 1:18–25. (For reference, you can find the original here.)
18 I fix to say how J.C. got put on our orb. His mom was set to wed Joe, but pre the two did say, "I do," all saw she had a bun in the tum-tum via the big G.

19 Joe, her man, was a rad bro, and he had no yen to say to all, "She is bad," so he did opt to let her go on the D-L.

20 He was all set to do it but, lo, Joe did see a sky fly man of God in his ZZs, who did say, "Joe, son of D-Rex: lay off. M is so rad. Let her in the pad. For it is I who put a tot in her tum-tum via God-sex.

21 She is to pop him out, and you are to dub the boy J.C., for he has it in him to X out all the sin in man."

22 All did go off as the sky fly man of God did say, for way, way ago, God let Ike see a new bit. In sum, He did say via Ike:

23 "Lo, a gal who has not had a man in her—she can get big in the gut. Her boy can get a wee tag, "Em," for to say: 'God is in the lot we are in.'"

24 Joe got up, and he did as the sky fly man of God did say to do, and let his gal in his pad.

25 And he did not lay in M's bed ere she had a boy, and Joe did dub him J.C.
Way rad X-Mas to all, and to all a not-bad P.M. —OTI