While we wait for Stokes to complete his Cowboy Bebop series (c'mon, man), I'm about to embark on one of my own. Over the next few weeks, I'll be delving into one of those early 21st-century touchstones that everyone else experienced but me – The West Wing.
But to start, I'll need your help.
There are apparently 7 seasons of The West Wing and I don't plan to watch all of them. I'm a busy man. When I'm not shoveling coal into OTIS's boilers, I've got a day job, a modest writing career, my own health to look after, and several ongoing series of award-winning television to watch.
Also, while Aaron Sorkin's politics have always been a mild seasoning in everything he writes (including his shows about SportsCenter and SNL), I imagine there's no escaping them in The West Wing. And I find Sorkin's politics … well … I'll save it for the actual series, but suffice it to say this won't be TV I can just let wash over me.
So I'm going to watch one season. The question is: which one?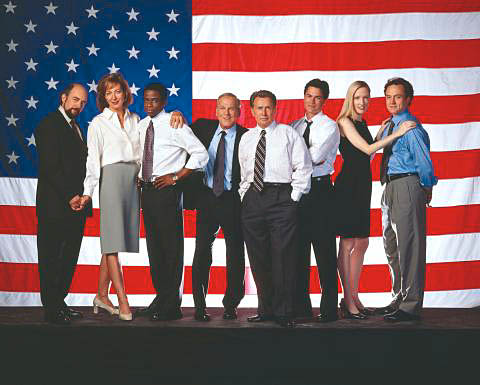 To forestall some obvious questions, don't tell me that I have to watch the entire series from the beginning in order to really appreciate what's going on. Even the most complex and sophisticated TV dramas allow for a late entry. For instance, you could start The Wire at Season 4 and only be as lost as, well, the rest of us who started at Season 1. "Wait, if Avon Barksdale's in charge, why is the big guy with the glasses giving the orders?"
A good series should give us some expository hints, or at the very least a "Previously on …" recap, in order to clue new viewers in on any essential backstory. A series that requires complete investment from the first episode on is slacking in some of its obligations as a series. And I say this as a rabid fan of Breaking Bad, Mad Men and Game of Thrones. This makes my relationship to those series complicated, I know.
Besides, everyone knows that a TV series only has a handful of good seasons. The arcs where every plot twist feels like both a total shocker and something you should have seen coming. The episodes that generate most of the show's favorite quotes. The turning points where every relationship gels into the form we always knew would come.
Time, skepticism and impatience prevent me from investing a full run in this series. So I'm asking you, the West Wing fans, to pick for me the season where I should start.
Cast your vote in the poll below. Voting ends midnight on January 1, 2012 – if you're counting down for the ball drop in Times Square, it's almost too late.
Which West Wing Season Should Perich Watch First?
Season 2 (41%, 70 Votes)
Season 1 (30%, 52 Votes)
Season 3 (19%, 33 Votes)
Season 4 (5%, 9 Votes)
Season 7 (4%, 6 Votes)
Season 5 (1%, 1 Votes)
Season 6 (0%, 0 Votes)
Total Voters: 171
Loading ...