This Thread's dilated, mama – time to Open it up to some comments!
First, is there anything more important happening than Overthinking It Live at ImprovBoston's Geek Week V? Highly doubtful! Remember – we've got shows at 11:00 PM on Friday and 7:30 PM on Saturday. Presentations never before seen on this site, new music videos and a special live bit of improvised Overthinking that you won't want to miss.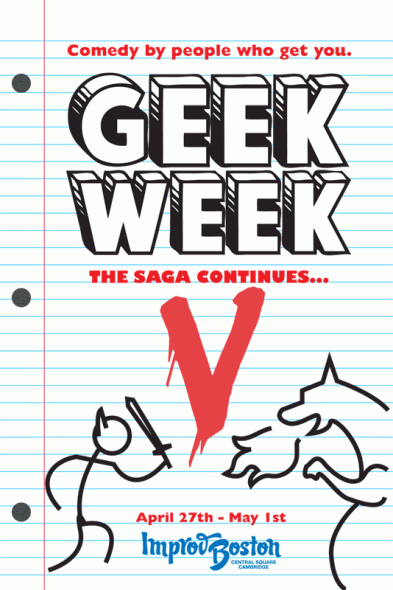 In lieu of the Comment of the Week, how about we pick the comment that won our Hanna soundtrack contest? We asked you to give us some child-rearing advice that would turn a baby into a killing machine and, wow, you did not disappoint us. Ha ha ha! Stay away from our families.
Anyhow, we put your suggestions in the randomometer and a winner emerged: Eric, whose surprisingly detailed parenting strategy might have been a front runner even the contest hadn't been judged by a random number.
But when we emailed Eric, he informed us that he is off to boot camp in less than a month, where a ton of swag featuring an adorable girl assassin and music by The Chemical Brothers will be worse than useless. He urged us to "re-roll." Eric, we thank you for your valor and sacrifice…of the prize package. And in return, we pledge to send you a custom OTI care package as soon as you finish basic. Overthinkers, feel free to wish Eric well in the comments.
So we fired up the old random number generator and the algorithm, cold and heartless as Hanna herself, picked a new winner: Genevieve, who provided truly one of the more horrible entries…about pets. So it is with a growing queasiness that I declare her the queen of bad parenting.
We want to highlight a couple other entries, though, picked by the OTI staff. Call them "dishonorable mentions."
Ben has a strategy that sounds somehow familiar:
First, I would spend the first eight years of the child's life instilling the Christmas spirit in him. Then, I would invite my huge family to go on a vacation to Florida over Christmas, but accidentally leave the child at home, being sure to do so at a time when I know that violent criminals will be breaking into houses in the neighborhood. If I can convince the child that he himself is directly responsible for the rest of the family's disappearance, all the better.

Fill the house with various deadly weapons, and leave the child to fend for himself against the burglars. If I can ensure that he believes the police will not help and the neighbors are all madmen, then once again, all the better.

One year later, just as the emotional wounds are starting to heal, I would get the family together for a trip to France, but then abandon the child in the airport, leading him to believe that we have all boarded a flight to New York. I would ensure that the same violent criminals will find him there, and drop a few hints about my brother's abandoned house, which is undergoing renovations, being open. It, of course, will also be filled with weapons.
But for maximum pop cultural savvy in the smallest space, you can't beat Rob, Big Pun himself, who advises:
I want to say one word to you. Just one word. Are you listening?

Plastiques.
Are you coming to see Overthinking It Live at ImprovBoston? If you are, sound off in the comments, for this is your … Open Thread.