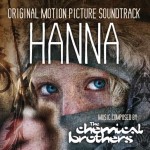 The good Internet marketers who are promoting the release of The Chemical Brothers' soundtrack (sample track) for the movie Hanna, starring Saoirse Ronan as the titular killer, have offered us some adorable girl-assassin swag in the hopes that we could run a contest to raise awareness of the film, the soundtrack, and the tragically overlooked issues of child assassins everywhere. "Who will speak for them?" these surprisingly empathic marketing professionals asked us. "Who will speak for the dead-eyed poppets whose innocent impulses of trust and loyalty have been twisted to suit the interest of their powerful employers?"
We at Overthinking It are only too happy to take up the mantle.
Leave a comment on this post before Thursday April 28, 2011 at 10pm ET with the most absurd, maladaptive parenting advice you can devise…advice designed to transform an innocent, harmless baby, eyes wide with wonder at the world's limitless possibilities, into a deadly, emotionless, underage killing machine.
We'll feature our favorite entries on the site over the weekend, and one lucky winner will get a bundle of Hanna swag. (Fill in a working email address on the contact form so that we can get in touch.) What are you waiting for? Start warping children today!