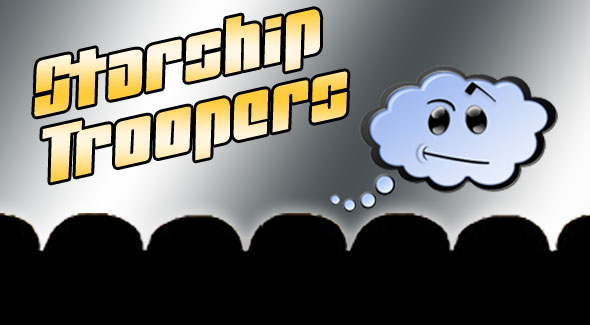 So many of our readers loved our first, free sample episode of The Overview, our alternative commentary series, that we knew we'd be doing it again eventually. The best compliment we got on it was in the first comment, where cat said:
I enjoyed The Overview. I somehow managed to listen to it through to the end without watching the film. You definitely did something right. I still have no desire to see the film but this commentary made me laugh out loud more than a few times.
If the commentary was entertaining even without the movie, we were doing something right. And, a few comments down, Tulse asked: "So when are we getting the commentary for Starship Troopers?!"
We're incredibly happy that The Overview is returning to the site, with a commentary on Starship Troopers! You can get it in The Overthinking It Store.
Yup, the store — we're charging for these. It costs money to run a site like Overthinking It, and the limited appeal of our subject matter (10,000 words on Dragonball-Z, for example), means we'll never have the kind of mainstream traffic that allows us to cover our expenses with ads alone. Plus, we want to grow and expand the things we're able to do, to bring you more and more overthinking in the future.
Up to now we've asked for donations from our loyal readers, and you have responded with incredible kindness. But we've given you nothing in return for your overwhelming generosity. We're glad that we can now offer you something in return for a few bucks. Don't worry — the articles the podcast: We've got no plans to charge for these. This is a whole new thing.
So enjoy, thanks for supporting Overthinking It, and let us know what you think in the comments. We're looking forward to bringing you many more of these.