The Political Dimension
But that isn't really why Stokes was anxious about whether our character was one-dimensional. He was anxious because of a belief that tends to kick around in the feminist discourse – I'll summarize it as such and claim it only as my own. I'm not trying to put words in anyone's mouth, and I'll make it as robust as I can so as not to straw-person it:
Female characters in fiction – especially in mainstream movies and television shows – are more frequently one-dimensional than male characters in a systematic way
The abundance of one-dimensional female characters in fiction leads to a limiting discourse around the essential dignity, talents, personhood, and general value of women as fully realized human beings in real life
If you create one-dimensional female characters, you are reinforcing this trend and, stepping back and looking at the broader context and the way people interact with this in society, you are being sexist in a politically and ethically meaningful (and damaging) way
So, even if it is artistically wise to discard some of our reservations about one-dimensional characters and spend a little less time agonizing over backstories, it might not be politically and ethnically appropriate to do this to women.
I'll concede that if there is really hard empirical evidence that publishing work that has one-dimensional female characters in it, regardless of any of the other qualities of the work or of the characters, is definitely causing damage to people that is of a serious, immediate and quantifiable nature, it might be wise to stop until you can figure out what is wrong and how to fix it. No such evidence exists, as far as I know – nor does a workable model exist to go about telling stories while not including some form of reduction of the full scope of human experience in the creation of a fictional character, if we must use our 19th century method acting model for character creation. Even Hamlet can only have one person in it who is Hamlet. Everybody else is much simpler.
The comparatively easy fix is to work hard to create more commercially successful stories across a broader variety of genres that have female protagonists. As I've expressed before, I don't tend to think that changing the gender of a character or the ethnicity of a character is a hard thing for a writer to do most of the time in a play or movie — the actor does almost all the work providing believability, and human experience is universal enough that most of what the writer changes is trivia. Ripley from Alien was written as a dude. Just flip the gender, clean up anything implausible, and even if we haven't done much from an artistic perspective, we have addressed issue #1, on which issues #2 and #3 depend for their immediacy, and resolved our political problem.
In this case, making the protagonist more "three-dimensional" makes it harder, because we have to rewrite all the bullshit retroactive psychological or childhood flashback explanations for why characters do things, and we'll feel pressured to pick more typically "female" explanations for these things. But if we take Wellman's advice and write from the outside in and allow our characters to have secrets, we have to change relatively little to turn a male character into a woman — the simple act of changing the gender at the top cascades down into all the interpretations from the director and actor to the audience, and the hermeneutical work scrambles to compensate, taking care of itself as far as we are concerned.
Remember, from a political, "feminist" standpoint, none of this exists in a vacuum, and the discourse depends on the broader context. So as long as we flip enough of the characters and shift the balance a little bit, and as long as the people who we want to have talk about it talk about it in the way we want them to (which is a tall order), we can have a profound political effect without changing much artistically — or maybe we won't, because we can't really predict how people will react to things or what art will really accomplish once it is out in the wild. But at least we've tried, and nobody can blame us for that.
But there's another fix I want to address, because it deals specifically with the character Jordan and I wrote, and it's the big thing missing from his article about the character, probably because the piece was unfinished, so maybe I had a very different idea of how it was going to look when it was done than he did.
Axes of Movement
The two things that Jordan left out of his article that I think complicate things the most are:
1) The context of the piece in general (I know why he left this out – he didn't want to tell everybody what we were writing, and I support that)
2) The other female characters!!!
No character exists in a vacuum. Even if there's only one character in a story, that character interacts with the audience, the readership, the memory of characters from works that influenced this work — every character invites comparison to other characters.
In the play I worked on with Jordan, there were three major female characters:
The Cassandra character — I still dispute she was "fridge-stuffed;" she was a generally nice if a bit boring woman neglected by her husband, and that neglect rises to comic proportions until she is killed by his negligence. This happens in medias res, at the beginning of the play, then we flash back and see their relationship until the killing happens again right before the intermission at the end of act I, and we see the events again at the beginning of act II from a different perspective. (this is a 2-act structure, not a 3-act structure)
The perfect housewife character — The Cassandra character and her husband are friends with another couple, who put a lot of pressure on them to be traditional and content in their suburban married life, while at the same time flaunting their money and apparent happiness.
The divorced neighbor character — The action of the play starts when an independent, unattached woman moves into the neighborhood and the Cassandra character's husband starts considering having an affair with her.
The piece is a pessimistic social satire. None of the characters are very admirable, and a lot of them come to bad ends. But what I was trying to do with the female characters was set the three of them up on a continuum — here is the person who has bought into this specific sort of traditional lifestyle the most, here is the person who has bought into it the least — neither of them are too admirable, but this third character is going to be caught between them until it tears her apart.
I'd like to think that, seen in a broader context with the other sorts of art that exist in relation to this piece, this would be seen as progressive on the whole, sympathetic with the political case for greater dignity and self-respect and a more functional and empowering phenomenology for women – because it indicts the systems that treat them poorly and shows a false dichotomy that is often used against women to control them ("be happily married or be alone").
The male character is on a similar continuum — he has one friend who is super-macho to the point of being sociopathic, and one who is very meek and reserved to the point of being dishonest to himself and others. It's an analogous point about gender – we see genders as existing on continua, but often these continua are more constraining than liberating, because a choice between two bad choices feels like freedom even when it isn't.
All the characters in the piece are deliberately one-dimensional. By combining a bunch of multiple one-dimensional characters and showing how they interact with each other, we articulate multiple dimensions of human experience. And we do it better than giving one character a monologue about his adolescent sexual feelings for his dentist while he molds a clay pot and considers moving to Spain.
Of course, this doesn't work if all your one-dimensional characters are the same. But if they're all different, you can have some really interesting, funny and insightful scenes.
"But Pete," you say, "None of these characters are likeable!" I'd reply, they're plenty likeable. You don't have to be a good person to be likeable. And besides, Stokes and I are likeable, and we wrote 'em!
But also, none of this is finished yet, even after working on it for a very long time, so, well, I guess a lot of that is just in my head. Let me use an example that more of you might be familiar with: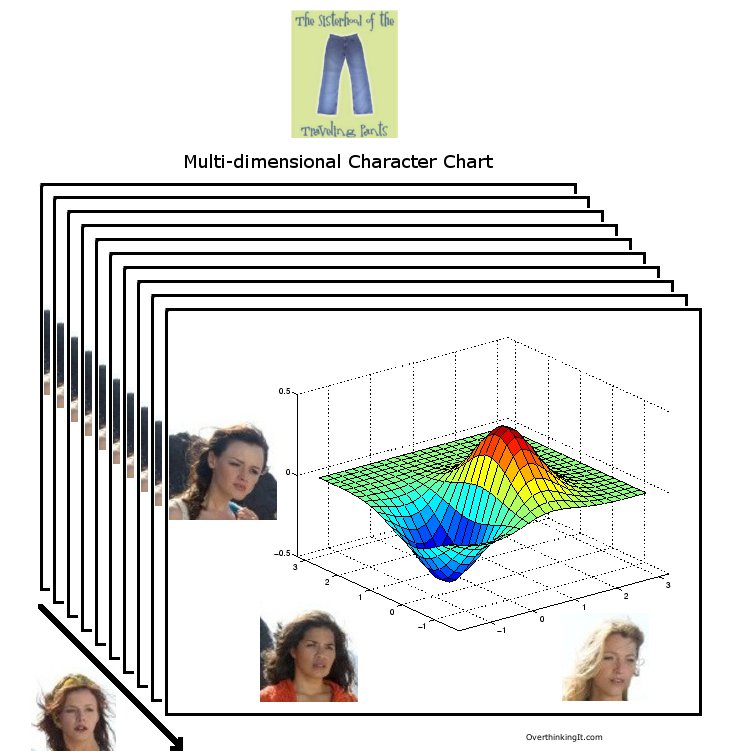 Each of the characters in the Sisterhood of the Traveling Pants franchise pay some sort of lip-service to complexity. They have their flashbacks and character building moments and all that, but they function as types. The idea of the franchise is you have these four different types of girls who are pretty reductive with regards to real human beings, who can all fit into the same pair of pants. The girls mail the pants to each other as a way of sharing their experiences in different places in the world when they are apart from each other.
This is a really elegant solution to one of the essential problems of character complexity — no matter how much background you give, almost no fictional character can ever really encompass everything it means to be a human being. Human beings are multideterministic – they do things for a wide variety of conflicting reasons all the time – they live with paradox, they don't understand the way they think, sometimes they do things for profound reasons, sometimes they do things for no reason at all — the same person can laugh and cry and rage and think about ten different times in his or her life over as period as short as a couple of minutes. They spend about a quarter to a third of each day in incomprehensible nonexistence. Even when you do this in a play, it is hard to keep up with the real thing for even a little while — actually replicating a human being with a fictional character is an impossible task (this is part of the artistic failure of method acting and the kind of playwriting Mac Wellman is talking about).
The Traveling Pants solution to this, which isn't that hard to grasp at all, is that, in the same way that all the girls wear the same pair of pants, each individual real girl is all these girls together — the sassy outcast, the curious good girl, the athlete, and presumably many more — we have these types within us, because they reflect to us part of ourselves, but only part.
The "Strong Female Character" in The Sisterhood of the Traveling Pants is the pants.
A dimension is a direction of movement that is independent from other directions of movement. The mathematical metaphor for character "depth" is pretty lousy, but for this kind of interaction, it works pretty well. You can see how an interaction among multiple characters does create a shape with contours and complexity. Carmen and Lena have a relationship at the same time as Carmen and Bridget, and maybe in the function we're graphing at the time these two things are related, but maybe they're not. Maybe they just coexist. Some complexity is more causal than other complexity, and sometimes it's impossible to tell.
I like one-dimensional characters. Obviously there are good and bad ones — there is a lot of information and complexity even to one-dimensional characters, even if the advocates for "depth" think that unless you come out and state the complexity, it can't exist. I think one-dimensional characters are good for fast-moving stories; they can be more iconic, and their relationships can be more iconic and promote fun and interesting use of motif, which in turn lets you be more nimble in articulating ideas. I think the continuum between "depth/believability/real humanity" and "simplicity/allegory/unnaturalness" is false, because there is very little realistic or sincere about a person who has reasons for everything they do that they tell to you before or after they do it.
If we pay attention to others and what they are really like, we will learn that the three-dimensional character is a fairly forced and artificial construct, and that if we're going to make a forced, artificial construct, we should free ourselves of the responsibility of doing it in this specific way.
And while I don't think we should slow down our discussions of the political implications of art, I think we might want to undertake them with caution toward how much of it we actually believe. It would be wise not to overstate the degree to which art has an ascribed effect without evidence of it, and also wise to not impugn ourselves if there is no evidence of an effect we can reasonably control in our own work. Even if we do make judgements about our art that serve political purposes, we should be careful not to internalize them to the point where they makes us too cautious to write fearlessly.
I didn't really address most of Stokes's post, I know, because most of his post is about the character archetype and not the character we wrote, and because I agree with most of his post — except the part about me fridge-stuffing Cassie (I was pretty obsessed with the Cassandra character. I spent a lot of time staring at this painting, and I incorporated a lot of my ideas about her into a one-act play I wrote a few years later, called "The Bad News Bearers," that was produced by the New Haven Theater Company).
Finally, I'm glad after the fact to be left out of the article at first, because this was a fun piece to write.
See? The effects of writing work in strange, unpredictable ways.
(Oh, and Tibby is the dimension that isn't visible to the human eye, because she's the rebel.)