In Norse mythology, Loki is a trickster and shapeshifter, half Aesir and half giant. He is a continued source of chaos within Asgard, but not an outright villain. The Lokasenna depicts him crashing another god's feast and insulting the entire room, but the Thrymskvida shows him helping Thor retrieve his stolen hammer. And yet, despite this ambivalent relationship, Loki is the god most responsible for bringing about Ragnarok.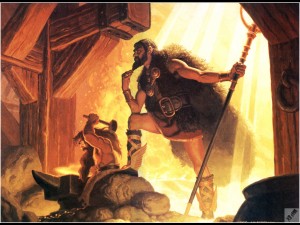 The Younger Edda depicts Baldr, reputed for his untarnished beauty. His mother, Freya Frigg, is so paranoid for his health and looks that she exacts an oath from everything on the planet, living and inanimate, that it will not hurt Baldr. Everything that she talks to promises to back off – except a sprig of mistletoe that she overlooks. Bitter with jealousy at the glorious Baldr, Loki fashions a dart out of mistletoe. One day, while the gods are playing a game of Throw Things At Baldr And Watch Them Veer Away At The Last Second, Loki hands the dart to the blind god Hodr and suggests he play too. Hodr flings the mistletoe, Loki guides it home, and Baldr is struck down dead. As punishment, Loki is caught and bound beneath the Earth under a snake which drips venom on his face. This torture contributes to Loki siding with the giants, rather than the gods, during Ragnarok.
Also, Loki is the father of, among other things, the World Serpent Jormundgandr. Raised in the land of the giants, Jormundgandr grows so large that it encircles the world. When it lets go of its own tail, on the day of Ragnarok, the world will literally fall apart.
So Loki is the trickster god. He can create pleasing illusions. He strikes at vanities. He triumphs over brawnier foes. Does that sound like anyone else we know?


Old Spice has been known for the direct, ironic earnestness of its ads for some time. Remember the Bruce Campbell ads? The hairy guy in the gym? The LL Cool J ads? Old Spice has been pushing the envelope for years. But the new ads – which I'm calling the Isaiah Mustafah ads, after the actor who appears in them – take it to an even more ridiculous level.
The world Mustafah lives in continually changes. First he's in a shower. Then he's on a boat. Then he's riding a horse. In the most recent commercial, he's on a beach, then is rolling a log, then is walking through a kitchen into a rocky river, which he dives off of into a hot tub. Mustafah displays power over his own appearance as well. He starts off wearing a towel, then wearing a sweater, then wearing a bathing suit, then jeans. The one constant seems to be that he's shirtless and grinning. He can even transform objects with a word. "It's an oyster with two tickets to that thing you love. Look again! The tickets are now diamonds!"
Like Loki's feud with Baldr, Mustafah attacks masculine vanity. "Sadly, [your man] isn't me. But if he stopped using lady-scented bodywash and started using Old Spice, he could smell like me." That's as unapologetic a slam against the viewer's appearance as I've ever heard. "You're ugly. Your only hope of looking as good as me is to smell like me." Baldr couldn't stand up to an assault like that.
Loki (for which read Mustafah) has also triumphed over Thor (for which read Terry Crews). Old Spice launched a similar series of ridiculous commercials at the same time, featuring actor and bodybuilder Crews flexing and screaming at the camera. These commercials, while also absurd, have not done nearly as well. American audiences prefer the soothing guile of Loki to the berserker might of Thor.
http://www.youtube.com/watch?v=lrvWLdyG4Uw&feature=channel
Finally, this Old Spice commercial, like Loki, will bring about the end of the world in a cataclysmic battle.