I had the joy of watching a World Cup elimination game in a London pub two weeks ago. London crowds have a greater appreciation for soccer (or "association football") than American crowds do. My friend Michelle and I drank local beers and rooted for the U.S. against Ghana. The game progressed into overtime. Since this was the "second stage" of World Cup play, the game couldn't end in a tie (as soccer often does). Michelle and I had to quiz the locals on what the rules were for overtime during an elimination match. This opened a lot of speculation on the rules for overtime, in-game review and sports as a whole.
As the World Cup enters its semi-final rounds, now's the time to compare soccer to other professional sports. It's always been something of a mystery why soccer hasn't caught on as big in the U.S. as it has in the rest of the world. Part of that may have to do with the unique quirks in the rules of soccer. And since soccer, like every sport, is a metaphor for life, we have to consider what the metaphor of soccer tells us.
A game is a human's attempt to make sense of life. It breaks down activities we recognize – competition, cooperation, success, setback – into a set of known rules. Every game has to have rules. A game without rules could not be distinguished from regular life, and it's understood that there's a point where the game stops and life begins again. In fact, bringing in elements from outside of a game to the interior of a game is considered "unsporting." You don't call your opponents names; people within the game-set abandon their identities. You don't pay them to throw the game; people within the game all have equal wealth. The game exists for a set duration, then stops. Life goes on afterward.
(There are of course games without such clearly defined boundaries, like Calvinball or Nomic. But these can be more properly defined as thought experiments than true games)
(Also, Richard Sharp, in his treatise on the board game Diplomacy, recounts an apocryphal anecdote in which Germany knew France was sleeping with England's wife, the result being a German victory in record time. Since the point of Diplomacy is to be "unsporting," this might merit a post of its own)
What defines a game's duration, though? Sports do not share the same period of time. Some sports take hours; some are over in time for dinner. But every sport can be defined by having a set period. This is another way in which sports are different from life. Everyone knows when a basketball game is going to end; if not the exact minute, at least the conditions that will need to be fulfilled for it to happen. But nobody knows when a life is going to end. The "threescore years and ten" benchmark from the Old Testament has gone by the wayside.
Different sports use different clocks. This makes sense, since different sports use different paces. Basketball is a game of sudden shifts: sprints up and down the court, quick hustles beneath the basket, then sprinting out again. Hockey and soccer are games of constant motion: fewer hectic scrambles but a more continuous revolution around the field. American football has moments of intense violence followed by equally long periods of rest. And baseball has the slowest pace of all. Excepting perhaps golf.
What does each sport's clock say about the game? And, if each game is a microcosm of life, what does each game's clock say about its metaphysical outlook?
The Arrow of Time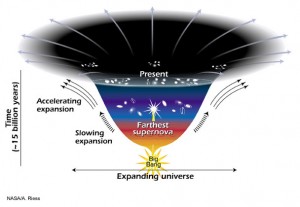 The Second Law of Thermodynamics states that the entropy present in a closed system tends to increase over time. Fuse hydrogen and oxygen together and you get water. Dissolve water and you get hydrogen and oxygen again. However, the total "useful" energy present will not be the same now as it was before you started. You cannot take the blocks apart and put them back together again with equal ease.
In macroscopic phenomena, this is referred to as the arrow of time. It means that time is not an illusion of the consciousness. Time has real physical properties. The universe knows how old it is (even if we don't). Time goes in one direction.
If a china cup falls off a table, it shatters into a thousand pieces. We can glue it back together again, but the effort of gluing it means the "closed system" of the table, the kitchen floor and the utility drawer with the Krazy Glue in it has lost some useful energy. We can never restore the universe to exactly the way it was. Something has been lost.
Consider the England vs. Germany elimination match in the World Cup, two weeks ago. Frank Lampard lobbed a shot on the German goal just before halftime, which would have tied the score at 2-2. It struck the crossbar and landed well inside the goal. Yet the referee never called it. The goalie fielded the ball before anyone else could react. Despite persistent arguments by all the English players and coaching staff, the game continued on.
This is because FIFA soccer has no rules for official review of instant replay.
http://www.youtube.com/watch?v=0Cc0CCQI7AQ
Compare this to American football. Let's use a comparably close game: the AFC Divisional Playoffs on Jan 19, 2002. New England Patriots quarterback Tom Brady is hit just before passing the football. The ball comes loose and the Oakland Raiders recover it. Under the rules of the NFL, this looks like a fumble by the possessing team, which means possession changes hands. However, the officials review the play and determine that Brady was in the midst of a pass and had tucked the ball before throwing. This meant that Brady had thrown an incomplete pass, not a fumble, and the Raiders could not have taken possession. The ball remains in the Patriots' hands. They tie the game and eventually win in overtime, going on to the Super Bowl.
In American football, a coach can challenge an official's ruling and force them to review game footage to validate their call. It's easy for English soccer fans to long for such technology. But note that this addition to the rules is fairly recent: it's only been an option to coaches since 1999. Professional football in the United States survived for over eighty years without official review.
So, in fact, have most sports. NBA basketball allows official review to determine if a shot taken right as the shot clock expired was valid, but that's only been a part of the game since 2002. Tennis allows line judges to review shots on the line, but the technology for instant replays wasn't always available. And baseball only added an instant replay system in 2008, which is used only to determine fair or foul balls and boundary home runs.
Official review is late in coming to most sports. One could argue that the technology wasn't there before now, but that's just a question of preference. So long as there have been cameras with zoom lenses, the technology has been there. But what does official review mean for a game's philosophy?
The real world does not have official review. Even if we can determine the exact causes of a misfortune, we cannot rewind time to unmake it. All we can do is grit our teeth and try harder next time. But a sport – like any game – is a fenced-off version of how we'd like the world to be. It's the World Plus Rules for Fairness. The arrow of time has less hold in the world of sport. We have the power to wind back the clock.
Gridiron football, baseball and basketball all incorporate some form of official review. They're also all American sports. While the rest of the world has contributed to these sports – Baltic forwards in basketball, Dominican fielders in baseball, Samoan safeties in football – they have a distinctly American character. The world looks to the States for how these games should go.
Something about the American character, then, prefers the idea that the arrow of time should not always hold sway. America has always been a nation that prides itself on being "self-made." Their presidential myths invoke their origins in common log cabins. Their heroes are pioneers, explorers in space and captains of industry who were born poor. Even today, their national rhetoric on divesting from petroleum hinges on "energy independence" – the idea that America should not need the rest of the world. America can master an entire continent, incorporate multitudes of ethnicities into one nation and command armed forces that can scour the globe. Of course American sports can turn back the arrow of time.
But soccer is a distinctly non-American sport. FIFA reigns strongest in South America, Europe and Africa. And soccer does not allow official review. When a play is called by a referee on the field, that call stands. Nothing takes it back. In fact, consider this comment by FIFA general secretary Urs Lanzi in 2005:
Video evidence is useful for disciplinary sanctions, but that's all. As we've always emphasised at FIFA, football's human element must be retained. It mirrors life itself and we have to protect it.
Are Europeans and South Americans more fatalist than the U.S.? Do they have less desire to master the world? Or do they not get the point of a game – that it's supposed to reflect life as we would wish it to be, not life as it is? Debate the answer if you like, but there's one safe bet. Professional soccer will not adopt an official review system until Americans take on a more prominent role. Only then will the arrow of time turn back.