Last year, Overthinking It celebrated the start of summer movie season by inviting people to fill in the blanks and create their own Hollywood clichés. I can think of no better way to celebrate the 2010 blockbusters than with a sequel. Naturally, this sequel has to be bigger than the original, it has to be needlessly complex, and it has to have a cast of thousands. That's where all of you come in.
Cue the animated GIF!

Last year, the clichés were all inspired by action movie dialogue. This year, we're doing taglines – the pithy copy at the top of the poster. To enter the contest, all you have to do is pick one of the ten items below, fill in the blanks, and then provide the title of the movie your line would be advertising. For instance:
In a world where chewing is a luxury, only one man has the stomach to win. "Kobayashi"
Those of you who didn't get that joke obvious don't watch as much ESPN 2 as I do. Here's another one:
Part Labrador. Part Poodle. All dog. "Labradoodle"
You can do just one, or tackle the entire list.
And for those of you with a little artistic skill and a lot of time, there is a separate division for Photoshops! Instead of merely telling us your tagline and movie title, you show us the poster. For example, here's something that Lee did: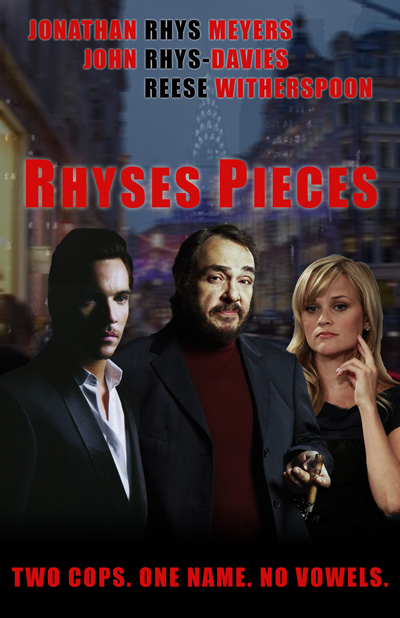 Unfortunately, we aren't able to embed images in the comments. So upload your entry to a photo sharing site like Flickr or to our Facebook page and post a link below.
We're going to judge all the entries and post our favorites in exactly two weeks – the day before Iron Man 2 comes out. We'll single out the best for each of the ten taglines, in both the text-only and image categories.
And this year, there's a one-of-a-kind prize! I'm going to pick my very favorite text-only entry and my very favorite image, and those two people will get to commission a future Overthinking It post. Yes, you read correctly: tell me what you want me to overthink, and I will go to town. (With certain exceptions: if I haven't seen a single episode of King of Queens, I may ask you for another topic.) We have never done this before, and depending on how this goes, we may never do it again.
So get excited, get creative, and may the ghost of Don LaFontaine be with you.
Clichémageddon 2: The Clichémagging
(Real world examples of the cliché are listed beneath each one.)

1. In a world where ______, only one _____ .
You know what's interesting? Even though this is the mother of all movie trailer clichés, I couldn't find a single actual trailer that used it. Anyone know of one?
2. Two ____. One ______.  ______.
Weekend at Bernies: Two morons. One corpse. And the plot thickens…
Pathfinder: Two Worlds, One War. The Ultimate Battle Begins.
3. _______ brought them together. _______ [some conjugation of the verb "tear"] them apart.
Legends of the Fall: A woman's grace brought them together. Then her passion tore them apart.
Up Close & Personal: Passion Brought Them Together… Only Success Could Tear Them Apart!
4. To _____ a ______, s/he must _______ a _______.
Silence of the Lambs: To enter the mind of a killer she must challenge the mind of a madman.
5. _______  _______ . _______  _______.  _______  _______.
A                 B                   A                   C                    A                  D
ET: He is afraid. He is alone. He is three million light years from home.
Wayne's World: You'll laugh. You'll cry. You'll hurl.
Scream: Don't Answer The Phone. Don't Open The Door. Don't Try To Escape.
Transformers (1984): Beyond good. Beyond evil. Beyond your wildest imagination.
6. _______ means never having to say ________.
Love Story: Love means never having to say you're sorry.
7. He's _______.  She's _______.  _________.
High Spirits: He's an American. She's a ghost. Vacation romances are always a hassle.
Murphy's Law: He's a cop. She's a thief. Together they're running for their lives.
Pretty In Pink: He's crazy about her. She's crazy about him. He's just crazy.
8. Part ______. Part _____. All ______.
Robocop: Part man. Part machine. All cop. The future of law enforcement.
9. ______ was just an average _______. Until one day ________.
Couldn't find any real world examples. But I think South Park's take on this cliché is the one to beat: "Rob Schneider is a Wall Street executive with everything going for him. Only problem is, he's about to become a carrot!"
10. Just when you thought it was ______ to ______.
Jaws II: Just when you thought it was safe to go back in the water.