Ah, good evening m'mselle, m'sieur. Can I open a thread for you this evening?
First off, if you're reading this on the site and not through an RSS feed, you may have noticed our new layout. You like? Please let us know. (If you're reading through an RSS feed, you may want to check out the new Overthinking It home page.
And now, the week.
Late night talk show host Conan O'Brien has found a new home on TBS, just as soon as his non-compete clause with former employer NBC expires. Yours truly still thinks that Conan's too creative to be shackled to the declining medium that is the late-night talk show, but there's no question he'll have more freedom on cable than he would on a broadcast network. Question: O'Brien to TBS—good move or bad?
Second, Joss Whedon has been tagged to not only rewrite but also direct Marvel's The Avengers, scheduled for a May 2012 release. Whedon's sophomore film effort will feature Chris Evans as Captain America, Tony Stark as Iron Man and Eliza Dushku in some prominent role that will aggravate as many fans as it titillates. Question: Whedon on Avengers—good move or bad?
And finally, Treme, the New Orleans drama from the producers of The Wire, debuted last Sunday to raves; in fact, HBO has already ordered another season. Viewers cannot get enough of the decay of American metropoli. Question: HBO's trust in Treme—good move or bad?
By the way, with this open thread, Overthinking It has passed its 900th post. Do we have a special announcement to commemorate this milestone? As it happens we do.
New England area Overthinkers – you can come see Overthinking It's first ever live event at ImprovBoston in Cambridge, MA as part of ImprovBoston's Geek Week 4.0.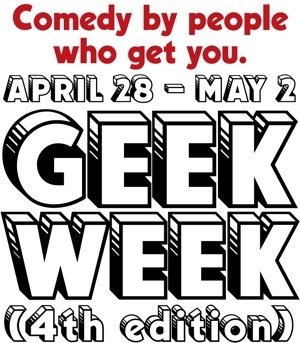 Join us on Friday, April 30th at 11:00 PM and Saturday, May 1st at 8:30 PM for a live presentation of Overthinking! This one-of-a-kind show will feature:
All-new material, never before seen on the site!
Live music!
Q&A with the audience—

Overthinking material on the spot, or learning more about what goes into our site!

A chance to meet some of your favorite Overthinkers!
Exclamation points!
Can you make the trip to Boston? Are you curious as to what OTI's first ever live event will look like? Sound off in the comments, for this is your … open thread!