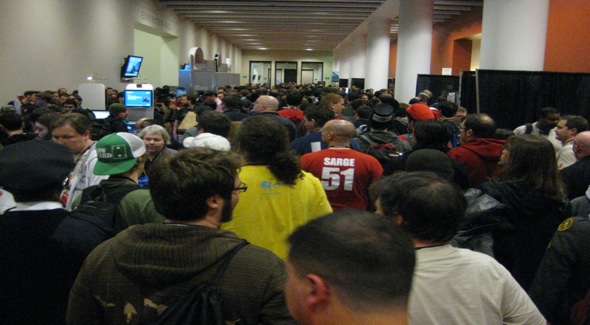 When Penny Arcade announced that they were bringing their suddenly legendary gaming convention, PAX, to the East Coast, we took it as a sign. How could the biggest gamer event in Boston manage without Overthought documentation?
The Overthinking It pictorial recap of PAX East, after the jump.

Like any big subculture event, PAX East brought its share of gaming movers and shakers.
(Please note that the Protomen's latest album, Act II – The Father of Death, boasts a cover that's a clear shout-out to Cargo Cult favorite Streets of Fire)
A few words on the "Beyond D&D" panel. I was surprised to see a panel on indie role-playing games pack out such a large conference room – nice work, GeekNights! The talk itself was big on enthusiasm but could have used a little more structure. The first 40 minutes was Brandon and Scott talking abstractly about abstractions: how D&D and games like it rewarded certain types of gameplay but didn't give a lot of options for others. Then there were 15 minutes of examples, all of which were good: inSpectres, Primetime Adventures, Dread and Burning Wheel. 5 minutes of Q&A at the end (yours truly was the last to get the mic). In short, while there was room for improvement in the structure, the content was solid and it definitely found a good audience.