Premise 2: The Na'vi Have Domesticated Animals
Mr. Kottke's next argument has to do with the Na'vi's domesticated animals.  If you've seen Avatar, you know that the blue folk have access to alien-horses and alien-sky-horses.  Even more interesting, it seems that the Na'vi and their steeds evolved in parallel so that their nerves can be hooked up to one another via hair cable.  Cool stuff.
That Mr. Kottke made an argument based on domesticated animals suggests to me that he's read Guns, Germs, and Steel or has at least heard the ideas held within its covers.  In that book, Jared Diamond argues that the denizens of certain continents turned out to become more technologically-advanced than the denizens of other continents not because some races are smarter or more physically-capable than others, but because some continents have domesticatable animals and others don't.  According to this theory, Eurasia had a leg up on all other continents, because it had 13 species of large, domesticatable animals, including cows, horses, sheep, goats, and so on.  Africa had just one domesticatable animal (the camel), South America had one (the llama), and poor Australia had zilch.  The argument follows that the people who were able to domesticate animals advanced into the New Stone Age period and were able to make a whole lot of food a whole lot faster.  First, they were able to breed lots of cows and sheep and goats and so on for food, and, second, they were able to use animals like horses and oxen to plow their fields when they started farming.  That led to more food, which led to population explosions, and added resistance against animal-borne diseases.
It makes sense, then, that Mr. Kottke would make this argument.  The Na'vi have domesticated animals, so why are they still living in the Stone Age?
This argument has a number of flaws.
First, the Na'vi only have close relationships with two animal species.  They have domesticated Pa'li (their horses), and they have access to Ikran (those cool flying things that live up in the mountains).  Let's start by focusing on the Pa'li.  Horses are helpful, sure.  As Kottke says, they give the Na'vi the ability to travel long distances.  But it doesn't really help them grow their food supply.  There was no indication that the Na'vi use their horses to plow fields so they can farm; after all, the Na'vi we saw lived in the rainforest and thus didn't have fields to plow.  Plus, there was no indication that the Na'vi bred their horses for food.  So the horses aren't really helping them grow their populations or move into a Neolithic stage of development.
As for the Ikran, I'm not sure we can truly call them "domesticated."  On the one hand, the Na'vi have an evolutionary link with the Ikran (as humans do with, say, dogs).  On the other hand, one Na'vi can only control one Ikran in a lifetime; the other Ikran are completely wild to them.  This means that the Na'vi can't pen the Ikran like cattle and can't breed them in captivity.  Seems to meet that each individual Ikran is more "tamed" than domesticated.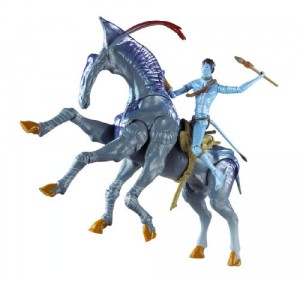 The Na'vi, then, are most like people living in Stone Age Africa, domestication-wise.  They really only have one domesticated large animal, the Pa'li, which is almost solely used for transportation rather than for agriculture or meat.  The Na'vi, in short, have domesticated the camel—and you can't build a postindustrial society on a camel alone.
Premise 3: The Na'vi Have Few Natural Predators
This argument seems wrong to me, given what the film showed.  When Jake was stumbling around Pandora's forests at the beginning of the movie, it seemed like everything was trying to kill him.  Everything.  Off the top of my head, I can think of that pack of wild dog things, the giant dinosaur-rhinoceros things, the Ikran, the Toruk, and that giant panther thingy that Neytiri was magically able to ride at the end of the movie.  At some point in the film, all of those animals tried to kill Jake.  There are plenty of predators in Pandora.
The movie then takes its time to show the difference between humans like Jake and Na'vi like Neytiri.  The predators in the woods don't attack Neytiri, but I don't think it's because they find blue flesh unappetizing.  Neytiri says it's because she knows how to approach them.  Jake, on the other hand, is like a baby, making noise and annoying the animals to no end.  It's like people in Asia who live with tigers, or people in Africa who live with lions.  These big predators WILL eat humans if those humans happen to stumble out into the brush making all sorts of noise, but predators don't go out of their way to eat humans, because A) there's better meat out there and B) they've learned over the course of millennia that human hunters will fuck them up with their Stone Age weapons.  Like those humans who live in dangerous, predator-filled areas of the world, the Na'vi have predators but have learned to live with them.
Anyway, just because a culture has few natural predators, it doesn't mean they'll magically start a technological revolution.  Take the Taíno Indians again.  They had literally zero natural predators (except other humans, of course).  You'd think that their populations would explode, but the fact is that it couldn't, because they could only make little gardens, not massive farms.  This was because their land wasn't made for agriculture—which is exactly what you can say about the rainforest-dwelling Omaticaya.