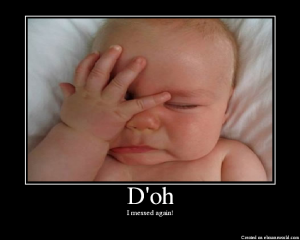 That's right: embiggen.  What?  It's a perfectly cromulent word.  I have it here right in my Scrabble dictionary in between "d'oh" and "kwijibo."  And if you don't like it, I'll call you a craptacular, cheese-eating surrender monkey.  (Or your non-union Mexican equivalent.)
Okay, so we know that The Simpsons has hit the big time language-wise, what with words like "meh," "yoink," and "d'oh" entering the dictionary and sayings like "I, for one, welcome our insect overlords" and "worst episode ever" entering the popular lexicon.  These words and phrases still have power, and they're still funny—after all, if they weren't, the memes wouldn't continue living on in blog posts, YouTube videos, and YTMND… things.
But I think we're due for some new* Simpsons-related bon mots, don't you?  So I've scoured Simpsons episodes and episode guides for the top ten useful words and sayings that need to find their way back into our lives.
*And by "new," of course, I mean old: all of these words and saying come from The Simpsons' first through eighth seasons—you know, the good ones.

#10: "We're here!  We're queer!  We don't want any more bears!"
From episode 3F20: Much Apu About Nothing
Context: After a bear wanders into town, Homer stages a protest.
To be used when: Protesting for gay rights; protesting bears; protesting anything, really
Example: You go to a rally to support gay marriage and you notice there are too many burly, bearded men in the vicinity.
Chosen because: As we learned from Dr. Stephen Colbert, D.F.A., there's nothing higher on our communal threat lists than bears.  Especially if you're gay.  I guess.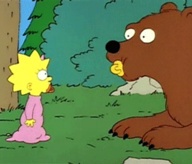 #9: "Good ol' rock.  Nothin' beats that!"
From episode 9F16: The Front
Context: Bart and Lisa play rock, paper, scissors.  Lisa knows that predictable Bart always chooses rock, and, naturally, he does so again.
Used in order to: Mock people who keep returning to the same old bags of tricks, especially when those tricks never work.
Example: The coach of your favorite college team has decided to run the ball straight up the middle AGAIN.  Rolling your eyes, you say, "Good ol' rock.  Nothin' beats that!"
Chosen because: Although most of us, like Bart, think we are brilliant tacticians, this is simply not the case.  Now we have a go-to Simpsons quote available to us so we can mock others for the faults we ourselves have.
#8: "Johnny Deformed"
From episode 9F18: Whacking Day
Context: Marge tells Bart that the eponymous Johnny Tremain is deformed while silversmithing.  He notes that perhaps more children would have chosen to read said book had it been titled "Johnny Deformed," instead.
Part of speech: Title; proper noun
Definition: The correct name for the classic book "Johnny Tremain"
Example: "The best part of 'Johnny Deformed' was when he got deformed."
Chosen because: I am an English teacher.  Hey, we have to have some reason to laugh.