Here's a graphic of the Syd Field paragidm. Please read Syd Field's stuff. It's pretty much essential for OverthinkingTM the structure of contemporary movies, because they're pretty much all either based on it or based on a common ancestor.
Now, let's look at where a Dragon Ball plot starts.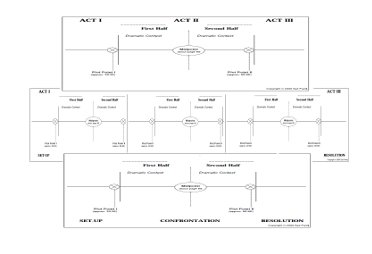 Notice what happens — I've stacked three single-arc storylines in a row, noting that there are events for full stops after the confrontation without resolution, where the action halts, and you immediately begin a new setup, before you finally get to the conclusion. It's sort of tantric plotting.
Also note that there's also a feeling of superplot — that the overall structure of the piece overlays the rhythms within the piece, but doesn't eliminate their complexity.
The only way this is possible is if the individual elements of the story are very simple, very similar and very repetitive. There's an emergent complexity, but the basic structure is still there.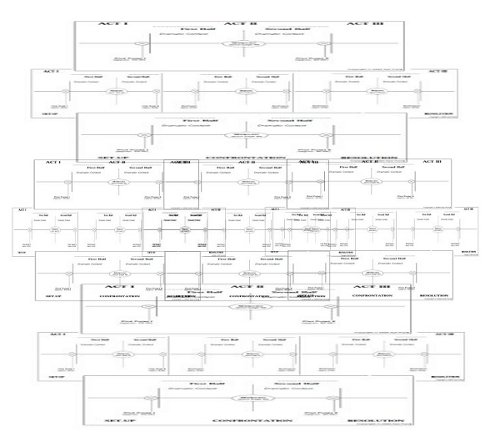 So, now we repeat the operation. We take that plot structure we made before, where we repeat the same thing three times — say, three different, similar kung fu fights, most of which don't end in a proper resolution, but lead to further setup, which point to a larger structure — now become nine kung fu fights, with three overarching mini-story arcs, and one big story arc that connects all of them.
You can even see an overall shape begin to emerge. There's an aesthetic even to this potential chaos.
This is how Dragon Ball plots work. You take extremely simple actions, clear characters, elegant tropes, and you repeat and repeat and repeat on various levels to explore all the possible resonances. Keep in mind that this only works in a basically comedic way of looking at character arcs, where the characters never wander too far from where they started. You need very iconic, consistent characters to endure the complexity of all these arcs without dissolving into mush.
A Hollwood movie that looks to build its structure only once is not going to explore any of this aesthetic space, and it's a big part of what makes Dragon Ball successful and enjoyable. So if you wanted to make a Hollywood movie about Dragon Ball, I'd figure out a way of thinking of the structure like this – probably by using individual shots and sequences as the basic building blocks, building the trope on that level, going from there until you flesh out your storyboard, then calm it all down and humanize it without crushing the underlying structure.
By the way, the math-savvy among you have already recognized that I am comparing Dragonball plots to fractals, mathematical objects created by iterated algorhythms that end up with an emergent shape on a macro scale that differs from their shape on a micro scale. Now, granted, this isn't a true fractal, because its iteration is describable by Euclidian geometry, but a lot of the Ian Malcolm quality pseudo-intellectualism still carries over.
(I am usually very skeptical of this sort of interdisciplinary theory, but anger has clouded my judgement).
But basically, if you repeat the algorhythm enough and look at the object on a macro scale, it begins to take a clear shape: