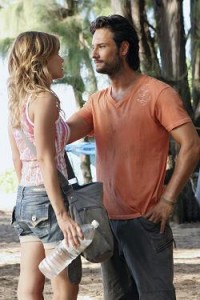 Everybody told me that season three of Lost was kinda sucky.  It got better eventually, they said, but the beginning was just not as good.  Only after episode 14 did things get back on track.
So I watched episode 14: "Exposé."  It was a weird episode.  It almost seemed experimental.  It left a bad taste in my mouth.  When I looked it up on Wikipedia, the section labeled "Reception" said the fans and critics didn't much care for it, either.
So of course I said, "I'm going to write a blog post about 'Exposé!'"  The first question is, "Why don't I like it?"  The second question is, "What does it say about Lost?"
But, first, the summaries of the episodes I watched last week, to refresh your memories…

Episode 3.9 ("Stranger in a Strange Land"): In the past, Jack had sex with a Thai woman and got a tattoo?  Okay…  In the present, Jack promises to continue helping Ben in exchange for Juliet's safety.
Episode. 3.10 ("Tricia Tanaka Is Dead"): In the past, Hurley's dad was Cheech Marin!  In the present, Hurley, Charlie, Sawyer, and Jin get an old VW van rolling.  So, yeah.  That happened.
Episode 3.11 ("Enter 77"): In the past, Sayid was captured by the husband of a woman he tortured back in Iraq.  In the present, Sayid, Locke, Kate, and Rousseau go off to rescue Jack but instead find Mikhail, a.k.a. Eyepatch Dude.  Eyepatch Dude says he's the last living member of the Dharma Initiative and is not an Other.  So of course it turns out he, in fact, is an Other.  Locke blows up his house.
Episode 3.12 ("Par Avion"): In the past, Claire crashed the car, leaving her mom a vegetable.  But Daddy Shephard is also Claire's daddy!  Because Jack's dad is everywhere.  I'm sure he's Hurley's long lost uncle and that he was in the army with Kate's dad, and he started drinking because he got conned by Locke's dad, who is also the original Sawyer.  Anyway.  In the present, Claire tries to catch a bird so she can have it fly a note home, but Desmond keeps screwing it up in order to save Charlie's life.  Meanwhile, Mikhail's brain melts in the sonic weapon fence, and the rest sneak into the Others' gated community.  But then comes the scariest cliffhanger in the show so far.  Jack.  Is playing.  Wait for it.  Football.  Dun dun dunnnnn!
Episode 3.13 ("The Man From Tallahassee"): In the past, Locke's dad threw him out a window.  In the present, Jack reveals he's made a deal with the Others that if he stays to treat Ben, he'll get to go home in a submarine with Juliet.  But then this happens:
Ben: You have a choice, John.  You could have the submarine… or the mystery box.
Locke: What are you, crazy?
Ben: Wait, not so fast, John.  A sub is a sub, but a mystery box could be anything.  It could even be a sub!
Locke: I'll take it!
I'm pretty sure that's how that scene went.  (Incidentally, I was looking on Google for video of the mystery box scene from Family Guy and accidentally found myself at some forum filled with pictures of the Dharma Initiative seal.  So then I typed in "Family Guy mystery box video" and what should pop up but a TED lecture by J.J. Abrams about Lost's mystery box! The spoilers… they're… they're everywhere!  I wasn't actually spoiled, but it was close.  Too close.  I'm never Googling again.)
Anyway, the mystery box is filled with Locke's dad.
Episode 3.14 ("Exposé"): We'll get to it.
Episode 3.15 ("Left Behind"): In this episode, the people on Jacob's good people list are transported up to Heaven during the Rapture.  Oh, never mind.  That's a different Left Behind.  Actually what happened is this: in the past, Sawyer's ex-dupe girlfriend helped Kate meet up with her mom, who apparently loved Kate's creepy murdered step-dad.  In the present, Kate and Juliet wake up in the jungle, handcuffed, because the Others gassed them and skipped town, along with Locke.  The two ladies have a wet, muddy, handcuffed cat-fight in the rain.  I'm not a guy, but it didn't seem all that sexy to me.  Meanwhile, Hurley cons Sawyer—who, by the way, is good at the offensive side of conning but terrible at the defensive side—into being a nice guy.
Episode 3.16 ("One of Us"): In the past, Juliet was brought to the Island to deal with the issue of all the pregnant women dying.  Ben also made a deal with Juliet that he'd cure her sister's cancer if Jules stayed on the Island.  'Cause Ben can cure cancer.  *shrug*  Anyway, in the present, Jack, Kate, Sayid, and Juliet go back to the camp, but no one trusts Juliet (except Jack, who has turned into a real idiot lately) until she saves Claire's life.  Except… [dun dun dun] this is all part of Ben and Juliet's secret plan to infiltrate their base!  Oh, man!  Some crazy shit is about to go down, my friends!  I can feel it!
And now, the post.