Here are three potential interpretations of Bruno I've been hearing recently (okay, four):
— Bruno is about surprising people into revealing ugly truths about themselves, like Borat
— Bruno is a piece of stunt cinema done for shock value, like Jackass
— Bruno is (alternatively) a shameless revel in queerbashing / a clever indictment of queerbashers
Its episodic structure plays into each of these thematic approaches at times. The visual style, format and pacing are pretty similar to Borat, and it has a lot of similar set pieces and gags. It has a lot of gay jokes of questionable kosherness. All true and welcome. But these all seemed subplots, side themes to me, not really the main thrust of the piece – not what it was about.
My gut impression, which thinking about it more has only confirmed, was that Bruno was a much older sort of comedy, a comedy that followed a self-obsessed symbol of vice through a society that didn't necessarily deserve better, but which at least offered the comfort and amusement of being hilariously consistent. Bruno immediately reminded me of Moliere — the French writer who brought us such Top 40 hits as The Hypocrite, The Misanthrope and The Imaginary Invalid.
And in thinking about the comedy of Moliere, where it sits in the tradition of comedy, and where Bruno sits among today's comedy offers us some insight on one of the questions I think needs to be asked a lot more critically of our cultural arbiters:
When we laugh at our vices and failures, why must we insist they be fixed, or even be fixable?
All Moliere's comic heroes are blinded by self-love. Instead of learning to know themselves, and growing wiser, they love themselves uncritically and sink into vice, folly or melancholy madness. Like Panurge or Adolphe, they magnify their own importance in the general scheme of things, devalue those around them who do not agree with them, and remove reason from the public domain, turning it into an instrument whose only function is to justify private passion and designs. Having failed to understand themselves, Moliere's fools also fail to understand the shape of the world they live in; their careers are a series of comic blunders and accidents which result from what Celimene calls 'this great blindness which afflicts all of us with respect to ourselves.'
— Andrew Calder, from Moliere: The Theory and Practice of Comedy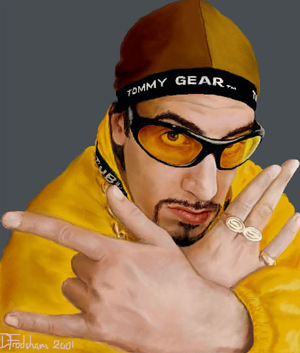 Sacha Baron Cohen's big three Ali G Show characters are ironic in parallel ways. Ali G has lowbrow, low-status tunnel vision, which tests the highbrow, high-status tunnel vision of the people he interviews. Borat has prejudices based on where he is from, and he draws out the prejudices we have because of where we are from. In the show, Bruno is so superficial and obsessed with sex that he reveals the superficiality and sex obsession of others. (The line from Mark's Alabama videos posted earlier this week: "Being gay is the new coolest thing!" is very telling and important to remember)
But Bruno in the movie is not a lot like Bruno in the show. Bruno in the movie isn't just obsessed with being cool, or with his sexuality, he's obsessed with himself. He doesn't so much aspire to qualities or to draw them out of people as seek to fully realize himself and bring them along for the ride.
This makes him very different than Sacha Baron Cohen's other characters. Bruno is more motivated in this movie, and he follows more of a straightforward (heh) narrative, than the other Ali G thoroughbreds ever do. Bruno doesn't just behave in this way to get laughs or as an intellectual exercise, he has a grounded point of view and objective.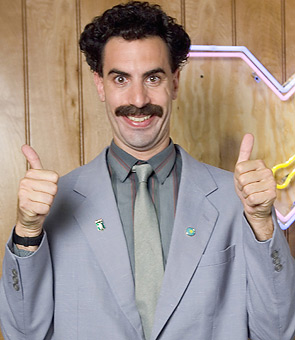 And when he's misbehaving, the scenes are much more often about him. Borat is about the reactions Borat gets from people. Bruno is about Bruno. It's about his story, his sexuality, his identity, his ultimate failure to reform or reinvent himself after the loss of his Austrian television show, and why this is funny rather than sad. Nobody really cared whether Borat managed to kidnap Pamela Anderson (the whole idea is absurd in a different way than Celebrity Max Out! is) – the big question was whether Pamela Anderson staged it or not (she did).
Bruno is more scripted than of Borat, and my guess is that some of the antics that looked spontaneous were at least partially staged. But that's fine, because most of the comedy in Bruno doesn't really depend on the events coming as a surprise – because most of the reactions from people are totally reasonable and not embarrassing to them in the slightest. Does anyone doubt that a new solder who acts like Bruno would get yelled at? That Celebrity Max Out! would fail in focus groups? (I love how Celebrity Max Out! Is mostly just footage of Bruno dancing. It definitely reinforces his self-obsession. As does the moment where he dresses like Indiana Jones, or when he seems totally unperturbed by the fact that Harrison Ford more or less flips him off.)