OK, well not exactly.  Of course, converting a human into a zombie is not exactly an extension of human life.  This is why a zombie is traditionally defined as "undead."  What humans have discovered, then, is a means of preventing further death.  Indeed, should one decide, he or she could subject him or herself to the bite of an existing zombie and convert into one prior to his or her own expiration.
Consequently, if ever there was a labor shortage, the United States could recruit individuals to voluntarily turn into zombies prior to their deaths and live out their remaining eternities as undead corpses helping to boost the economy.  Why would anybody voluntarily choose to endure this "life"-style?   Easy—the United States government would provide them with incentives to do so during their lives.
Suppose the US government offered benefits to youth—perhaps as subsidies towards tuition, job benefits, or even simple monetary payments—if they contracted their eternal "lives" to the government.  I predict a large take-up rate, particularly among the nation's younger individuals or those in particular need of such benefits.  The older-age populations would likely be more difficult to convince, as they would, on average, have a shorter time to collect on government benefit programs.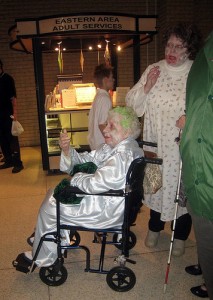 This notion of zombie recruitment does have downsides.   First, there would be considerable political upheaval.  The idea of sacrificing the experience of a proper death is unprecedented and many families might not be comfortable with the idea of their loved ones spending eternity as a rotting corpse.  Secondly, governments would have to prove beyond all reasonable doubt that zombies are, in fact, mindless.  Otherwise, associations such as the National Association for the Advancement of Undead People (NAAUP) would gain considerable political influence.  Beyond this, a larger zombie workforce might diminish job opportunities for living humans, which would exacerbate the United States' already considerable immigration debate.
There also might be a significant moral hazard problem:  Suppose the government paid you to become a zombie once you turn 65.  You could conceivably collect the benefits and then flee the country before meeting your obligation (although the US would likely establish a clause stipulating that in such events, your family members would incur penalties).  Further, individuals could get killed prior to the time when he or she would have to fulfill his duty to become a zombie.  The governments would have to account for such incidents, which could mean lower benefits for high-risk individuals (similar to insurance premiums).
All in all, don't panic.  With economics on your side, the zombie apocalypse won't be the end of the world.
Find more from the author at Ecocomics.