Today, we present a guest post from ShadowBanker of the excellent blog Ecocomics. As I mentioned in last week's open thread, we're big fans here. Along the lines of a couple of our podcast episodes, it presents simple, rational tools for understanding the hordes of undead ravaging the post-apocalyptic world looking for delicious, delicious brains. Enjoy!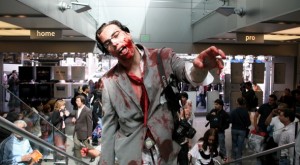 Suppose that in 2010 there is a major zombie apocalypse.  Inexplicably, corpses all over the world reanimate and hunt the human race in search of fresh brains.  Now, assume that after years of struggle, the human race prevails and the zombies have been contained on the island formerly known as New Zealand.  What now?  What happens after the great zombie wars?
Tens or hundreds of thousands of people will be converted or killed (perhaps millions).  This significant depopulation would almost surely engender a significant dent in the global economy. As an analogous example, consider the Black Death. This plague had claimed anywhere between 75 and 200 million people in Europe in the 14th century and magnified a recession that had started earlier in the century.  Farm production and output had greatly diminished.  Cheap labor was in high demand by landowners, who competed by offering higher wages.  However, governments had instituted regulations that restricted peasants from earning higher wages or leaving their current positions.  While quality of life did improve for many peasants (more food, higher wages, etc.), there was still much work to be done to straighten out the dent in Europe's economy.
Yet, all hope is not lost.  Despite all the carnage, death and economic declines that would follow from a zombie apocalypse, the nations of the world could still benefit by integrating the remaining zombies into their economic and social infrastructures.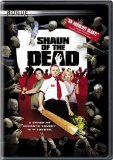 In the 2004 film Shaun of the Dead, some zombies bagged groceries at supermarkets, some competed in televised athletic shows (similar to Nickelodeon's Legends of the Hidden Temple), and others even kept friends company.  In the 2006 Canadian film, Fido, a company called Zomcon actually crafted a device to control zombies' hunger.  Individuals and businesses would then purchase tamed zombies, which would either act as employees in firms or as household servants.  Obviously, a zombie would not possess the mental capacity to perform rocket surgery, but you could surely hire one to work in your factory or paint your fence.
This has some important implications for the economy.  Zombies represent a source of cheap labor and a particularly lucrative source being that they are infinitely undead.    They don't require any upkeep—no food to survive assuming the government has found a way to curb their hunger, no wages, no health care, no benefits, etc.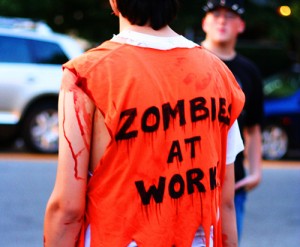 In fact, rather than labor, one can view zombies as inexpensive factory tools, which require no maintenance or upgrades.  If a government were to permit the use of zombies in the private sector, businesses would see marked improvements in their annual production levels, GDP would gradually rise, and the economy might stabilize more quickly.
However, there is an even greater implication that film and literature have not directly addressed (as far as I am aware).  The situation described above implies that human beings have discovered the secrets to eternal life—the mystery that philosophers, theologians, biologists and others have been attempting to describe throughout man's existence.  The answer, as it turns out, is zombiefication.